PHUKET WEDDING PLANNER & EVENT ORGANIZERS
"OUR SERVICES ARE ALWAYS BEYOND YOUR EXPECTATIONS"
WHY BEYOND YOUR EXPECTATIONS?
We are experts in the event management industry. Our young and dynamic team has a fresh and creative approach to each event. We will always find a solution for every situation driven by our motivation for success. We work closely with our clients to provide the perfect mix of breath-taking event design, logistics planning and execution, and individualized client services, including wedding design and wedding planning.
WHY PEOPLE HIRE US?
We are not a fan of copy & paste actions but create real bespoke experiences. Our mission is to offer planning and consulting services that allows our customers to create the event they envision! Our goal is to transform every client's personal aesthetic into sophisticated event.
HOW WE DO EVENTS?
Our team has 11 years of international experience in the event management industry in North America, Europe and Asia. We speak English, German, Italian, Chinese, Thai, Bulgarian and Russian in order to make the communications with our multicultural clients easy and efficient. We work only with premium pre-selected suppliers to ensure the best quality and value for our customers.
MORE LOOK & FEEL IN OUR BESPOKE PORTFOLIO
THE SKY IS THE LIMIT CREATING WEDDING & EVENT CONCEPTS
ABOUT US
Let's face it – very few event planners can handle everything a client may need. We aren't your typical Phuket Wedding Planner. People hire us because they want a wedding that stands apart from the rest. Our clients are crazy-busy professionals that depend on us to make their planning process stress-free, and to discover what will make their day uniquely special. We make design and planning simple for our clients - and simple isn't easy. Our passion and dedication to provide superb professional work surpasses them all. Behind the work we provide is an organization of excellence, creativity and communication.
Let Bespoke Experiences assist you with full service wedding planning and coordination services for your special corporate or private event in Phuket. With our passion to every detail, we transform ordinary spaces into extraordinary experiences for your guests. We can help you with every aspect of your event including the logistic coordination of all pre-event, onsite, and post event activities. We offer diverse events that range from Phuket wedding ceremonies, birthday celebrations, team buildings, conferences or seminars, MICE, product launches, presentations, workshops, company inaugurations.
From selecting a suitable ring, moving on to eye-catching venue with colorful fireworks or a suitable performance to deliver your question, we never run out of ideas. One question changes the rest of your life. It needs to be extraordinary. You've come to the right place. Whether it's private and exquisitely beautiful or elaborate and dramatic, our ideas embrace the story of you so this moment feels genuine and authentic. Not last on our portfolio is that we will take care of all logistic steps when you arrive in Phuket. We work only with high end preselected suppliers and vendors to ensure you will have the best quality.
Be stress-free and enjoy every minute on your special day by booking is for a full wedding planning. Leave the annoying details to us. We will take care of all logistics wedding coordination steps from A to Z. We will be in charge of overall wedding design and decorations, recruitment & booking of the best vendors. We will always keep an eye on budget. Onsite wedding coordination & event control. Full wedding planning service includes half day rehearsal and wedding day of coordination until midnight.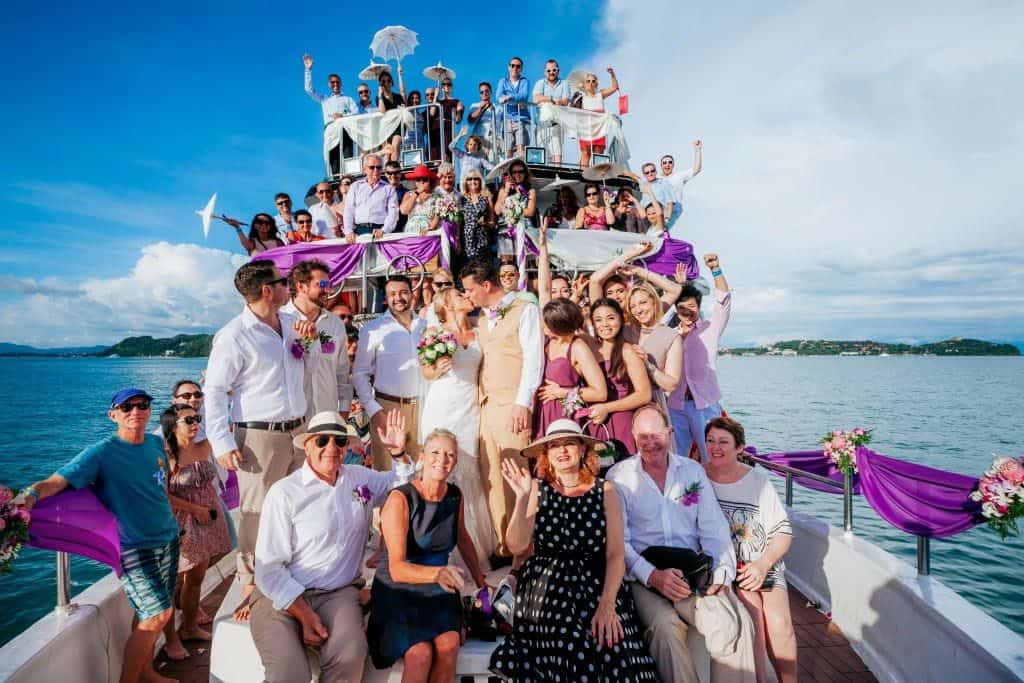 Partial Planning is ideal for couples that have already booked one or more vendors before contacting us. Choose the services you want in your bespoke wedding package. Handover the stress related task to us. Nix the ones you don't want to be involved in. Take care of the rest yourself. Partial Planning means you hire us only for the planning and design areas where you want or need our help. You'll handle part of the wedding coordination. We will assist you only with selected tasks. This service includes wedding day of coordination.
If you already have booked every wedding vendor and you need our coordination services just for the wedding day, the day of coordination is the best option. Starting at least four to six weeks before your wedding day, our experienced team takes charge on your wedding so you can focus on being a bride and groom. Hand over your carefully considered plans over to us. This service includes small wedding team onsite for a smooth wedding rundown and up to 8 hours on your wedding day.
"Wedding memories for a lifetime"
We provide original and one of a kind experience. We are a tailor made wedding planner in Phuket. This is why our style is unique and outstanding. Our Bespoke team caters to your needs and are able to provide you with a ready with a solution for your requests to make your event vision reality.  
"Events beyond your expectations"
Our services are available in Phuket for weddings and engagements and also for corporate events, sport and marketing events, team buildings, seminars, conferences, medical symposiums, art exhibitions and activities, exclusive private party's for birthdays anniversaries celebrations.
ARE YOU A WORLD TRAVELER?
LUXURY ACCOMMODATIONS FOR BESPOKE TRIPS, WEDDINGS & PRIVATE EVENTS
LUXURY PRIVATE VILLAS