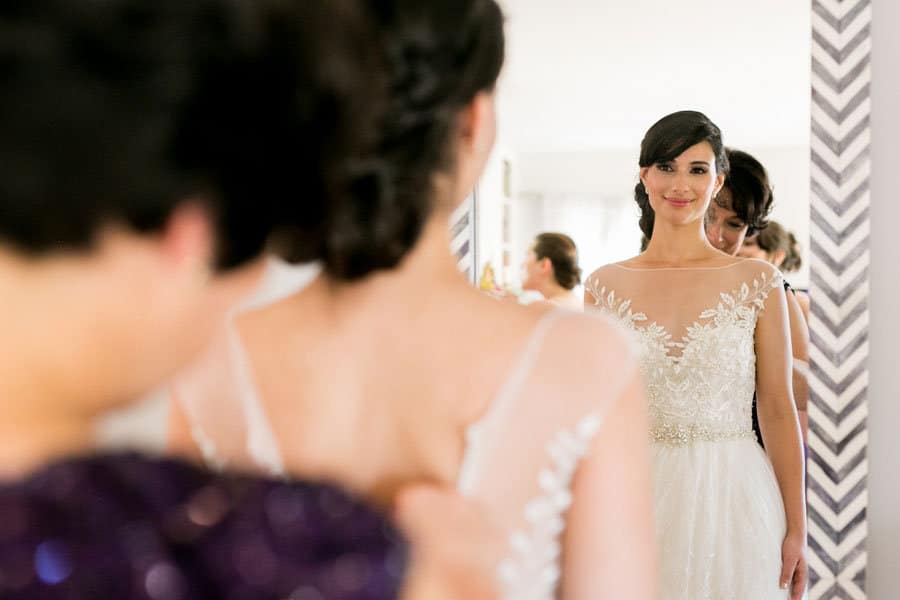 Photo: Kevin Kelley Photography
1. Don't Rule Anything Out
More often than not, a bride comes into the showroom with a very distinct idea of what she wants (and what she thinks won't look good on her), and she leaves with a gown she would have never expected to love. "One of my most popular dresses is one that has little to no hanger appeal and often gets overlooked, but when I suggest a bride try it, she's shocked to find she looks and feels like a babe," says Orla Stiles from Solstice Bride.
2. Try on Every Silhouette
Just because you read somewhere that ball gowns aren't recommended for brides with a full bust, or strapless gowns are out of style, doesn't mean you should automatically eliminate them. "Try on everything, so you know what you really love and dislike," says Ronia Ghusein from Eva's Bridals.
3. It's OK if You Don't Cry
"Don't expect to have that hallmark moment we see on TV and in the movies where you're overcome with emotion and you have an overwhelming feeling when you find your gown. The majority of my brides don't shed a single tear during their appointment but still leave with the gown that's perfect for them," Stiles says.
You'll know if you've found the perfect gown when you can envision walking down the aisle, taking hundreds of photos, and dancing the night away in it. "The winner should be the dress you can't wait to wear again. Most importantly, unlike any other gown you tried on, it should make you feel the most beautiful; that's what it's all about," Ghusein says.
4. Don't Expect to Get Your Gown Immediately (Or Even in a Few Weeks)
"Bridal gowns are special orders, which means a bridal gown does not exist until the order has been placed. It can take anywhere from four to seven months, depending on the designer and fabrics used," says Laurel Mungo from Mon Amie Bridal Salon.
5. Don't Second-Guess Yourself
"It is OK to fall in love with a gown at the first store! Relax, order your dress, and cross that task off your list. You have so much planning to do around your gown choice," Mungo says.
6. Make Sure You Order the Correct Size
"I've seen brides who joined a boot camp to tone up their muscles, and then the gown that they ordered didn't fit! Conversely, if you lose more than 10 pounds, the gown may be at least one size too large. My best advice is to get the larger size; it can be taken in, rarely can dresses be 'let out' without ordering extra fabric and spending extra for alterations," says Marsha Ballard French from Stardust Bridal Salon.
7. Expect to Spend 10 to 20% More to Have Your Gown Altered
"Ninety-nine percent of wedding gowns will need alterations of some sort. The bride's measurements are taken into consideration when compared to the size chart provided by the designer, so everything doesn't always match up perfectly," Ballard French says.
8. What You Wear Underneath Is Just As Important As Your Dress Itself
"When gown shopping, bring a strapless bra or even a nude-colored bra. If you have curves that need to be redirected and smoothed over — as we all do — bring shapewear, especially if you plan on wearing a corset or Spanx on your wedding day. If you plan on wearing high heels, bring a pair close to the height you want to wear to your appointment. Last but not least, underwear. Wear it, for sanitary reasons alone. Why somebody would want to try on wedding gowns without them baffles me, but it does happen!" Ghusein says.
9. Choose Your Entourage Carefully
"Don't bring more than three people with you. The more loved ones you have there, the more opinions you will get. Bring your mom and a very close friend that understands you and your style," says Ramona Southard of Love and Lace Bridal Salon.
"It is so confusing to have gang members voice their opinions when they do not know what the bride likes or what they want to spend. We've had up to 17 guests running all over the salon pulling gowns that she really doesn't like or can't afford. It becomes an embarrassing hot mess; the bride leaves exhausted, and the search for the wedding go becomes overwhelming. Instead of bringing a whole gang to try on styles, why not keep the dress a secret and then do a grand reveal with your bridesmaids on your wedding day?" Ballard French says.
10. Stay True to Yourself, No Matter What Others Say
"This is your wedding, not anyone else's. Stick with a dress that reflects your style, whether it's bohemian, glamorous, or more traditional. Make yourself happy, and everyone else will be thrilled for you!" Southard says.