Choose your Wedding Services
We understand that each couple has a unique story, different wedding needs and the events and activities required to make your day very special.

Therefore we offer our clients various all-inclusive Thailand wedding packages to choose from.

From the first moment you make contact with us, we will work side-by-side with you to understand your vision and plans for your special day. We provide original and one of a kind experiences.

We are a tailor made wedding planner in Phuket designing your wedding. Our experienced, friendly, passionate and professional team treats every wedding as a unique and special experience. This is why our style is unique and outstanding.
FULL WEDDING
PLANNING
Bespoke Experiences will take care of all
logistics and vendor coordination.
Creative design and logistical planning
under one roof. Vivid imagination meets
fierce organization. From the moment
we're hired, to the last guest's departure,
we're dedicated to making this a fun
planning process for you and to create a
beautiful wedding that's authentically
you.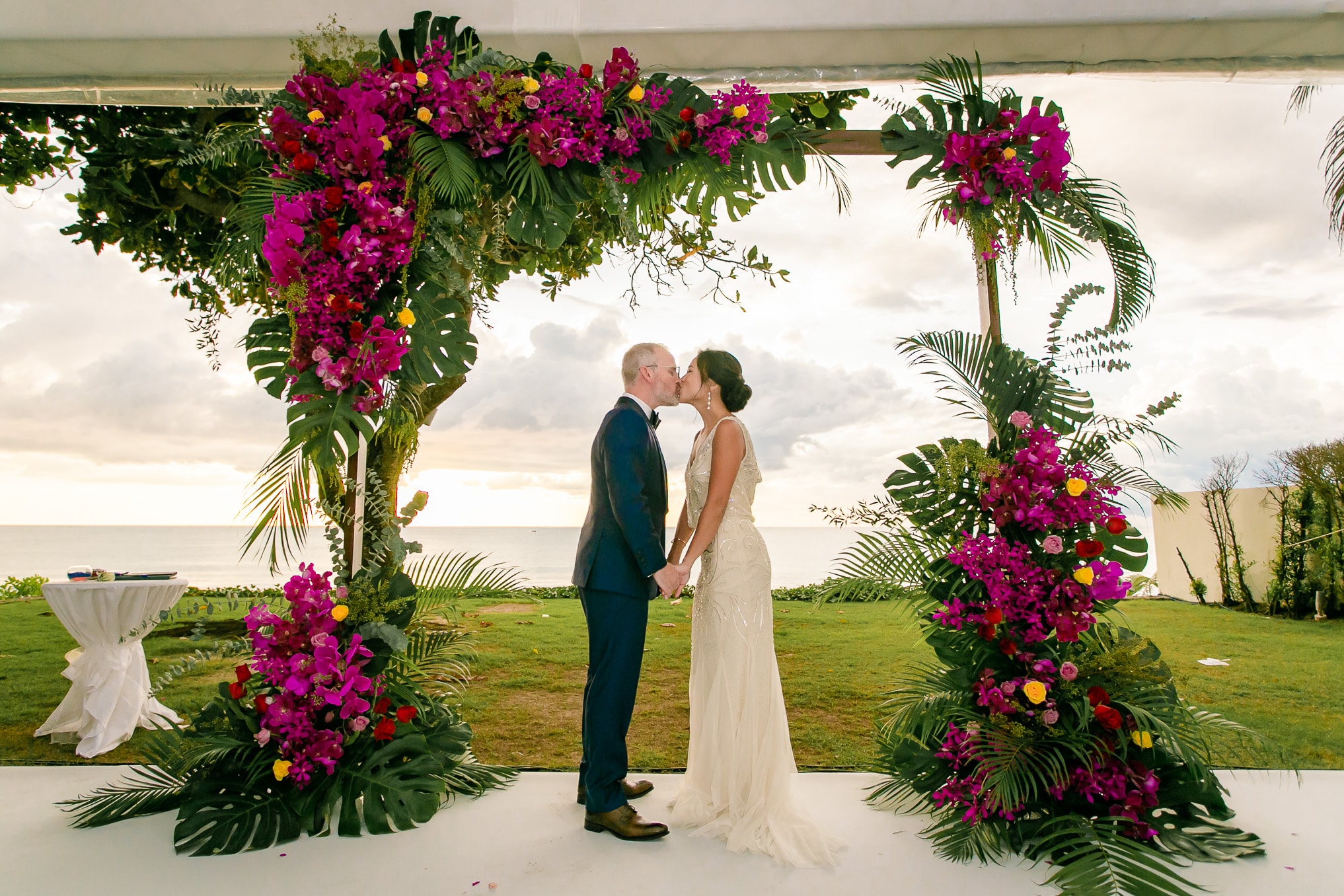 PARTIAL WEDDING
PLANNING
Choose the services you want. Take care
of the rest yourself. Partial Planning is
ideal for the couple that has already
booked one or more vendors. Choose
which services you want in your package.
Nix the ones you don't. Partial Planning
means you hire us only for the planning
and design areas where you want help.
Day-Of Coordination.
DAY OF
COORDINATION
Starting four to six weeks before your
wedding day, our experienced team
takes charge on your wedding so you
can focus on being a bride (or groom).
Our team has everything covered on
your most important day. Hand over
your carefully considered plans over
to us. Includes a team of three people and
up to 8 hours on your wedding day.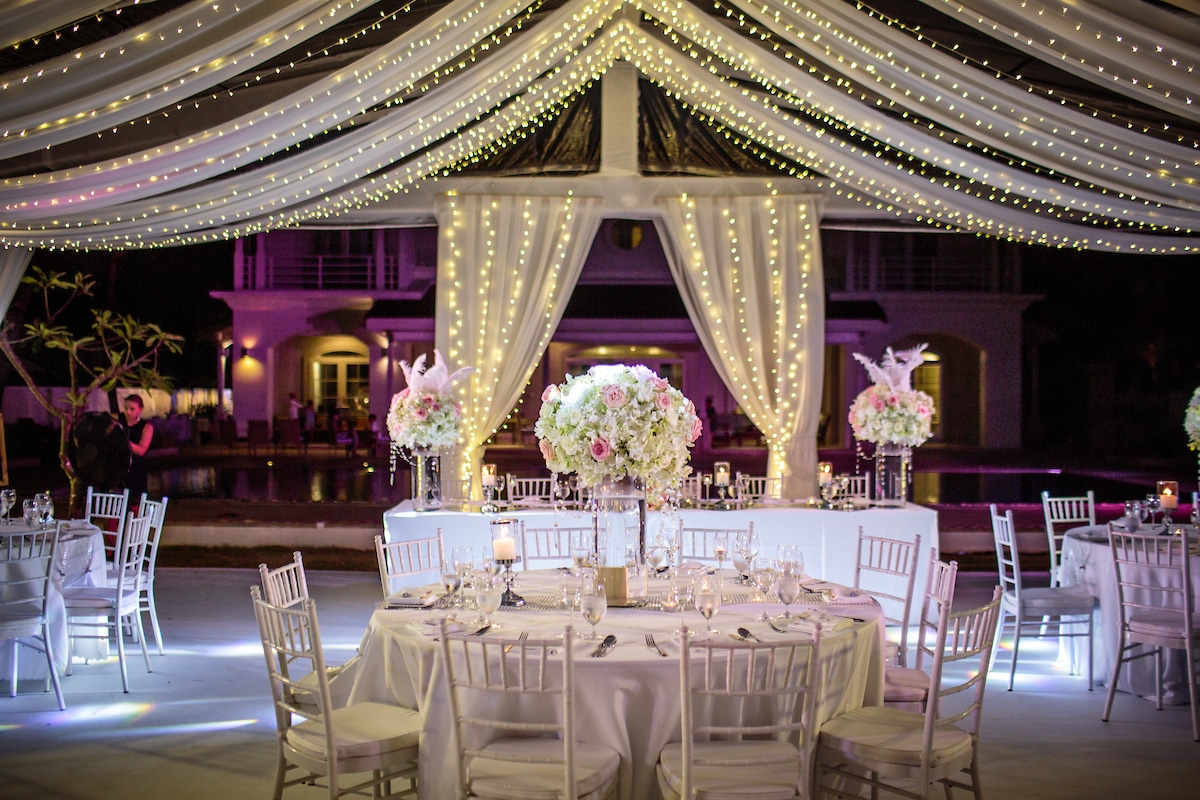 LAST MINUTE
PLANNING
You have booked all suppliers and all
details are ready the way you want
them. You need us to take care of final
reviews all last minute details and
logistics of event – walk thru at event
venue to discuss floor plan, flow, etc
if needed with caterer, venue contact
, décor team, florist. We can take care of
your guest and you can enjoy your
wedding day stress free with you family
and friends.
FLEXIBLE PACKAGES
With the pre selected packages from us,
you can choose the services direction
and wedding style you want. These
services are suitable for couple who
know that the guest number attending
their wedding will be not high. We
recommend our packages for wedding
couple or guest number between 20-50
pax. Flexibility is important for us
because each couple has a different
view, wishes and needs.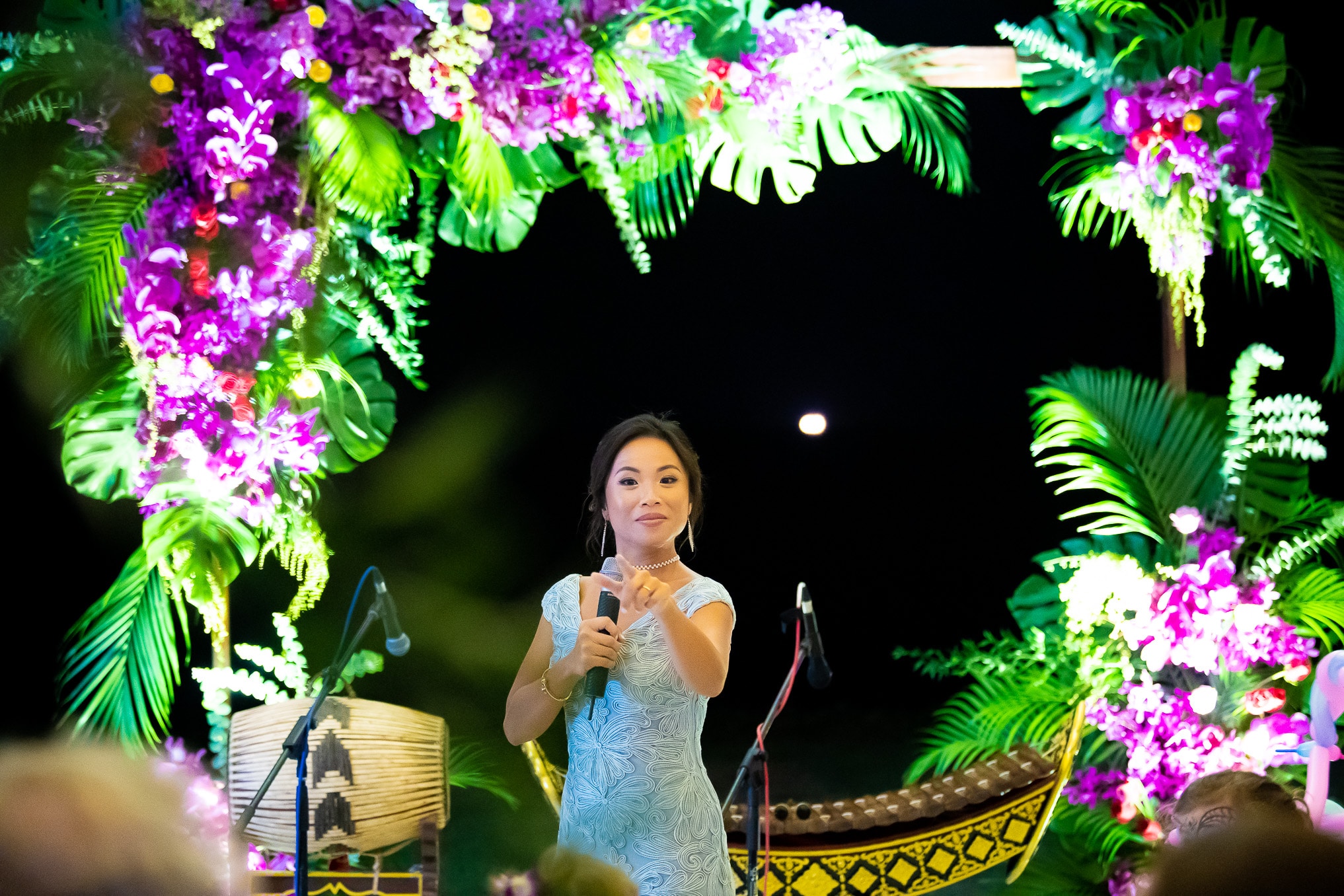 BESPOKE
CUSTOMIZE
Are you looking at having your wedding
day in your home town but need advise
from a professional wedding planner,
we will be great brainstorm partner for
you. Even we might not be able to
organize your event on site, we will be
happy to prepare the creative concept
for you. Based on our international
experience we need what to focus on so
you just keep your smile and create
bespoke memories on you wedding day.
AT BESPOKE EXPERIENCES WEDDING & EVENTS PLANNER
WE OFFER EVERYTHING YOU NEED FOR YOUR DREAM WEDDING UNDER ONE ROOF
EQUIPMENT RENTAL
For your weddings in Thailand we can provide Tiffany wedding chairs in white or gold color, modern transparent chiavari chairs, round or rectangular dinner tables, banquet tables, table runners and different colors chair sashes, fairy lights, strung lights, paper lanterns and umbrellas, electrical and hand fans, marquee and different size canopy tents etc.

Bespoke Experiences has the skills and experience to provide happy, memorable memories for our clients.​

DREAM VENUES
Select your dream venue from our Bespoke
collection for your holiday, wedding or
event. With over 20 Villas ranging from 3
bedroom beach villas to 18 bedroom luxury
ocean view properties we have the venue
necessary to fulfill your wildest fantasies.
WEDDING THEMES
AND DESIGNS
A casual beach side soiree, some
traditional entertainment or a full
fairytale wedding with all the
trimmings.

We have you covered.

We will tailor make every detail to suit
your vision. Bespoke is in our name and
the promise is that every wedding is
meticulously crafted to your
requirements.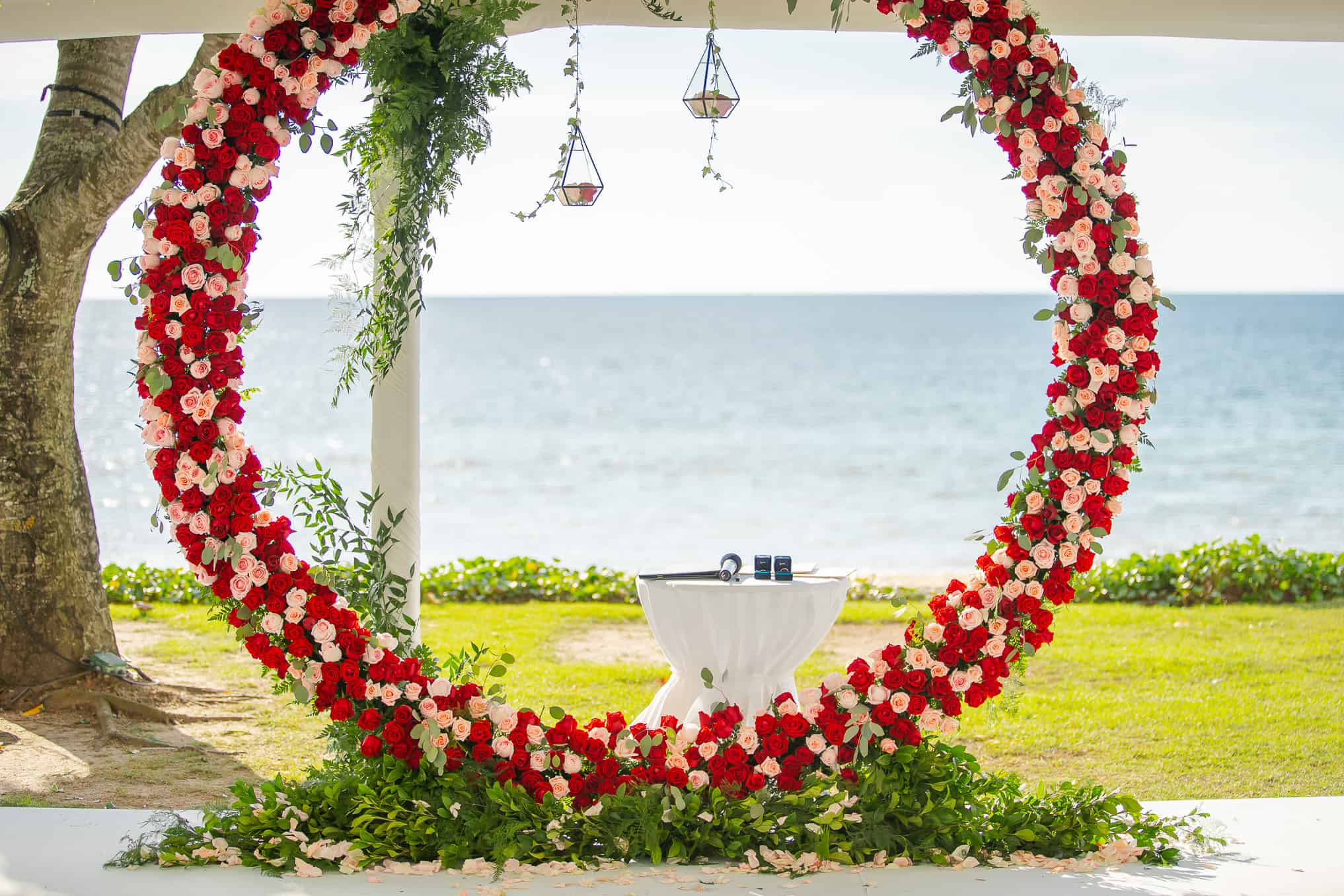 Our wedding planners only work with
the top florists in Thailand to ensure we
have the most unique international
selection of Phuket Wedding Flower
Concepts to offer.

We tailor design each floral
arrangement to suite your wedding
collection theme. Flower Arch, Bamboo
gazebo or just flower stand with exotic
Thai flowers or imported flowers. Our
floral arrangements will dazzle and
delight your guests.
FLORAL CONCEPTS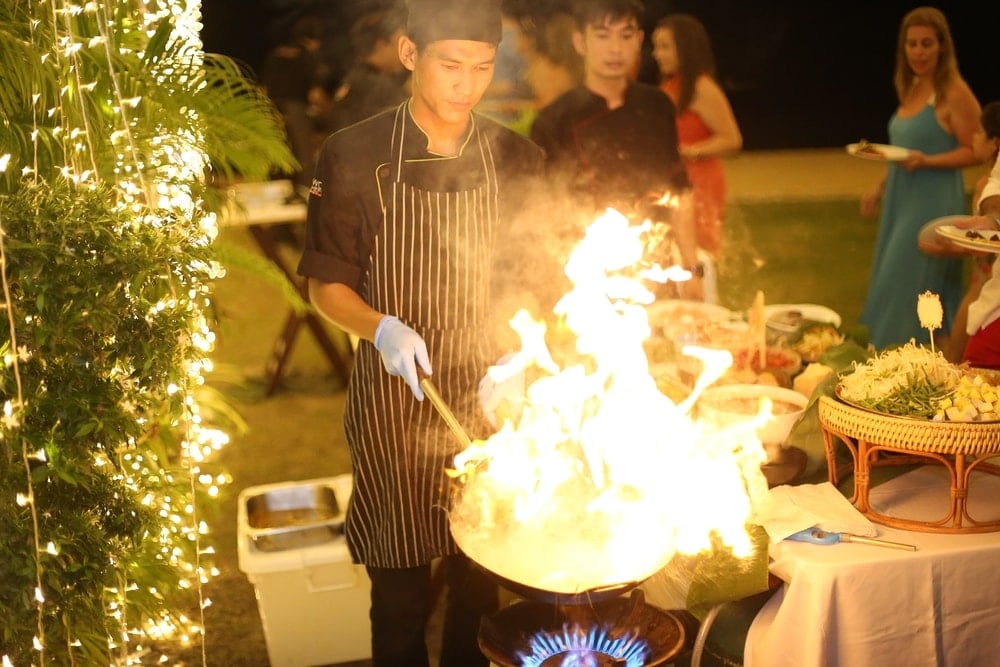 Our Phuket Wedding Planners team
works with you from the very first
moment to create a custom designed
menu suitable for wedding catering and
matching your vision for the best
culinary and beverage choices for your
event in Thailand.

Bespoke Experiences works only with
experienced chefs on the island to
ensure you have a real food experience
and special signature drinks on your
most important day. Are you thinking of
having creative food stations, unique
live action points, cocktail bars for your
wedding or event? Your wedding caterer
will do far more than just prepare your
menu. Not only will help coordinate the
wedding reception, timeline, and the
flow of the dinner but also supply the
tableware rentals, stock the bar and
bake the wedding cake.
CATERING
The sky's the limit when it comes to
choosing your unique Wedding Cake.

Our Phuket Wedding Planners work to
help you choose the best options to
match your Bespoke wedding vision.

Your wedding cake may just be the most
significant confection you'll ever want,
so it's key to know what you're getting
into. Searching through wedding cake
pictures will help you figure out which
cake design best suits your style. Baking
2 tier or more with edible designs and
different flavors is the specialty of our
caterer. We can arrange demo cake for
the special day or classic cake for all
your guests or even modern creative
cupcakes. You will have a pre-marriage
cake testing to define the details.

Everything from classic to more
modern style – we have something for
every taste.
WEDDING CAKES
Do you need a wedding dress? Let
our Phuket Wedding Planners help you
find the perfect wedding gown
bridesmaids dresses, groom outfits,
groomsmen attire and accessories to
match your wedding theme and design.

We work with the best tailors and top
retail stores and can offer customized
options for your wedding outfit
needs.
WEDDING DRESSES
AND ACCESSORIES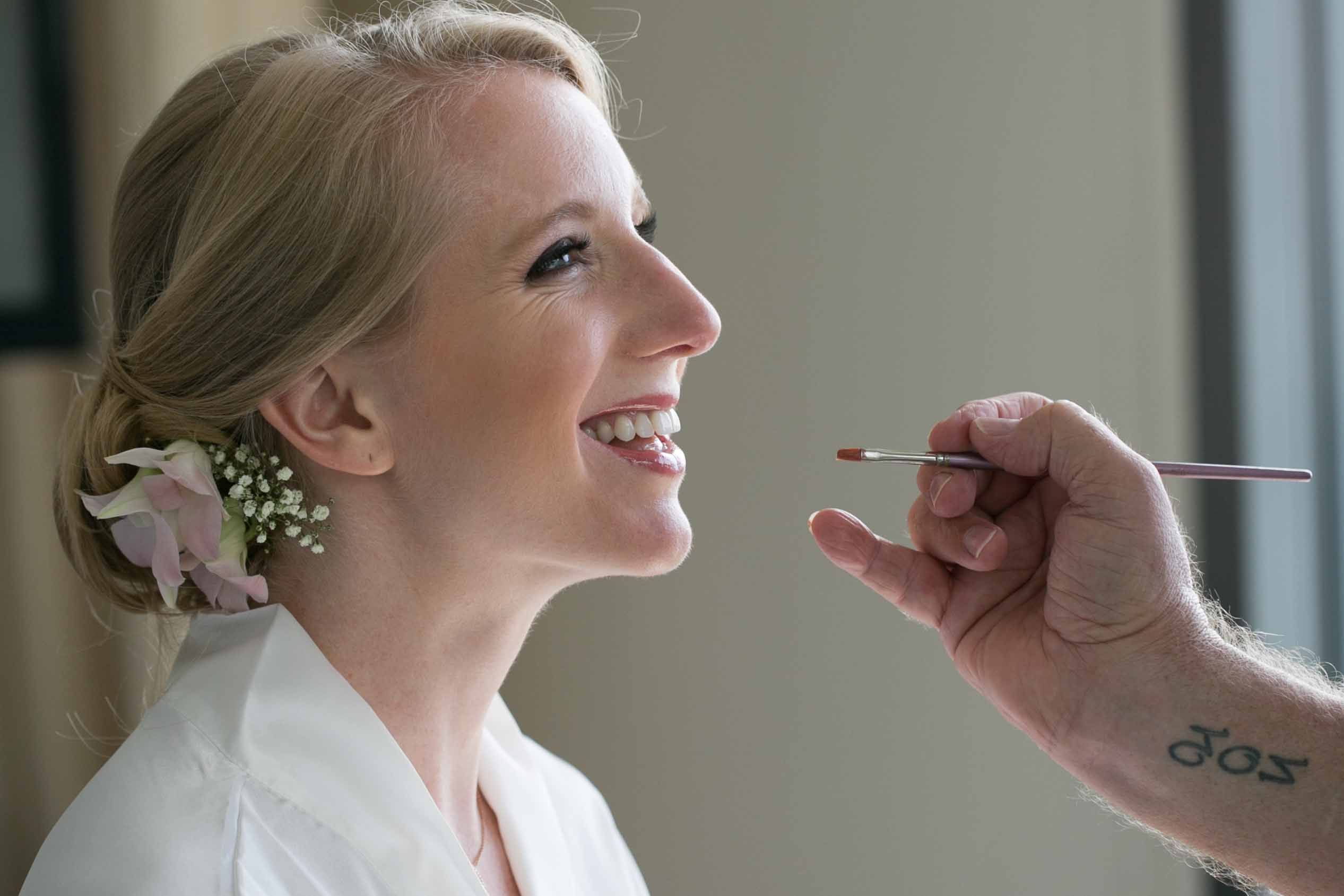 Finding professional Bridal hair & Makeup in Phuket is one of the first concerns every bride has. Our wedding planners can help you look stunning on your special day with our Hair & Makeup ideas. We can help you create your dreams of beauty. Our team is skilled in helping you arrange all of your hair and makeup accessories.

We can provide services for the bride and groom and also for your bridesmaids, groomsmen, and special guests. Additionally, we can coordinate times before your wedding to work with our Phuket hairdresser and makeup artist hair to design your own special hair and makeup style while you sit back , relax, and enjoy some champagne and let our professional team take care of everything.

BRIDAL HAIR AND
MAKEUP
Phuket offers many creative and
innovative wedding entertainment
options for all types of event activities.
Our Event Planners will do much more
than just planning your wedding.

We will make it "Bespoke" by creating a
customized entertainment option for
yourevent so you can impress all you
guests with Thai traditional dance
performance, live action fire show on
the beach or unbelievable fireworks
even better than those you see on New
Year Eve.

The sky is the limit if you prefer
classical music elements or saxophone
player or maybe modern audiovisual
performance with image mapping on
your cake.

Let us make your wedding
entertainment dreams come true in
Phuket.
WEDDING
ENTERTAINMENT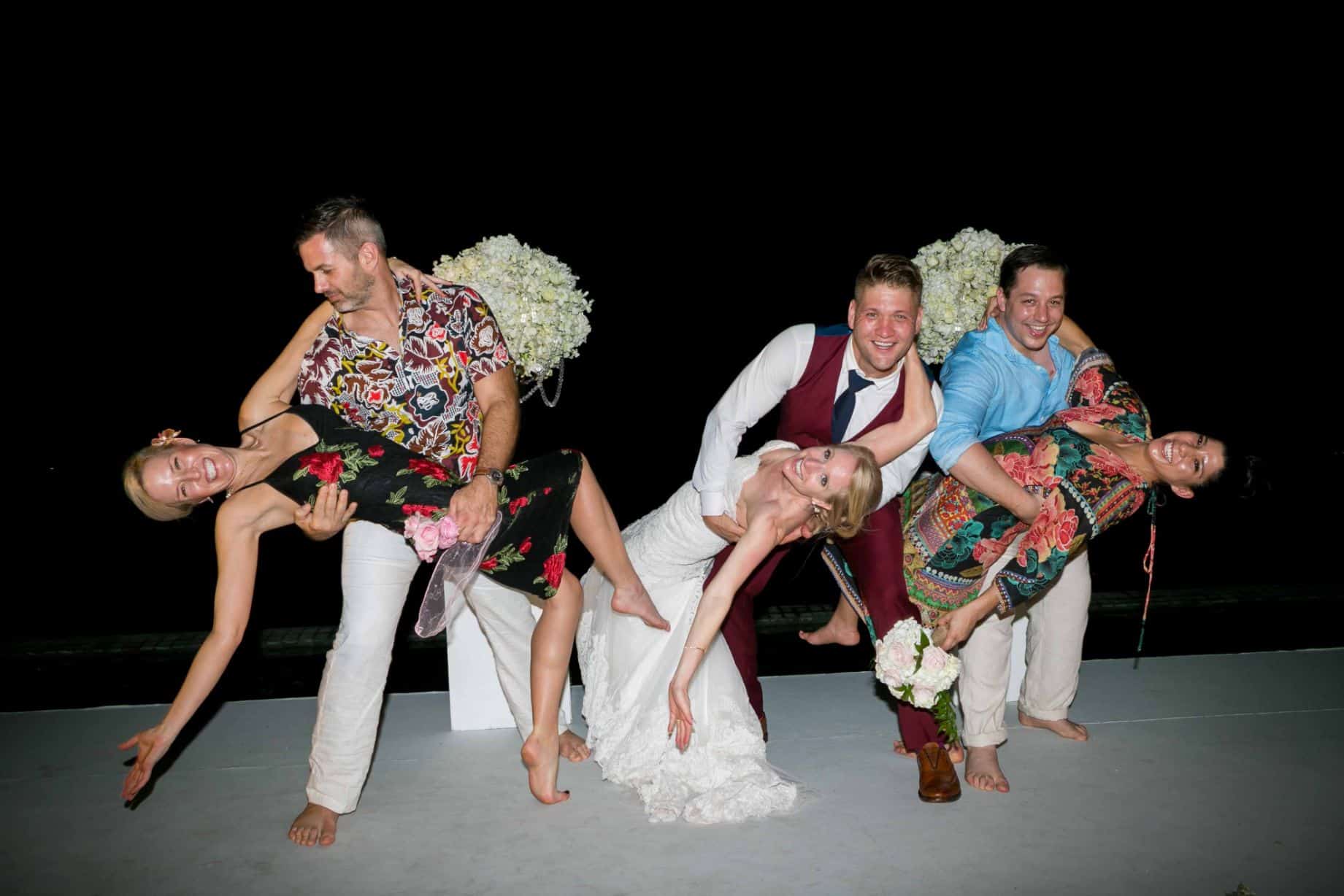 Bespoke Experiences together with our professional Phuket wedding photographer can help you create memories that last a lifetime.

Our team is briefed on your individual needs for each event in advance. We capture all important moments during your wedding or event – from the moment the wedding couple gets ready, precious emotions with the bridal party, to the first dance and tears during speeches of family members.

We understand how important wedding videos and photos are, that is why we are passionate about creating perfect memories.

We can arrange pre-wedding video shooting and capture each important time of your life. Wedding Cinematography video services and drone filming are the latest trends which we provide in order to take your marriage in Phuket to another level.
PHOTOGRAPHER-
VIDEOGRAPHER
TRANSPORTATION
Whether by land, sea, or air…

We will arrange a your transportation
needs for you and your guests during
your entire destination wedding
experience in Phuket. From private
yachts, stretch limousine, helicopter to
Tuk Tuks there is no shortage of fun
and exciting ways to arrive at any
wedding event in Phuket. Buckle up,
relax, and contact us so we can
work on the best options for you. ​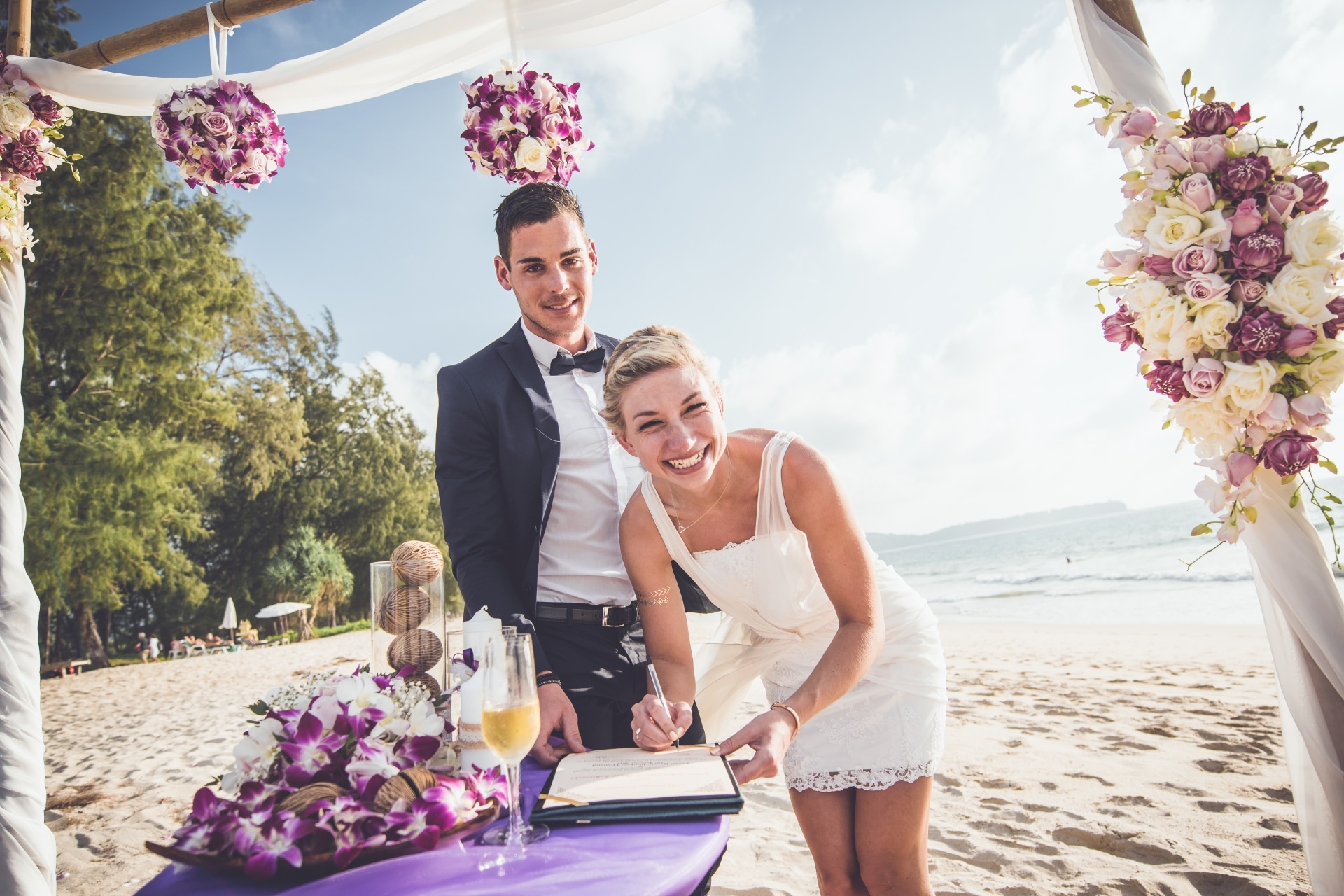 LEGAL MARRIAGE
Let our Phuket Wedding Planners help assist you with some of the legal issues that can arise with getting married in Thailand.

Every case is different and depending on your country it will be important for you to check with your Embassy. We have experience in non-religious ceremonies, traditional Buddhist ceremonies, Christian, Catholic, and Civil Partnership marriage ceremonies.

At Bespoke Experiences we can oversee this process by arranging all necessary appointments and documentation required.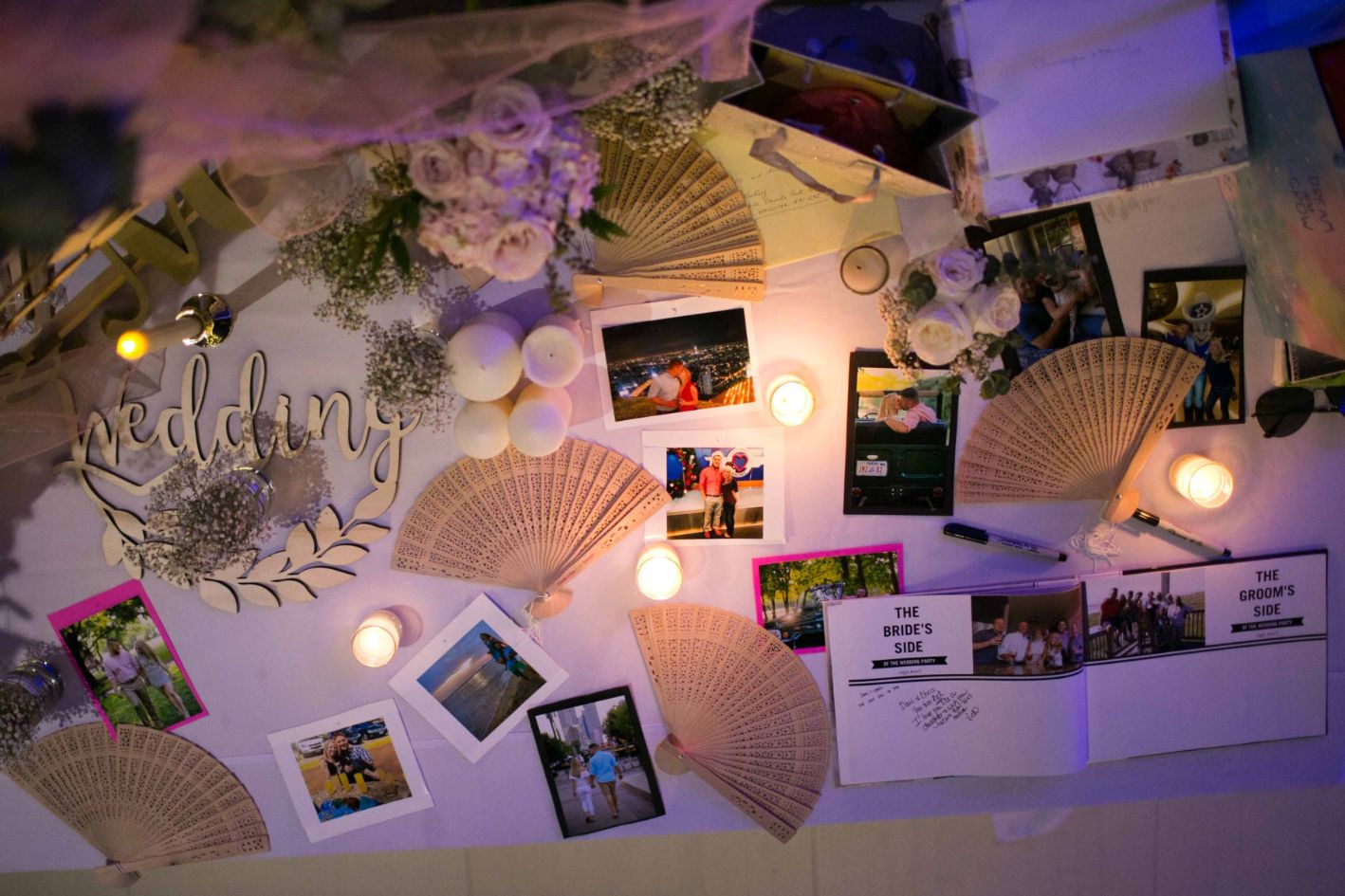 BESPOKE EXTRAS
Bespoke Phuket Wedding Planners are passionate about making the perfect experience for your wedding activities or special event in Phuket.

We offer a wide range of extra services which can be tailor made to accommodate your personal taste or wedding theme. At Bespoke Experiences we can also take care of your entire wedding and social media needs.

Be sure to ask about our Hen and Bachelor parties, Phuket Couple Adventures, Bride and Groom Spa Escapes, Wedding Invitations, Wedding Gifts and all the extras that can come with it.
ASIAN SPIRIT
WEDDINGS
After living in China for six years, Bespoke Experiences owner Alexandra has a unique knowledge and understanding of the Chinese culture. Wedding Planner Bespoke Experiences is passionate about creating special Asian spirit weddings with a unique Chinese style. We understand how to accommodate a wide range of styles and knows how to make sure communication is clear when speaking in Chinese to our customers.

At Bespoke Experiences we also have professional wedding partners in China where you can meet face-to-face to discuss your Destination Wedding in Phuket.
we are the dream team for your weddings and events
SCHEDULE A CALL OR APPOINTMENT
WHAT OUR HAPPY CLIENTS HAVE TO SAY
I got the pleasure of working with Alexandra for my wedding proposal. She took care of everything from transportation to the show our random snack request. She did an amazing job making for a very memorable life event. Alexandra was extremely easy to work with and tried her best to get everything I wanted. She did an outstanding job, I can't recommend their services enough.
Henry Nuguyen (Marriage Proposal)
I used Bespoke Experiences for my proposal recently in May of 2019. Alex had impeccable communication skills throughout the whole experience. From start to finish, she was there to assist me with any questions or concerns I had. I couldn't have asked for a better experience! My now fiance was caught totally off guard and totally surprised. Everyone I interacted with had a huge smile on their face and a fantastic attitude. Every friend and family member I've shown the photos to were absoluelty taken back. They asked how you could have arranged something like this in Thailand. If it weren't for Alex and her incredible team, I would have been a lost puppy. If anyone has concerns or doubts, don't be worried, rest assured you will be in great hands! Thank you so so much, Alex!!! You've created a special day for us we will never ever forget!
Aldiene Valenzuela (Marriage Proposal)
If you are getting married in Phuket and use any one other than bespoke you are crazy! Alexandra is absolutely amazing and has perfected her craft. From planning to execution she makes the entire process easy and enjoyable (typically these are not words used related to wedding planning). Planning a Thailand wedding from Texas had its challenges but my wife and I never felt overwhelmed or stressed while working with Bespoke. It is rare to find someone who loves her job as much as she does, that passion can be seen in all of the small details that are so often over looked. On our wedding day everything was perfect as well as seamless and we have no doubt that's because of her meticulous attention to detail and thorough planning.
Christopher Carr (Wedding)
Andrew and I are based in Melbourne and always wanted a destination wedding. It seemed like a daunting task at first but locking in Bespoke made things simpler. We are both quite easy going and relaxed so we needed someone to really force us to make decisions and Alex was great at that! Our wedding day went so smoothly. Marquee, ceremony, set up, flower arch, catering, music and lighting, coordinating staff - all things that were flawlessly happening in the background whilst we got to enjoy our special day. We would not change a thing. We picked Villa Shanti in Phuket and had 108 guests. Most of whom have said that it was the best wedding they've ever been to :). Thanks to Alex and the Bespoke team!
Shamen Rodrigues (Wedding)
5 stars!!! Thank you so much for making the proposal to the love of my life truly special. Communication was very thorough, the plan was clear and everything was executed beautifully. I highly recommend Alexandra to anyone looking to plan their special day whether it be a simple or extravagant proposal! Bespoke rocked!
Caleb Goad (Marriage Proposal)
Thank you Alexandra and her team for the hard effort they put in to make my proposal perfect it was amazing she was shocked and loved it thanks aha Alexandra
Andy Fanous (Marriage Proposal)
We had an amazing day and experience with this company. Two of our guests decided to get married, while being on a vacation in Phuket. Surprised me, and all of us. Luckily I found Alexandra company. She did her best, organized a very lovely and intimate wedding on the beach, in a really short period, made all their wishes come true. She is a lovely lady and a really professional in what she is doing, and that would be- making people happy Thank you!
Jelena Rsumovic ( Travel Agent)
This crew is amazing and know how to make everything perfect for the occasion. I would of never found an amazing beach for my proposal if it wasn't for them. They work great as a team and I couldn't be more happy with everything. So excited to see how the photos turn out. 100% would recommend to family friends or anyone else!!
Jimmy Cryderman (Marriage Proposal)
Thanks Alex and her team for making my proposal a wonderful experience. Alex was very patient and professional from the inquiry phase till after the proposal and made sure my event turned out special. Response time and communication was very rapid and effective. Long story short, everything was planned out to perfection by Alex. I highly recommend.
Rotimi Adeliyi (Wedding Proposal)
​ Thank you so much Alexandra and your team for making our engagement so wonderful. You and your team were so professional throughout the photoshoot and made the proposal a breeze. Your planning and organizing was perfect. Your photographers were excellent, we really enjoyed every moment of the photoshoot. I would highly recommend Alexandra and her team for engagements and photoshoots. They are brilliant.
Zane Murphy (Wedding Proposal)
A big thank you for making my proposal a success! The service is professional throughout while making life so much easier for this anxious guy here (i believe most guys out there will understand it the best). cant wait to see the video right now !
Ciel Lim (Wedding Proposal)
It was a dream that turn into reality because of your great work! everything was the way we wanted to be. from the very first day of preparation up to the wedding day Alex was there to support us all the way. She updates us with everything. She extended her help even on some matters that I surely know was not part if her job anymore. Though there was some tensions and anxiety, Alex makes us feel more comfortable and confident that all will be well. She's not just a wedding coordinator but also a friend! 😊 Thanks so much for everything Alex! You're the best! Best of luck ​
Zarina Pa Mor (Wedding)
These guys are amazing. Woke up hungover as hell on my wedding day and Alex was putting ice on my eyes and telling me to drink coffee. She was amazing . She planned our hens party, pamper day before the wedding and was there on the wedding. Highly recommend these guys !!!
Hayley Hayes-Fitzgerald (Wedding)
​ We had amazing day with Alexandra. I Proposed my girlfriend in phuket. She did not have any clue about this proposal and Alexandra made all arrangements. We had photo session on beach and fireshow after that. The big will you marry me sign was made from fire !! It was really special. We recommend Alexandras service to all of you. Thank you Alex for great day !!
Samuli Hietarinta (Marriage Proposal)
I found Bespoke on youtube when I was researching ideas to propose to my queen in Thailand. I saw a video of a couple on the beach with fire dancers and an amazing sunset and knew thats what I wanted. I contacted Alexandra via email and got a quick response. We went over all the details and script I wanted over emails and some whatsapp phone calls. Everything went very smooth and she was perfect in tricking my now fiance into thinking this definitely wasnt a proposal until the last second when a sign opened up that said will u marry me...oh and the sign was on fire. fireworks and champagne flowed. we were there with 11 of our friends and it was perfect. I highly recommend!
Jason Rios (Marriage Proposal)
Alexandra and her team helped me organise a proposal on a beautiful quiet beach. It was a full photoshoot with a beautiful little beach picnic setup. It was perfect, despite the sudden stormy rain... My fiancé said yes and the team also handled the weather really well. In fact it probably made the proposal more memorable lol but they seriously did an amazing job and we couldn't be any happier.
Adam Wong (Marriage Proposal)
Alexandra saw a big job organizing us a wonderful wedding in Thailand. Everything was perfect even though a "small" storm by surprise for the nature. We got a wedding that we never forget. Alexandra listened to our hopes until the end and got created a perfect day for us. We are very pleased
Camilla Rautanen (Wedding)
Incredible service, very professional, and provided a result that was more than the expected outcome. Can't be happier with how everything turned out to be, and would do it all over again without a doubt.
Alfredo Desiati (Marriage Proposal)
I wanted to give a surprise proposal to my girlfriend, so I googled if there is any planner in Phuket as we will travel to Phuket for vacation. and definitely I have no time to arrange the proposal scene. Alexandra has communicated well with me, and understood my ideas, and come up with a best timing and the scene. I have already ordered a flower bouquet and i am so glad that she helped me to bring it to the scene. It is really romantic to propose on the beach. Thanks for Alexandra and her team's assistance!😊
Thomas Tam (Marriage Proposal)
Thank you so much for planning our perfect engagement on such short notice. It was truly special. We will recommend your services to anyone!
Rosseau Sous Prinsloo (Marriage Proposal)
Alex is awesome. I chose the fire dance proposal and it was perfect. Alex walked me through everything and responded quickly with all communications.
​ Steven Nguyen (Marriage Proposal)
Working with Alexa and her team was a pleasure. They understood perfectly what we wanted and went on extra mile to make things happen for us. They indeed helped us create a very bespoke experience.
Sadikchya Sharma Kumar (Wedding)
Alex was awesome, made sure everything ran smoothly and looked beautiful. She was creative and flexible. I would absolutely recommend her! Thank you Alex!!
Robin Kindle (Wedding)
I'v been to a wedding of a friend at Phuket. Fantastic event !!! A lot of joy, smiles and happiness !!! Perfect organization. Thank you 🙂 ​
Ivaylo Velikov (Wedding Guest)
Fabulous wedding planner, we've collaborated on a bunch of weddings and Alexandra is incredible.
Jake Ritter
​ ... eine 5 ist viel zu wenig. Alexandra und ihr Team hat uns den perfekten Tag ermöglicht. Für uns unsere absolute Traumhochzeit in Thailand. Alexandra war während den Vorbereitungen und natürlich vor Ort eine äusserst professionelle UND herzliche Ansprechperson. Wir würden ihr 100 Punkte geben, wenn das möglich wäre. Alexandra, Adam und Team; Danke, dass wir durch euch unserem Traum leben durften. Perfekt ist, wenn ein Traum Realität wird - und das wurde er!!! DANKE
Michèle Klarer (Wedding)
Perfekte Planung, ein unvergessliches Erlebnis, unzählige Eindrücke aus der asiatischen Kultur und der wunderschünen Natur Thailands! Vielen herzlichen Dank!!!
Mariyana Müller (Wedding)
STAY UP TO DATE WITH OUR BESPOKE EXPERIENCES