This is a paid post from an APW sponsor. For more about APW and how we make money, please click here.
---
You already know that a wedding website is the easiest way to disseminate important information about your wedding. And by now you also know that Squarespace is by far the best, most customizable, and easiest platform to use to build your wedding website. So now you might be finding yourself wondering how to… ya know… actually get the right information into the right hands. Of course, you'll have time and date, a map to the location, and a registry page. That's obvious, right? But what about all the rest of the information?
Ready for the trick? It's an FAQ page. It's a catch-all for all the details you know folks are going to ask you about, but you don't want to answer 100 separate times. It's a place where your guests know they can go to figure out the answers to their questions without texting or calling you. It's a game-changer for your wedding website (and for your spare time).
I know what you're thinking… what goes on a wedding website FAQ page? You're not alone… people ask this question all the time. So we compiled the most complete list of important questions we could find to answer on your wedding website FAQ page to save yourself the maximum time and energy. Feel free to copy and paste these ideas; just make sure you update the answers to match your wedding details.
What Is An FAQ Page?
FAQ stands for Frequently Asked Questions. So, it's just that. It's a quick and easy place where folks who are full of questions can get answers without actually contacting you at all. It's a way for your family and friends to get information quickly, and it's an incredibly efficient way for you to save time and energy. While you might have answered all the questions elsewhere on your wedding website, it's still worth compiling it all into one place on the FAQ page in order to guide people to the answers in the most efficient way possible.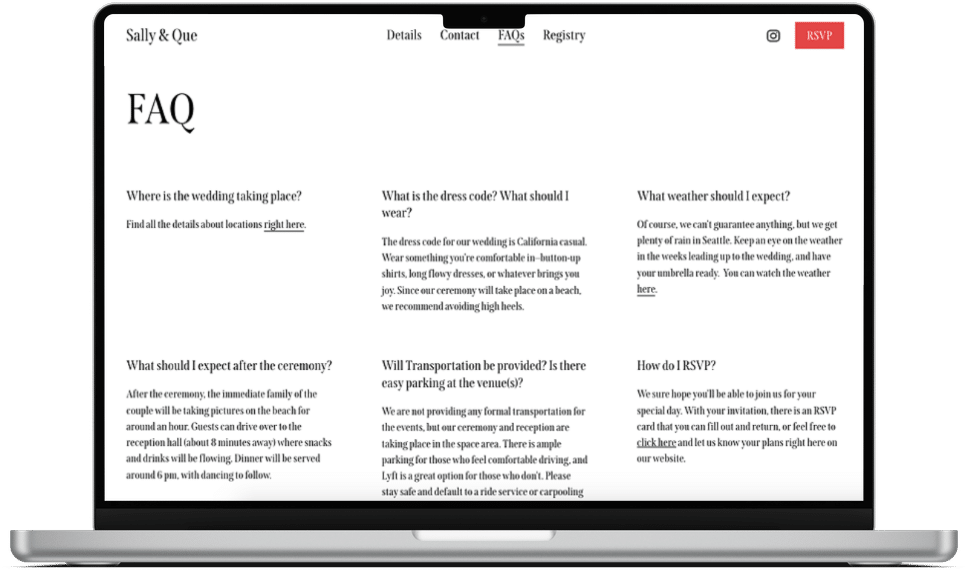 What Should Be Included On A Wedding Website FAQ Page?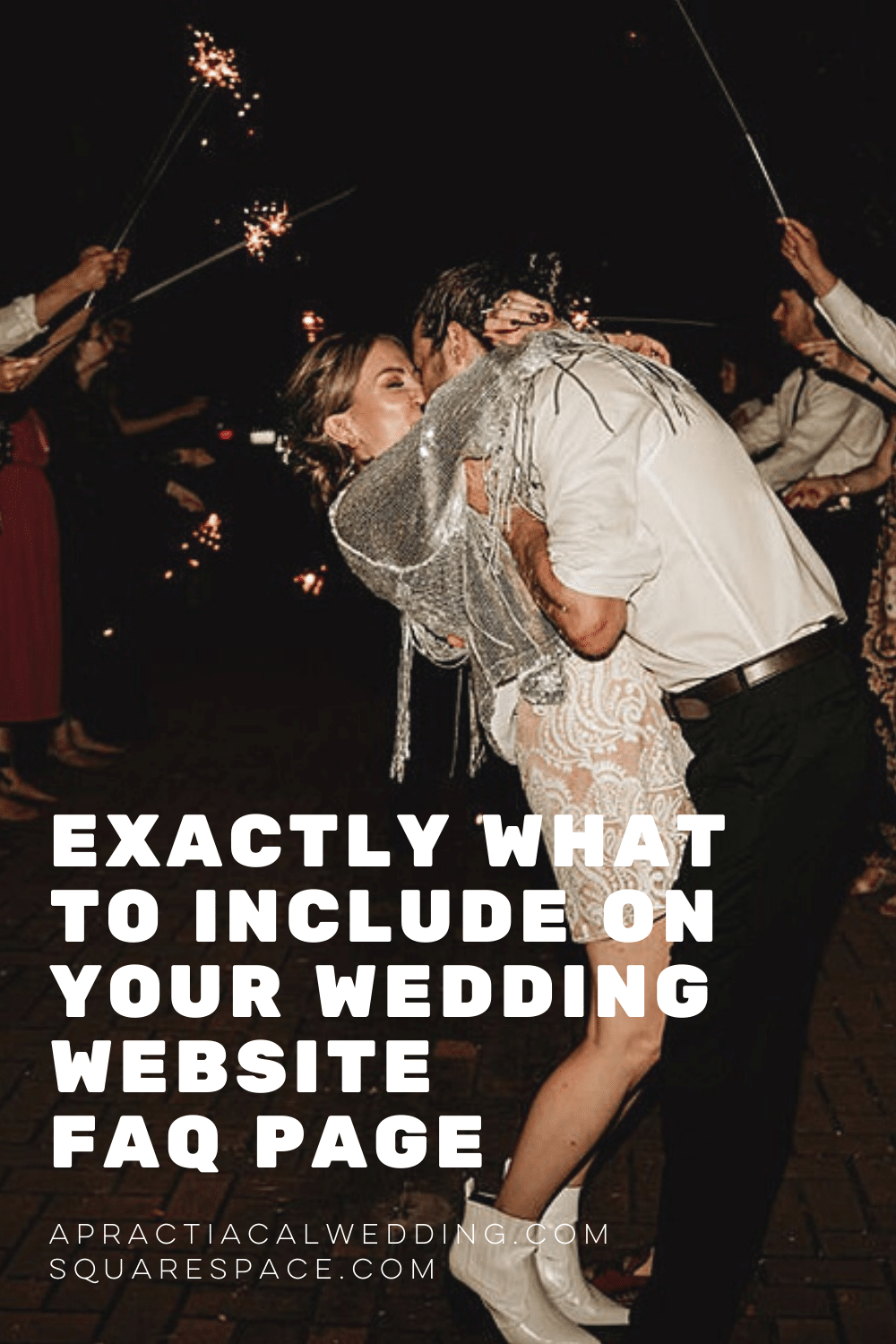 Literally everything. Make it all-encompassing. Cover details like timing and location information by just reiterating the details, or with links to those pages or sections of your wedding website. (With Squarespace, it's easy to add a link or button that will take folks right where they need to be.) Then try to think through every possible question that a guest at a wedding might have… clothing/attire, food/menu, transportation, where to stay, weather, timeline, what to do in the area, how to RSVP, how to buy you a gift, kids, plus-ones… all of it.
Copy And Paste These FAQs
Here's a huge list of questions and sample answers that you are welcome to just steal… seriously, we did the work for you.
Where is the wedding taking place?
Pro-Tip: Include the ceremony location and reception location (if they're different), and link to the section of your website that might have more information. Use Squarespace's map blocks to share user-friendly maps that folks can click on and get directions.
What time is the ceremony? What time is the reception?
Answer: Reiterate the time on the invitation, and then let folks know if they should try to arrive early or anything.
What is the dress code? What should I wear?
Answer: "The dress code for our wedding is California casual. Wear something you're comfortable in—button-up shirts, long flowy dresses, or whatever brings you joy. Since our ceremony will take place on a beach, we recommend avoiding high heels."Pro-Tip: Wedding attire can be stressful for guests, to make it easier on them, be specific but not demanding. Avoid telling people exactly what to wear… they are grown-ups. Instead, give them ideas and guidelines. For example, if you're getting married in a church, be sure you share any specific rules, but avoid telling people exactly what style to wear.
What weather should I expect?
Answer: "Of course, we can't guarantee anything, but we get plenty of rain in Seattle. Keep an eye on the weather here (link) in the weeks leading up to the wedding, and have your umbrella ready."Pro-Tip: Inclement weather isn't just rain… let folks know if it's going to be super sunny and they should bring sunscreen, or windy and they should adjust hairdo plans accordingly.
Will the wedding be indoors or outdoors?
Pro-Tip: It's important for guests to know if the ceremony or reception will be indoors or outdoors so they can plan accordingly. Folks may want to bring a parasol or hat if they'll be outdoors.
What should I expect after the ceremony?
Answer: "After the ceremony, the immediate family of the couple will be taking pictures on the beach for around an hour. Guests can drive over to the reception hall (about 8 minutes away) where snacks and drinks will be flowing. Dinner will be served around 6 pm, with dancing to follow."Pro-Tip: If your wedding website has a section with detailed timeline information, link to it.
Will transportation be provided? Is there easy parking at the venue(s)?
Answer: "We are not providing any formal transportation for the events, but our ceremony and reception are taking place in the space area. There is ample parking for those who feel comfortable driving, and Lyft is a great option for those who don't. Please stay safe and default to a ride service or carpooling if you plan to drink."Pro-Tip: You can link out to taxi services, Lyft, etc., and link again to any maps and location information. Let your guests know exactly where to park, if there is a valet service, whether or not parking is limited, and how much they should expect to pay for parking.
Are there other wedding events I can attend?
Answer: Let your guests know about any additional events before or after the wedding like brunches or happy hours.Pro-Tip: Do not include any information about events that are being kept small or exclusive. You don't want all 150 guests to show up at your intimate rehearsal dinner for 20. With Squarespace,you can password protect pages you don't want to share with everyone… it's that easy.
How do I RSVP?
Answer: "We sure hope you'll be able to join us for your special day. With your invitation, there is an RSVP card that you can fill out and return, or feel free to click here (link) and let us know your plans right here on our website."Pro-Tip: Squarespace makes it easy to create RSVP forms that let folks respond quickly and easily, and you can have the answers load right into a Google Sheet for easy organization.
When is the RSVP deadline?
Answer: "Please get us your RSVP by June 3rd, so we have time to buy enough booze."Pro-Tip: Share a link to RSVP online… again.
Can I bring my kids? Will there be a babysitter?
Answer: "Since we have huge extended families, we've chosen to limit our guest list to fourteen-year-olds and over, and we hope you understand. Let us know if there is anything we can do to help."Pro-Tip: This can be a touchy question, read more about our thoughts on it, here. Of course, if you are having kids at your wedding, let folks know the details.
Can I bring my partner?
Answer: "We are at capacity with our venue which means we are sadly unable to accommodate additional guests. We will only be able to accommodate those listed on your invitation. If you have any questions, please reach out."
I can't attend the wedding in person. Will there be a virtual wedding celebration?
Answer: "We've decided to stream our wedding ceremony for guests who can't make it to be with us in person. You'll find all the details here (link)."Pro-Tip: If you are allowing guests to join in virtually, this is a great opportunity to share the details, including the timing, links, passwords, etc. That way it's all in one place for your guests (in person, or from afar).
 Do you have a hotel block for guests? Where do you recommend I stay?
ProTip: Let your guests know if you reserved a hotel block, the pricing, address, and give them alternative hotel options in the area. With a Squarespace wedding website, it's easy to link out to all the best local options, even AirBnB. If you have a travel page on your website, link to that.
Are the ceremony and reception location wheelchair accessible?
Pro-Tip: This one is easy to forget if you don't have to think of it for yourself, but it's a kind and helpful thing to inform your guests of the venue's accessibility. Some venues have a separate entrance for wheelchairs, you should include those details, too.
What type of food and drink will be served during the cocktail hour and reception?
Answer: "We'll be serving light snacks during cocktail hour, followed by a delicious dinner, and of course dessert."Pro-Tip: You don't have to include your whole menu here, but it is helpful to give people an idea of what to expect so they don't show up hungry if you're only serving dessert.
I have dietary restrictions, what's the best way to communicate that with you?
Answer: "We definitely want to make sure you enjoy your time and meal on our wedding day, please let us know when you RSVP (link) about your dietary needs."
Will there be an open bar?
Pro-Tip: This might feel like a silly or annoying question to answer, but it's especially important if it's a cash bar, so just let folks know what they can expect (keep it simple). Here's more on cash bars, and how to word a limited bar option.
Are you registered? Where should we ship your gift?
Answer: "We are registered a few places, you can find the details on our Registry page (link)."Pro-Tip: Squarespace makes it easy to create and share your registry a number of ways, so you can just share a button that sends folks to your registry page, where you can integrate your registry right into the website. Here is more info on how to set up your registry and mistakes to avoid.
Can I take and post pictures of the wedding on social media?
Answer: "We love photos! We do ask that you refrain from taking photos during the ceremony, we'd like that time to be unplugged. For the rest of the wedding, we encourage guests to post pictures using our wedding hashtag #________ so we can see them, too!"
What COVID health and safety measures will you be taking during the event?
Answer: "Getting married in the midst of a global pandemic means that everyone's health and safety is a top priority for us. Part of our RSVP process will be asking each person if they are fully vaccinated (with a booster), or will be by the wedding day. For more details on our COVID plan, click here (link)."Pro-Tip: With Squarespace, you can have endless pages on your wedding website. You may as well make space for safety measures and details you plan to implement on your wedding day.
I have a question that I just can't find the answer to, what is the best way to contact you?
Answer: Your guests may still have a few questions after going through your wedding website FAQ, let them know the best way to reach you or your wedding planner.Pro-Tip: You can make a Contact page on your wedding website, or even have a simple form that folks can fill out (you can have it send the entries to your email) if you think it'll help you keep it all straight during the mayhem of planning.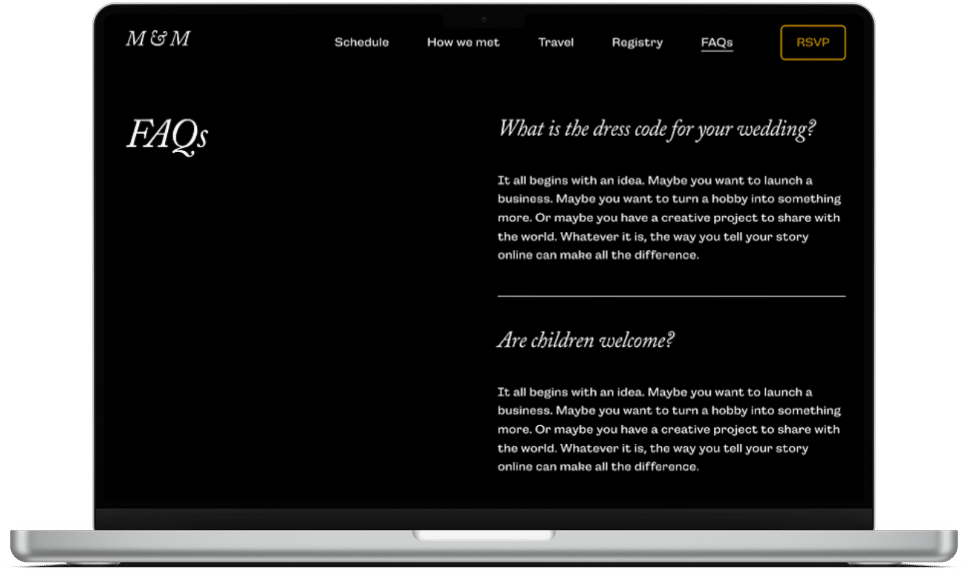 DO you have a wedding website? If not, you should. Squarespace makes it easy to create one in no time. CLICK HERE to get started. And don't forget to make an FAQ page so your wedding guests have an easy time finding all the information they need. 

This post was sponsored by Squarespace. Squarespace makes beautiful wedding websites happen in a matter of minutes, thanks to their user-friendly software (full of features) and modern, minimal template designs (and really great wedding-specific templates, that don't look like every other wedding website you've ever seen.) Trust us when we say that you want to make a wedding website with Squarespace. You'll save yourself a bunch of time and hassle, and make sure your guests are super informed. Click here to start a free 14-day trial and get your custom wedding website URL today (It's free with your annual subscription).
Find all our Squarespace posts with tons of helpful tips and tricks, right here.
APW readers, get 10% off yearly subscriptions when you use the code APW at checkout.