This one is for that edgy bride who always wears black or is about breaking stereotypes.
Who said you could only flaunt a white wedding dress on the most memorable day of your life? A black wedding dress looks just as bridal, sophisticated, and elegant as a white bridal dress. Its non-traditional aspect makes a black dress wow-worthy. Many black dresses pop against numerous landscapes in a way whites cannot. If you are on the fence, or a black dress is something new for you, here are five good reasons you can wear one on your wedding day:
Dress style: CW2502(Black/Flint Gray) & CW2503(Ivory/Pale Khaki)
BE YOURSELF
There is no better reason to wear a black dress than being yourself. It is your big day, so "do you" and let the rest follow. Wedding and family traditions can indeed be stressful, but this is one rule you are allowed to break. Make decisions based on what you want and not what society forces on you. Don't want an extravagant wedding? Plan an elopement. Not a cake fan? Go donuts. Feel more "you" in black? Get a stunning black gown for your wedding.
MYRIAD OPTIONS
You can carry your black dress in so many ways and style it with several accessories or nothing at all. You can choose a little black dress or go all dramatic with some romantic ruffles. Ultimately the choice is yours, and for your peace of mind, black dresses come in myriad styles – you won't be disappointed.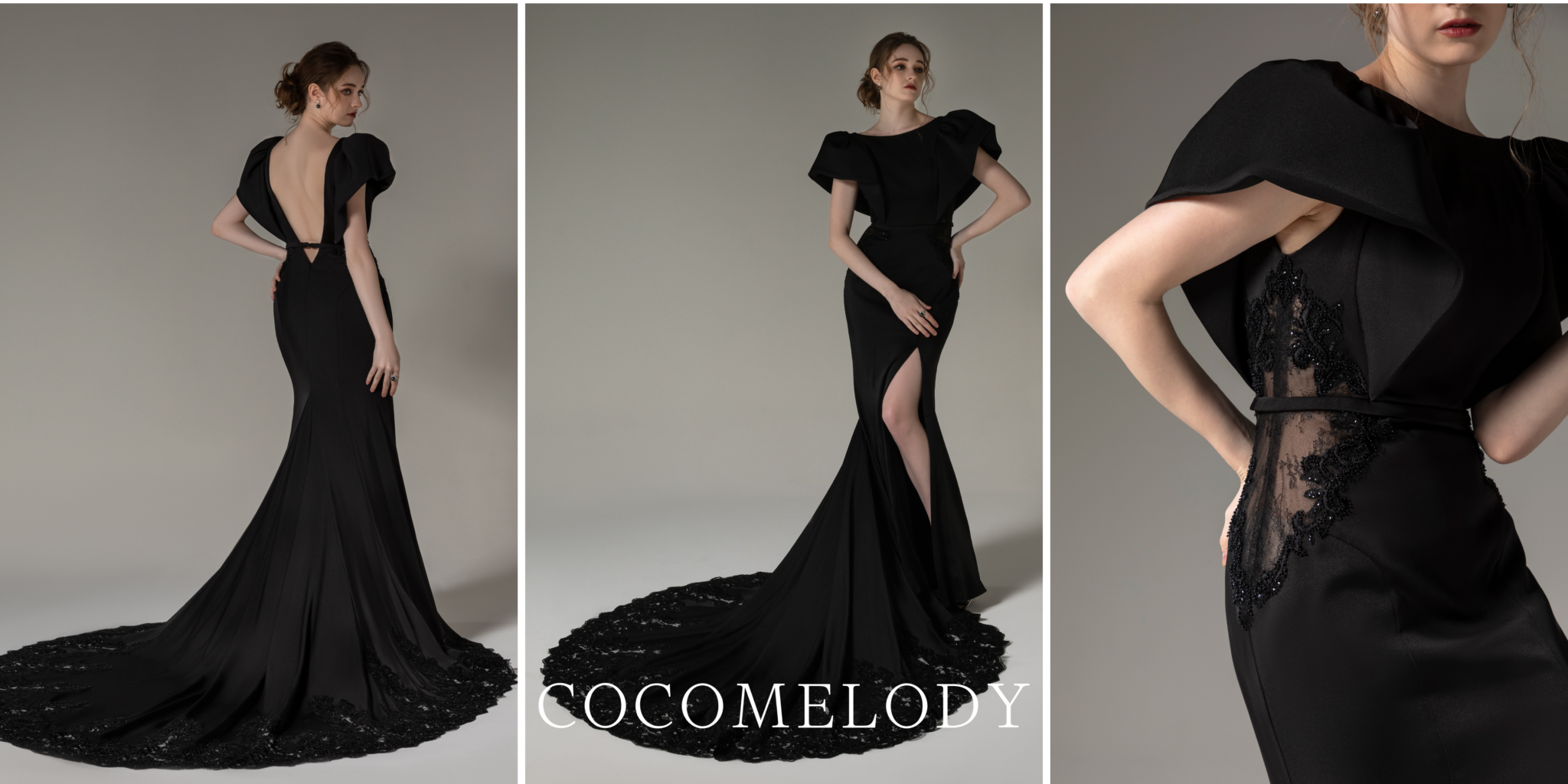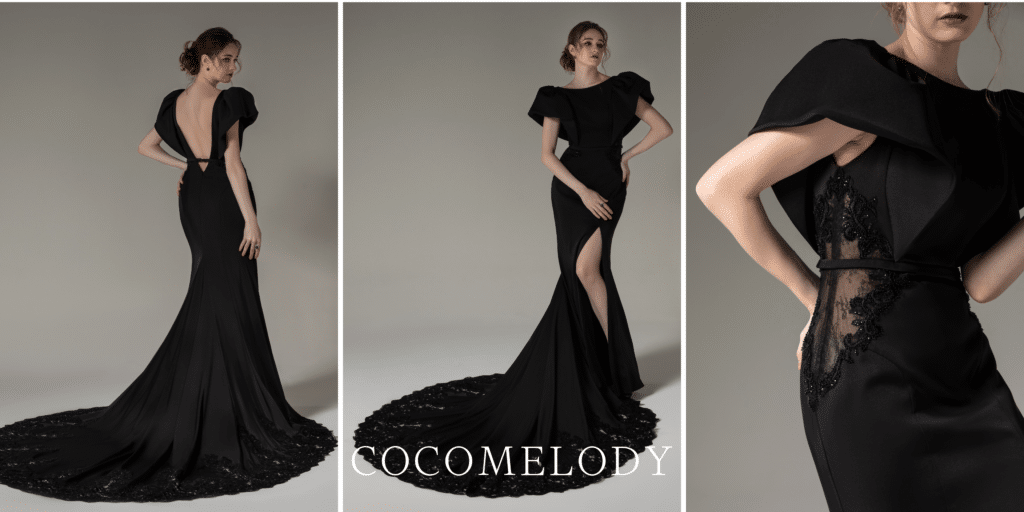 Dress style: Hayley CW2490
CLASSY, SEXY, MYSTERIOUS
Black signifies elegance, power, and mystery. It is for the woman who is reluctant to bow down to the norms. A black dress is just as sophisticated and flattering as any other color. In fact, it is a head-turner and isn't a one-time deal. You can wear a black dress again with just a little bit of restyling. Such versatility a black dress can offer – what more would any bride want?
PHOTOGRAPHS AESTHETICALLY
Black looks chic and absolutely stunning in pictures. A good photography team can bring out all the little details of your dress and portray them aesthetically. It stands out against so many backdrops and flatters every skin tone and body type. We can't think of any location a black dress won't pop unless you're taking the vows in a cave (insert wink emoji here).
WON'T GET VISIBLY DIRTY
It shouldn't come as a surprise to you – black dresses are low maintenance; you won't have to make a bib out of napkins to keep it clean like how it is with a white dress. Black doesn't get visibly dirty and will easily take you through all your functions and photos.
OUR FAVORITE BLACK DRESSES
Shopping for a black dress can be tricky but also a no-stress feat. You can choose styles similar to the ones here. These are three of our latest and favorite black dresses you can look up to: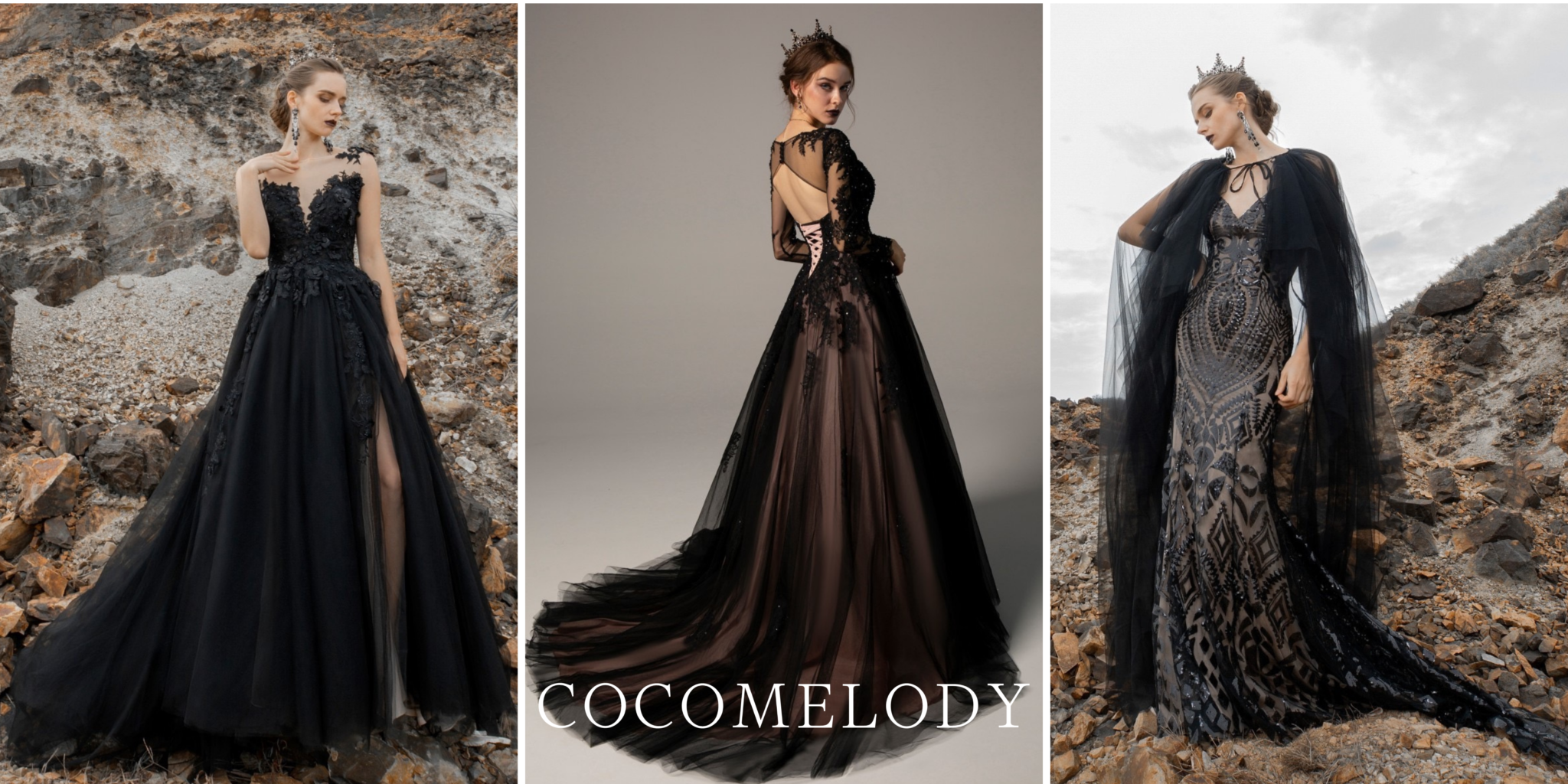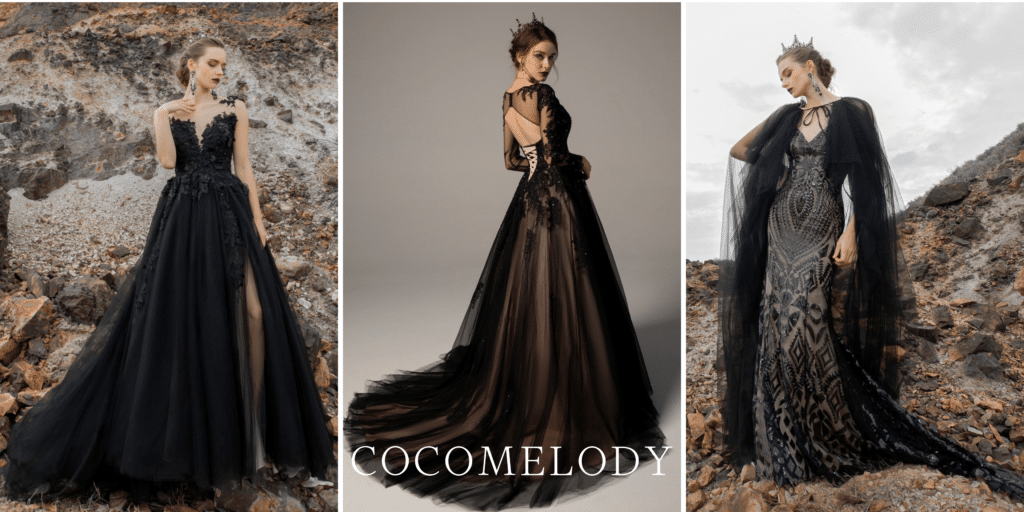 Dress styles: Gracie CW2338 & Carmen CW2336 & Joyce CW2324
GRACIE CW2338 –
This is our most loved A-line silhouette. It is lightweight and made with tulle, silk-like satin, and organza with sleeveless illusion bateau neckline flowing into an illusion lace-up back, lace embellished with crystals, court length train skirt, and a thigh-high slit.
CARMEN CW2336 –
This Editor's Pick dress is all dramatic and queenly. The A-line outfit comes with lace appliques, v-neckline, long fitted sleeves, lace-up back, court-length train, and sequins all over. It has a built-in petticoat and is highly customizable.
JOYCE CW2324 –
This dramatic and regal wedding dress has shimmering patterns, an hourglass fitted silhouette, sweetheart neckline, court-length train, and spaghetti straps. In fact, it is a convertible wedding dress and gives a very Gatsby look.
SHOP THE LOOK – VISIT THE COCOMELODY STORE TODAY
Black for weddings was just as normal as any other color until the 1840s, when Queen Victoria set the trend for a bright white wedding gown. The fashion came with a remarkable staying power. However, now we are seeing a new bridal color palette with black dresses making a powerful appearance along with nudes and coffee underlays, soft florals, and dramatic tiaras to top it off.
If black feels right, don't be afraid to "do yourself." Check out the Cocomelody Black Bridalwear, and you will be in awe at just how gorgeous a black wedding dress can be and the choices you have. Our classic black is inspired by old Hollywood and British royal wedding styles. We have taken utmost care of every bride's comfort and created timeless looks. Every Cocomelody black wedding dress features a forgiving stretchable crepe material, fine silk, and Chantilly lace.
You can also customize your dress in three simple steps with Cocomelody. If a black dress is something that excites you, check out our black wedding dress collection and empower your true beauty. You can also visit our store to experience our beauties in real-time.