You're engaged (yay!), you've picked your wedding date, and now you're looking for save the date ideas, so your friends and family can mark their calendars. Save the dates are exactly what they sound like… pre-invitations with logistics like the date and wedding location so that guests know that a) they're invited, and b) not to make any other plans that day. Save the dates can also be a fun way to show your personality, since they don't have to match, well, anything. Not the formality of the wedding or your other paper goods or your families' opinions. The great thing about save the dates is that they're a recently modern invention, so chances are your grandmother has no opinions on them. That means that if you've been looking for a creative wedding project, this might just be the perfect thing—because maybe you want to send your loved ones something quirky and non-traditional, like balloons or chocolate, with no complaints.
If you're looking for save the dates ideas that you can just you know, buy, and be done with it, scroll to the end of this post for our best ideas. (And yes, save the date etiquette says you can totally just send an email. But let's be real, if you've come here looking for save the date ideas, chances are you're not gonna send an email.)
So, now that we've all admitted that we're a little bit into over-the-top save the date ideas, maybe you want to DIY your save the dates. Start by thinking of things you can buy in bulk! Things like playing cards, maps, balloons, and buttons are easy to repurpose or personalize so that you don't have to break the bank for a cute idea.
We've split this post into two handy sections: nifty new ideas that you can craft or recreate, and super cool and (mostly) affordable save the dates you can buy.
But first, here's a list of the fifty save the date ideas we've dug up (plus plenty of inspiration pictures below).
Save The Date Ideas
Enamel Pin (Above by Oh So Beautiful Paper)
Caricature Stamp
Finger and Ransom Note
Photostrip
Tea Towel
Mini Easel
Seed Packet
Secret Message
Fancy Footwork Card
Twisty Straw (and Wine Bottle)
Paper Doll
Word Search
Scratch-Off Ticket
Knot Tie Card
Harry Potter Platform 9 3/4 Ticket
Cassette Tape Stationery
Colorful Letterpress
Personalized Pencils
Metallic Boarding Pass
Boozy Lollipops
Customized Balloon
Hand Painted Lotería
Illustrated Map
Personalized Magnet
Crossword Puzzle
Engraved Wood
Holographic Heart
Paper Airplane
Custom Video 
Monopoly Money
Flowchart
Childhood Photo
Pet Sketch
Board Game
Holiday Ornament
Laser Cut
Old-School Windows
View-Master
Magnetic Polaroids
Customized Chocolate Bar
Library Book Checkout Slip
Floral Wreath
Trifold
Happy Heart
Let's I Do This Thing
Love Story Infographic
Beach Adventure
Simple Flowers
Ampersand
Pastel Petals
save the date Ideas You Can DIY
caricature Stamp: Okay, we cheated a little bit with this one. You'll have to buy the stamp, then you can DIY whatever you want with it! This crazy cute couple caricature stamp is a great way to turn super cheap tags into something fun. Plus you can use it on decor for the wedding.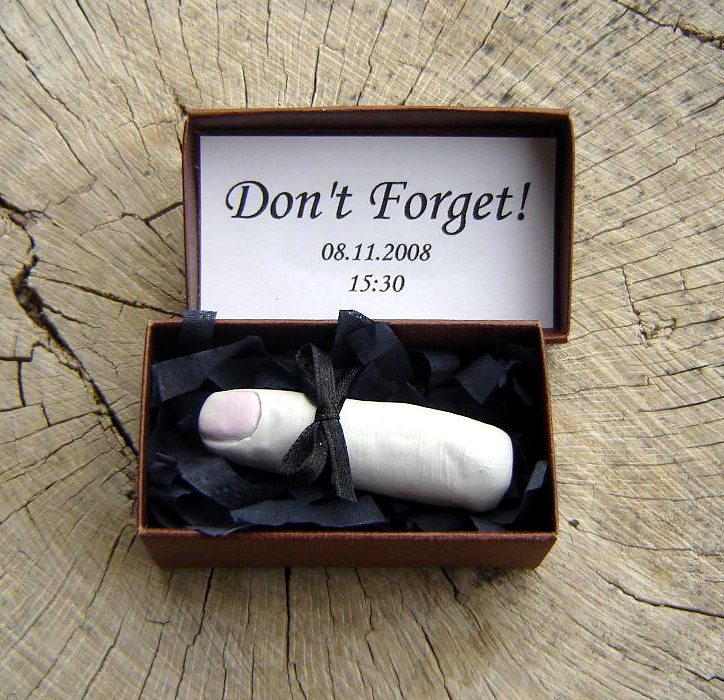 Finger via Jane Beljo on Flickr
Finger and ransom note: This is hands down the creepiest save the date we've ever seen. And unlike the prototype here, we suggest you add your names and the fact that you're having a wedding, or you might get a few upset phone calls after you send them out. And, honestly, you might still get a few. But these save the dates are a couple with a dark sense of humor's dream.
Photostrip via Annie Franceschi
Photostrip: Keep your photo session simple with DIY photo strips, with or without a magnetic back. You can even make and print them from the comfort of your own home—no photo booth needed. (We also happen to love Social Print Studio for photo strip prints.)
Tea Towel via Uncommon Designs Online
Tea Towel: At first this will make some super special kitchen decor, and then later it will be functional and remind people of that joyful day.
Mini Canvas and Easel by Brooklyn Bride
mini Easel: Want to keep your save the date minimal (like really really minimal)? Consider creating mini art!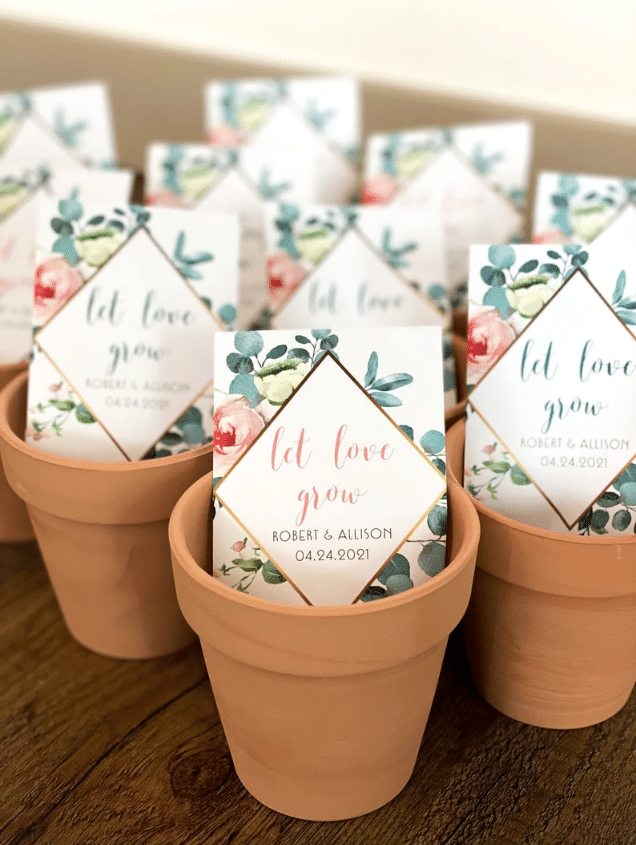 Let Love Grow by PlainJane2424 on Etsy 
Seed packet: Save the date ideas like this are filed under the DIY section because we think including your favorite flowers seeds inside is a fun and personal detail. That way everyone who gets them can grow a little bit of your love. Or at least your favorite flowers.
Encrypted Save the Date via Paper Truly 
Secret Message: Test your guests' spy skills! Your friends and family will have to break out their decoder glasses (included) to find and save your date.
Fancy Footwork via Martha Stewart
Fancy Footwork Card: Let your guests know that they'll have to break out their best moves for your wedding party. Martha's got you covered with a DIY; scroll down into the comments on the post for the PDF.
The Twisty Straw (And Wine Bottle): Our friend Maggie made these invites for an event. And while she later told us that the cost of mailing wine bottles is… regrettable… the twisty straw made to look like a river, over a map of Russian River? You can take that one to the bank, my friends. (Seriously though: no shipping wine bottles unless you have ten or fewer guests… or try for mini bottles of bubbles instead.)
Paper Doll via All Sorts of Pretty Blog
Paper Doll: Channel old-school playtime with DIY vintage paper doll save the dates. This woman worked her photoshop to make the dolls look like her and her fiancé.
Word Search: Save the date ideas that are fun can also work hard and accomplish two jobs at once. Guests didn't know the couple was engaged, so this doubled as an engagement announcement. Hidden within the letters was their surprise message!
Scratch-Off via Martha Stewart
Scratch-off ticket: Share your luck in love with these DIY scratch-off save the dates. If only all scratch-offs were this easy to make.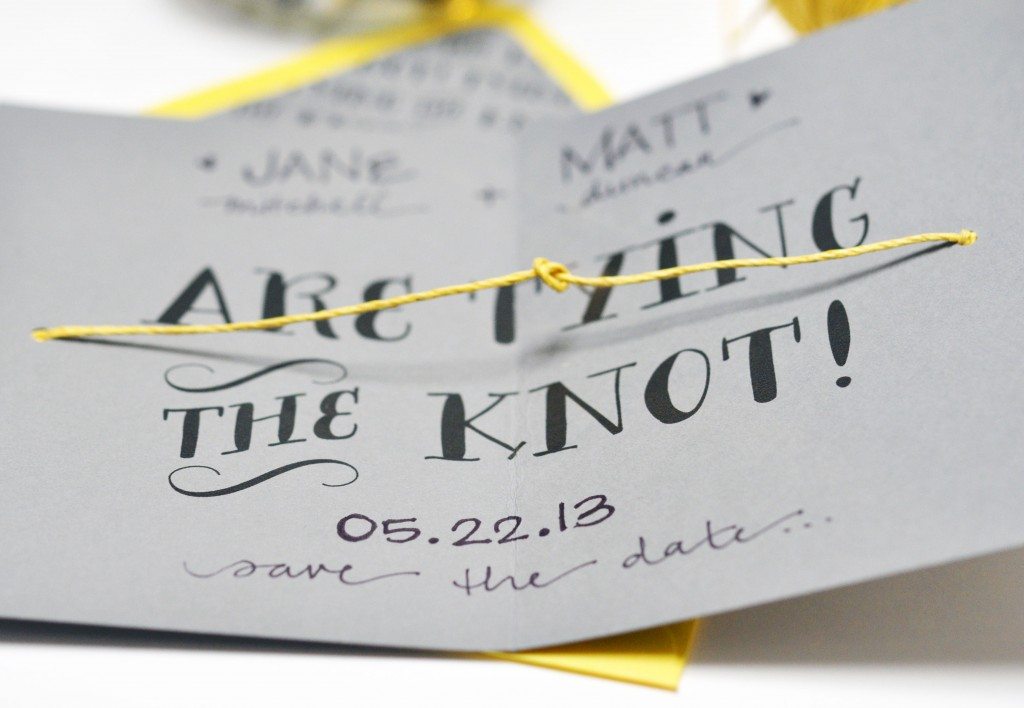 Tying the Knot via Smitten on Paper
Knot tie card: Tie the knot, literally. These save the dates are a fun spin on the classic saying and an easy DIY.
fun Save The Date ideas that You Can Buy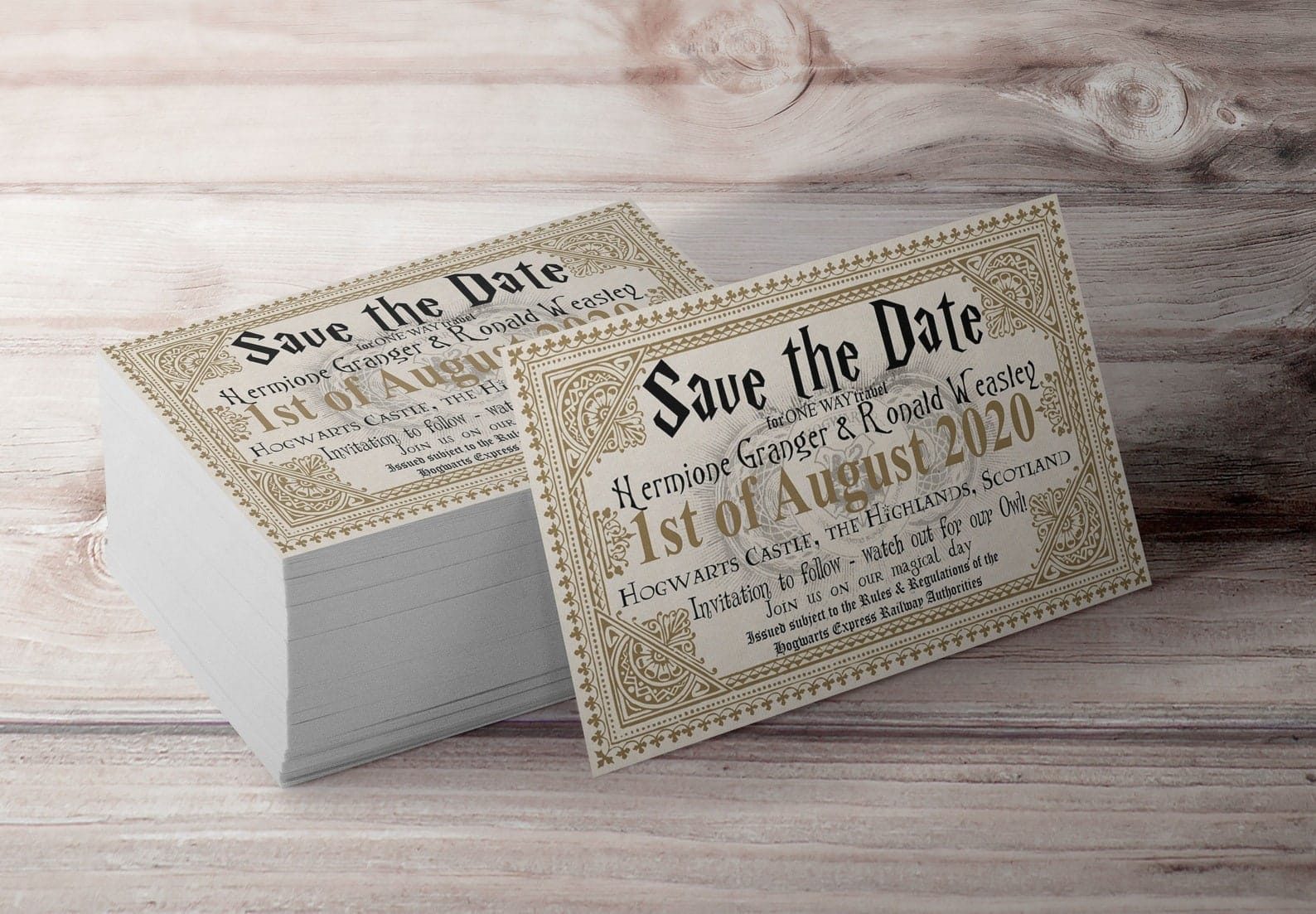 Harry Potter Save the Date by PrintznThingz on Etsy
Harry Potter Platform 9 3/4 Ticket: This is perfect for couples who want to pay tribute to their love of Harry Potter without a ton of DIY.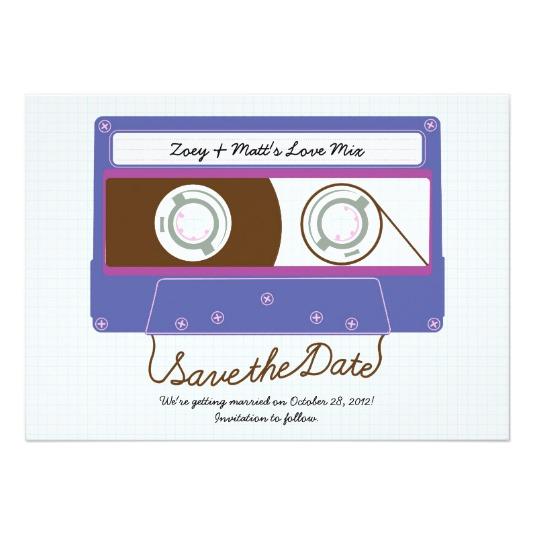 Cassette Tape via Save-the-Date.org
Cassette Tape Stationery: These save the dates are for the chill and retro couple who miss the '90s but don't actually want to make a ton of mixtapes.
Letter Press via Swell Press (contact seller for pricing information)
Colorful Letterpress: If you don't want to stray too far from traditional save the date ideas, but still want something a little special, consider this neon letterpressed stationery.
Pencils via Not On The High Street
Personalized Pencils: Make it quick and easy for your guests to mark you down on their calendars with these fun personalized pencils. These would be great for a school-themed wedding or a teacher in love! Plus, unlike so many wedding-related things, they're guaranteed not to go to waste, and you can enjoy the extras for years.
Boarding Pass by Lucky Lady Paper
Metallic Boarding Pass: We love these gorgeous metallic boarding passes. They get across all the necessary wedding info while letting everyone know you're having a glam destination!
Lollipops via Sweet Crescendos on Etsy
Boozy Lollipops: Send out of these boozy little lollipops as a preview of all the sweet times that'll be had at your wedding. *The lollies are also available in non-alcoholic flavors if you want to keep the kids happy/avoid any boozy surprises.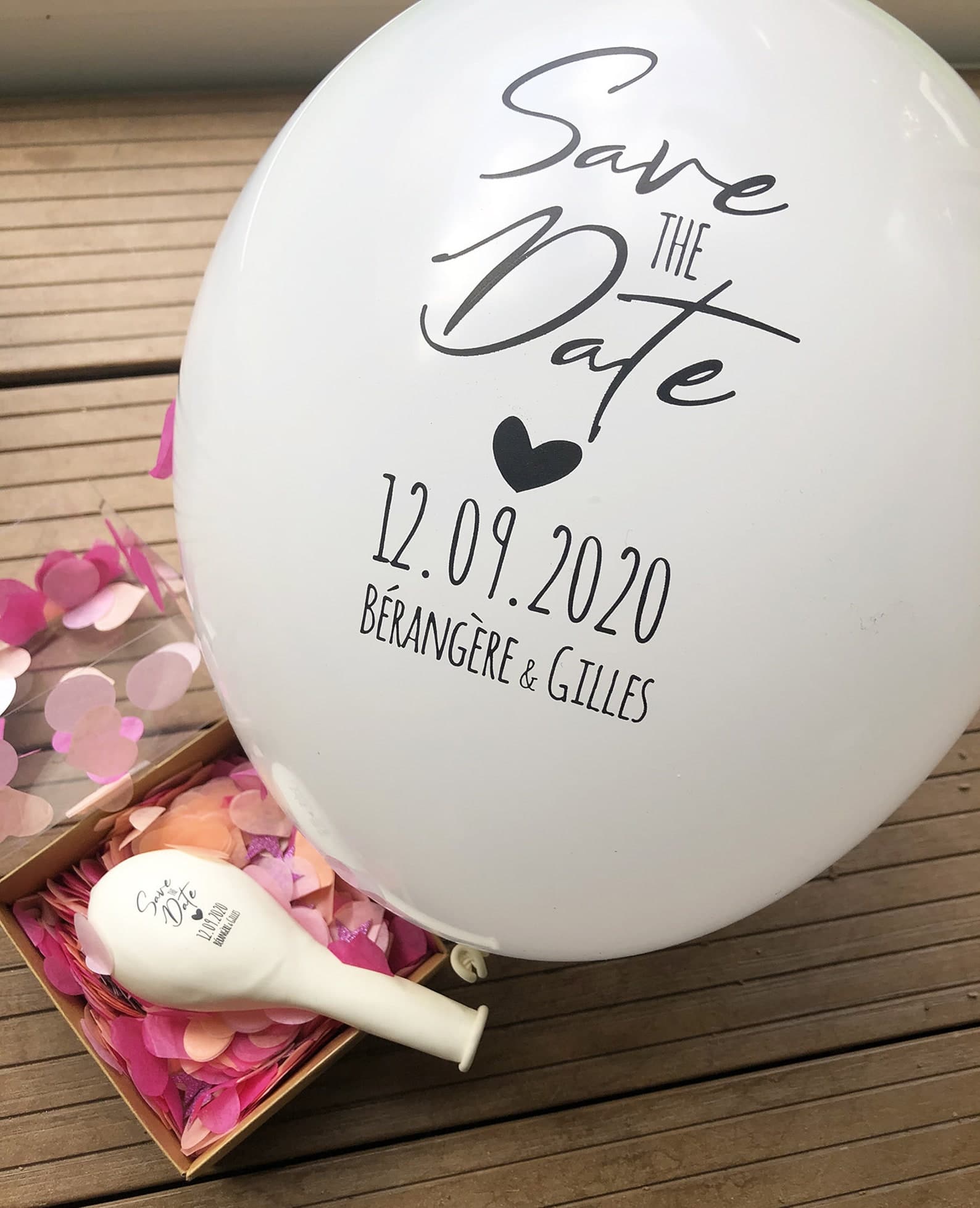 Balloon by Latelier Inspire on Etsy
Customized Balloon: How often do get people get balloons in the mail? Not often enough, in my opinion. Send out these cool save the dates and guest will be doubly excited.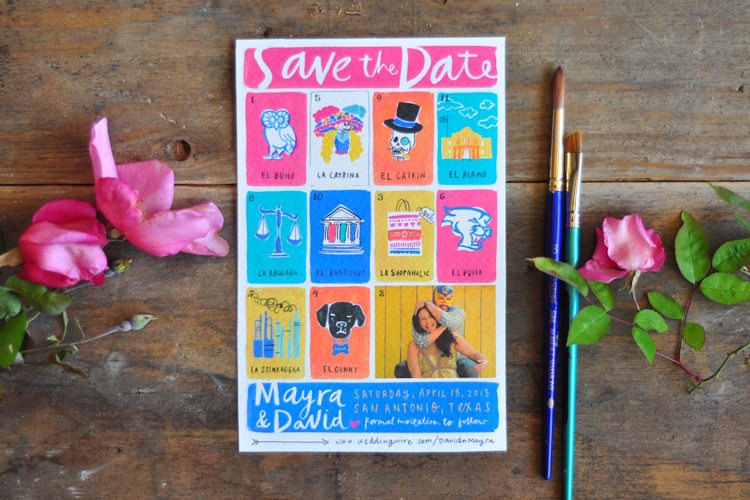 Lotería Love by Julie Song Ink
hand Painted Lotería: This color palette and groom in a traditional Lucha Libre mask is near the top on the list of super fun save the date ideas. This couple decided to celebrate their culture by creating a colorful custom Lotería game!
Map by Virginia Brown Art on Etsy
illustrated Map: Out-of-town guests will love this fun and functional save the date. The maps are all customizable and can be made to represent any city you want!
Magnet by LoveMeDoDesign on Etsy
Personalized Magnet: Magnet save the dates are popular for a reason, guests will be reminded of your date every time they go for a snack. Even better, Etsy has tons of these so you can have it personalized to even the most niche interests.
Crossword Puzzle by Artful Pixels
Crossword Puzzle: Let your friends and family know your wedding date AND give them something to do on a Sunday morning.
Engraved Wood by Almondine Studio on Etsy
Engraved wood: These engraved wood save the dates are fully customizable—choose a shape, wood finish, and add your personalization and they'll be on their way.
Holographic Save the Date by Rodo Creative on Etsy
Holographic Heart: If you're planning a colorful and sparkle-filled wedding, this stationery fits the bill. These iridescent save the dates are perfect for the outside-the-box couple!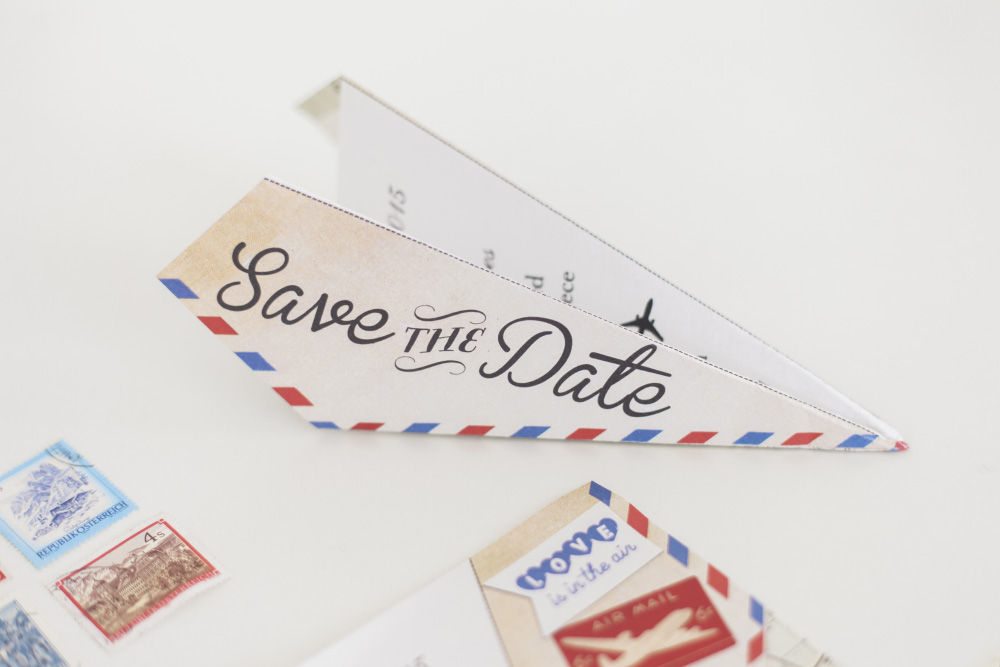 Paper Airplane by Hip Hip Hooray 
Paper Airplane: This save the date is great for couples planning weddings abroad, you can personalize and print them right at home. No muss, no fuss!
Animated Video Save The Date via Karriston Designs on Etsy
VIDEO SAVE THE DATE: Make your save the dates pop, and take the stress out of mailing your save the dates. These custom save the date videos can be texted or emailed to your family and friends, and still feel special.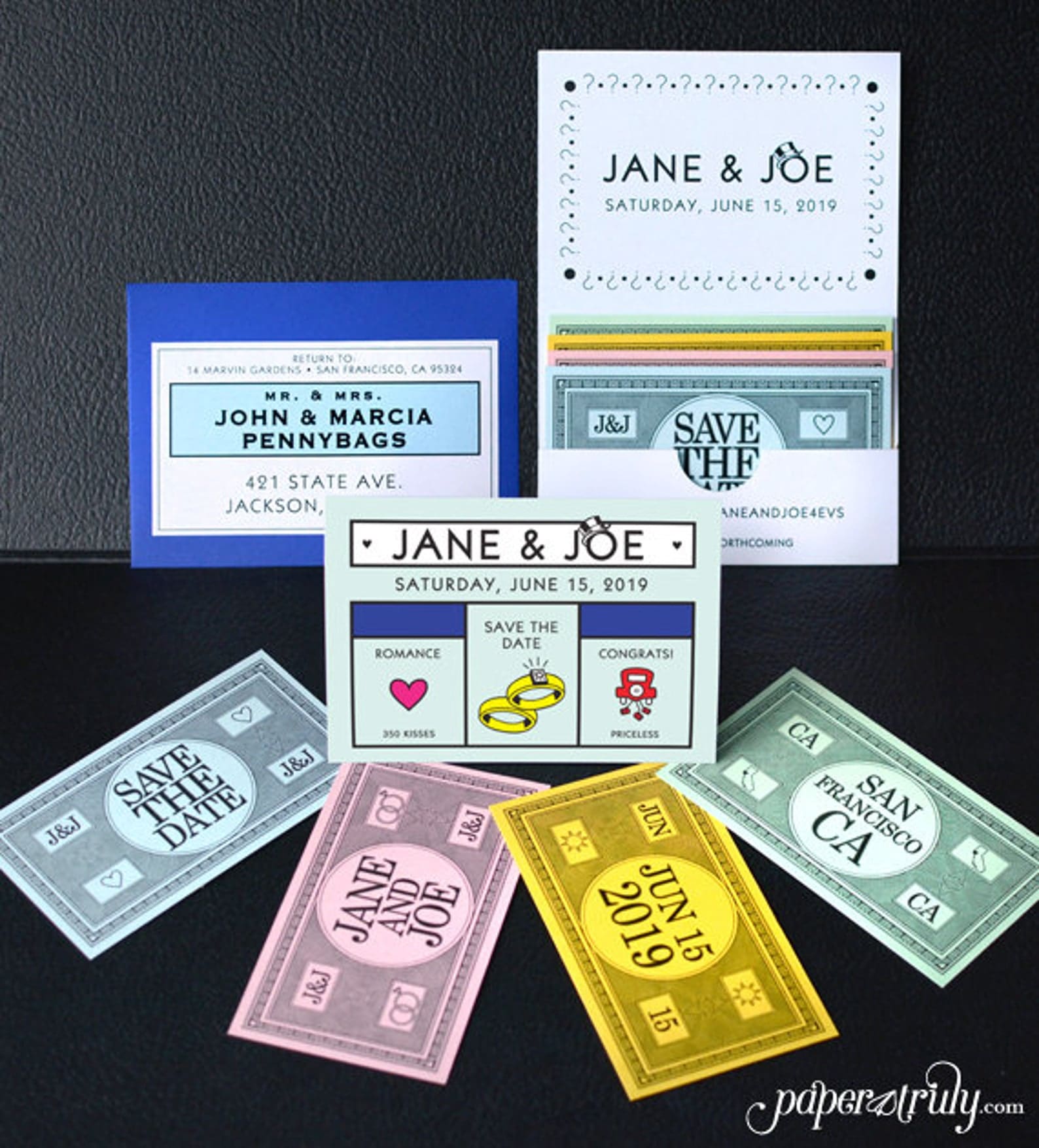 Monopoly Money Save The Date by Paper Truly
Monopoly Money: These tiny monopoly sets are too cute.
Flowchart by Creative Union Design on Etsy
Flowchart: Give your guests no other choice but to attend your wedding. Okay not really, but these fun invitations are great for a couple with a good sense of humor.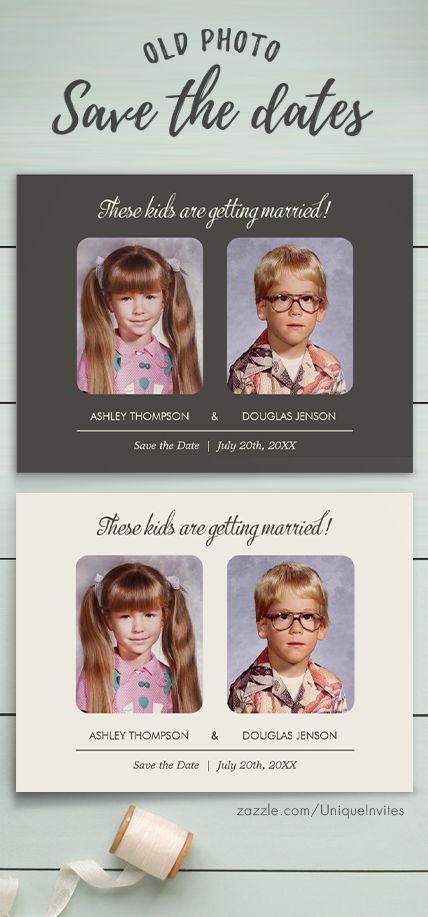 Childhood Photo: Guests will get a kick out of seeing you and your fiancé as kids. Just upload your childhood photos to create this adorable throwback save the date. (These are doubly cute if you're marrying someone you know from way back when.)
Custom Pet Sketch by Devon Design Co on Etsy
Custom Pet Sketch: These playful custom save the dates are fun, simple, and let your pup make the announcement.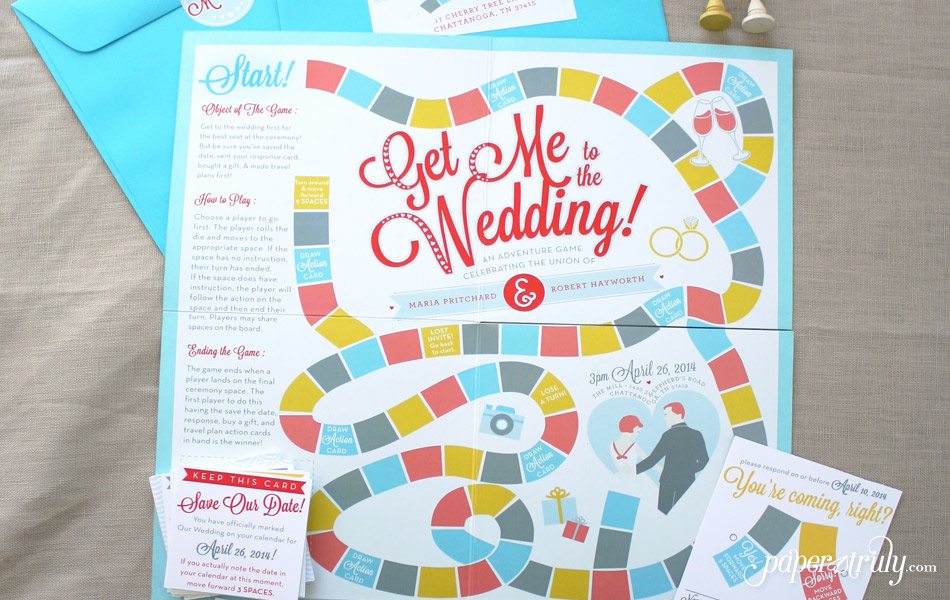 Board Game: Treat your guests to an impromptu board game! Think The Game of Life: Wedding Edition. These save the dates come in both DIY and full assembly options, so you can put in as little or as much effort in as you want!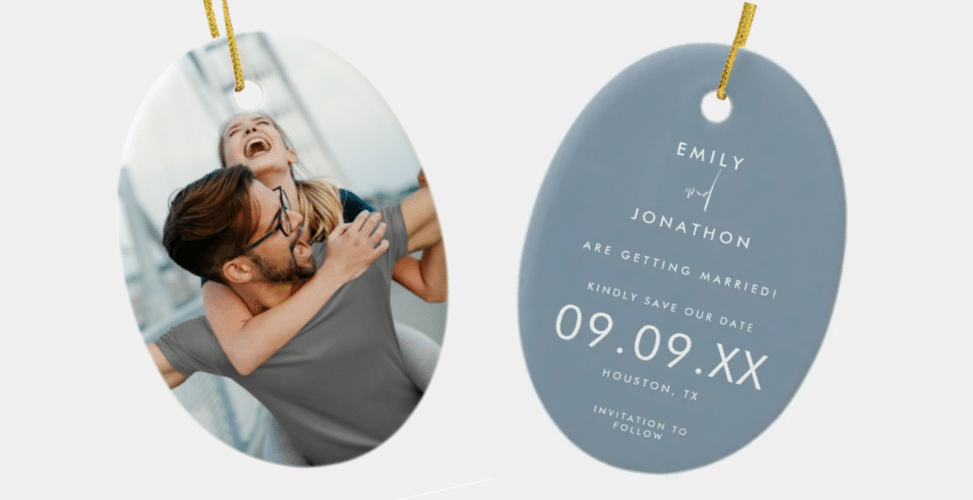 holiday Ornament: Send these out for your Christmas wedding or as a celebration of your favorite season. Or send them out whenever, because these would be a beautiful way to share some cheer, any time of the year!
Laser Cut by Martin and Rose on Etsy
Laser Cut: So dainty, delicate, and beautiful you could (and probably should) frame them. These save the dates are custom beauties that your friends and family will be talking about for a while.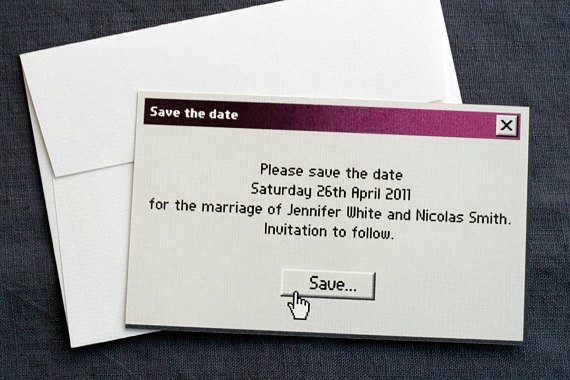 old-school Windows: This save the date idea is funny, geeky, and reminiscent of the '90s—aka the perfect combination.
View-Master from RetroViewer
View-Master: These view-masters would make such cute save the dates are so cool and unique and retro, we couldn't not mention them. Maybe someday someone will send us one!
Magnetic Polaroid by Forget Me Not Magnets from Etsy
Polaroid Magnet: These super cute and simple picture magnets will not be forgotten by guests, since they can live on the fridge.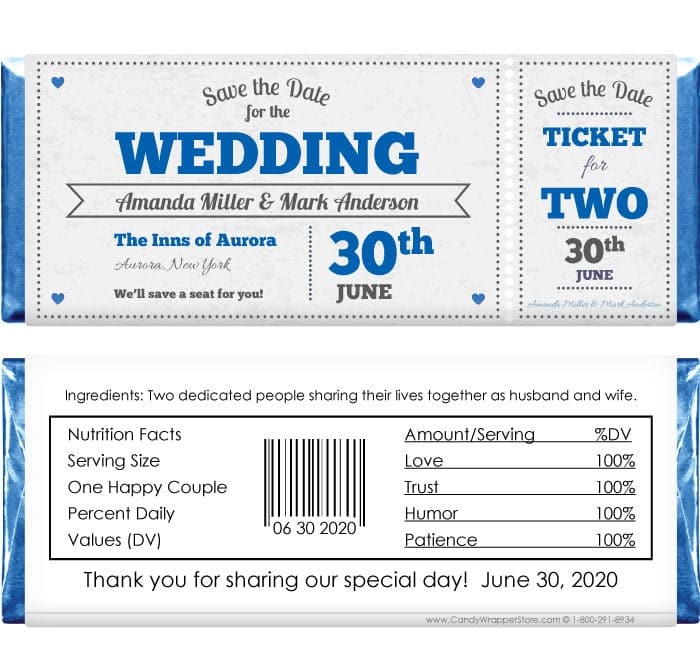 Chocolate Bar via Candy Wrapper Store
customized Chocolate Bar: Who doesn't love the day when a candy bar comes in the mail? These custom candy bars are budget-friendly and are fully customizable.
Library Card by Mustard and Gray Ltd on Etsy
Library book Checkout slip: Tell your love story through the magic of smart and chic literary elements.
Far More Traditional Save The Dates (And Where To Buy Them)
Double Arch via Minted
Floral Wreath: This save the date is a luxe gold foil option that keeps it simple and classic. Minted is one of our favorite sources for save the dates (and all wedding paper goods, really), and their choices are nearly endless.
Trifold: You spent precious time (and money) on your engagement pictures, so why not use as many as possible in your save the date? This one gives you a great bang for your buck.
Happy Heart: This stationery is sweet and simple for a destination wedding.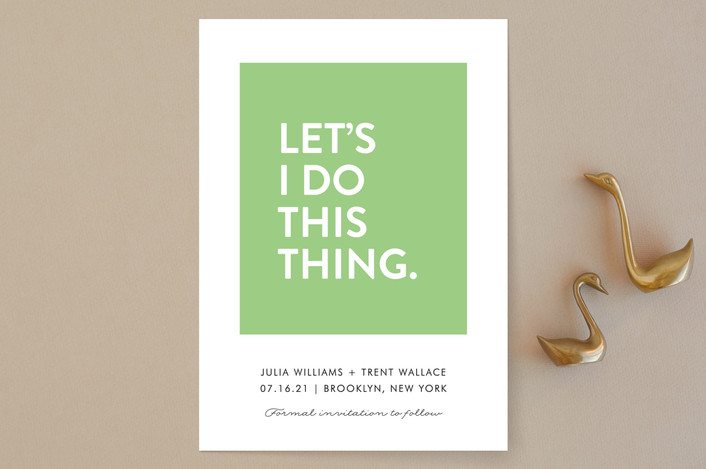 Let's I Do This Thing via Minted
Let's I Do THis Thing: Straight and to the point. You've got the info, and you're ready to do this thing.
Long Story Short via Shutterfly
Love Story Infographic: Use your save the date as an opportunity to tell your love story with a fun infographic. Guests that don't know both partners will love the extra insight. Check out the Shutterfly Wedding Shop for more cute and affordable save the date ideas.
Beach Adventure: Let guests know that you'll be celebrating by the sea at your laid-back wedding. I can hear the waves just looking at this one.
Mandarin Grove via Paper Source ($44 for 20)
Simple Flowers: Give your save the dates the hand-painted feel without the hand-painted price. This is a collaboration with Rifle Paper Co., and we're way into it.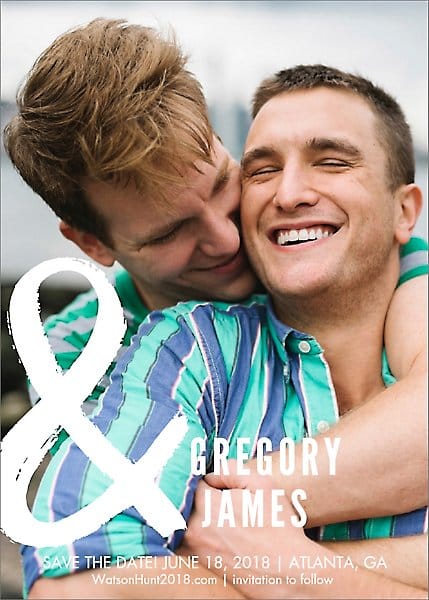 Ampersand: If you're not into florals and still want a fancy feel, try a save the date that's centered around an image and good design.
Pastel Petals via Paper Source
Pastel Petals: This save the date just screams Spring: the flowers are blooming and so is your love. Paper Source also has tons of great save the date ideas, so get shopping.
What were (or are) your Save The Dates? Did you buy? or do some DIY?
Pictures or it didn't happen.