The act of giving someone flowers is one that is well-loved and has been popular since the Victorian era. You can guess the popularity just by the fact that throughout history, a whole language called the language of flowers. Even in modern times, flowers of one kind or another are the perfect thing to bring to any social event, be it a wedding, a retirement party, mother's day, or even a funeral. 
It goes without saying then that there are countless types of bouquets you can choose from when getting a loved one a present or choosing the right wedding bouquet to go with your wedding dress, which can make things a little complicated. Your choice for the bouquet depends on a number of things, from the occasion and the relationship you have with the receiver to what exactly you're trying to say. 
Of course, you might also want to have a custom bouquet made with your own choice of flower combinations, but what style would you want to ask for in the first place? You can ask your florist for answers to these questions, but it doesn't hurt to do some research of your own either –  just to make sure your florist has all your bases covered. Keep reading to find out about some beautiful flower bouquet ideas you can consider for your bridal bouquets and gift giving needs.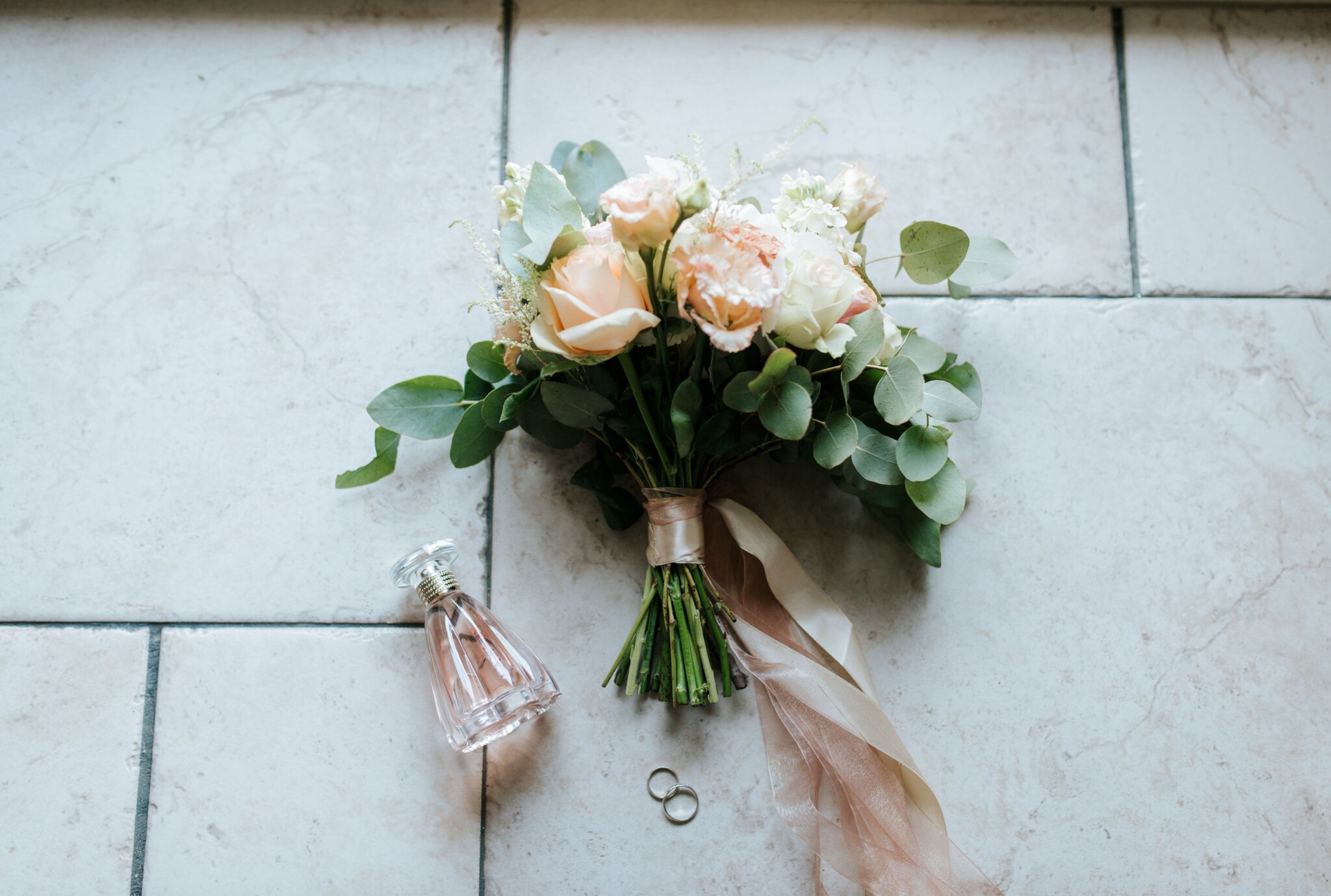 One of the most common and traditional floral arrangements out there, nosegay bouquets are made by arranging large and beautiful flowers in concentric circles and then binding them together tightly. These bouquets rarely ever use anything other than big, bright flowers and some ribbons or anything else to tie them up. 
These bouquets will fit right in whether it's in the hands of the bride as a bridal bouquet, as a present to a loved one, or even home decor. 
You can easily get your hands on a nosegay bouquet through flower delivery from local florists, and you can make one yourself. To do that, get a bunch of flowers together and then cut the stems to the same length and shape. Keep the stems about ten to twelve inches long and remove any leaves and thorns on the stems. Then arrange the flowers in a circle, and then tie all the flowers up together with the help of a ribbon or a string. 
This arrangement can then be wrapped up in parchment paper before being given to the receiver.
This kind of bouquet can give the impression that the flowers are cascading out of the arrangement, or are made to look like a waterfall of flowers. When arranging a bouquet like this, the main goal is to achieve a tear-shaped arrangement – round at the top, and pointy at the bottom. 
The rounder shape at the top is achieved by starting the arrangement off fairly circular, but then adding more and more weight towards the bottom as you proceed. Round, big flowers along with some fillers like wildflowers, delicate branches, and baby's breath are usually the most common flowers used in this kind of arrangement. 
They'll make great decoration pieces to hang on the walls, or as bridal bouquets. If your wedding dress has a dramatic skirt, you might want to offset that with a shapely bouquet that's just as dramatic and fits right in. Cascade bouquets might not go so well with slimmer dresses though, and they might end up completely taking over your wedding look – and your wedding photos – if you're not careful.
The downside is that a cascade bouquet isn't going to be a good option to put in a vase on a tabletop.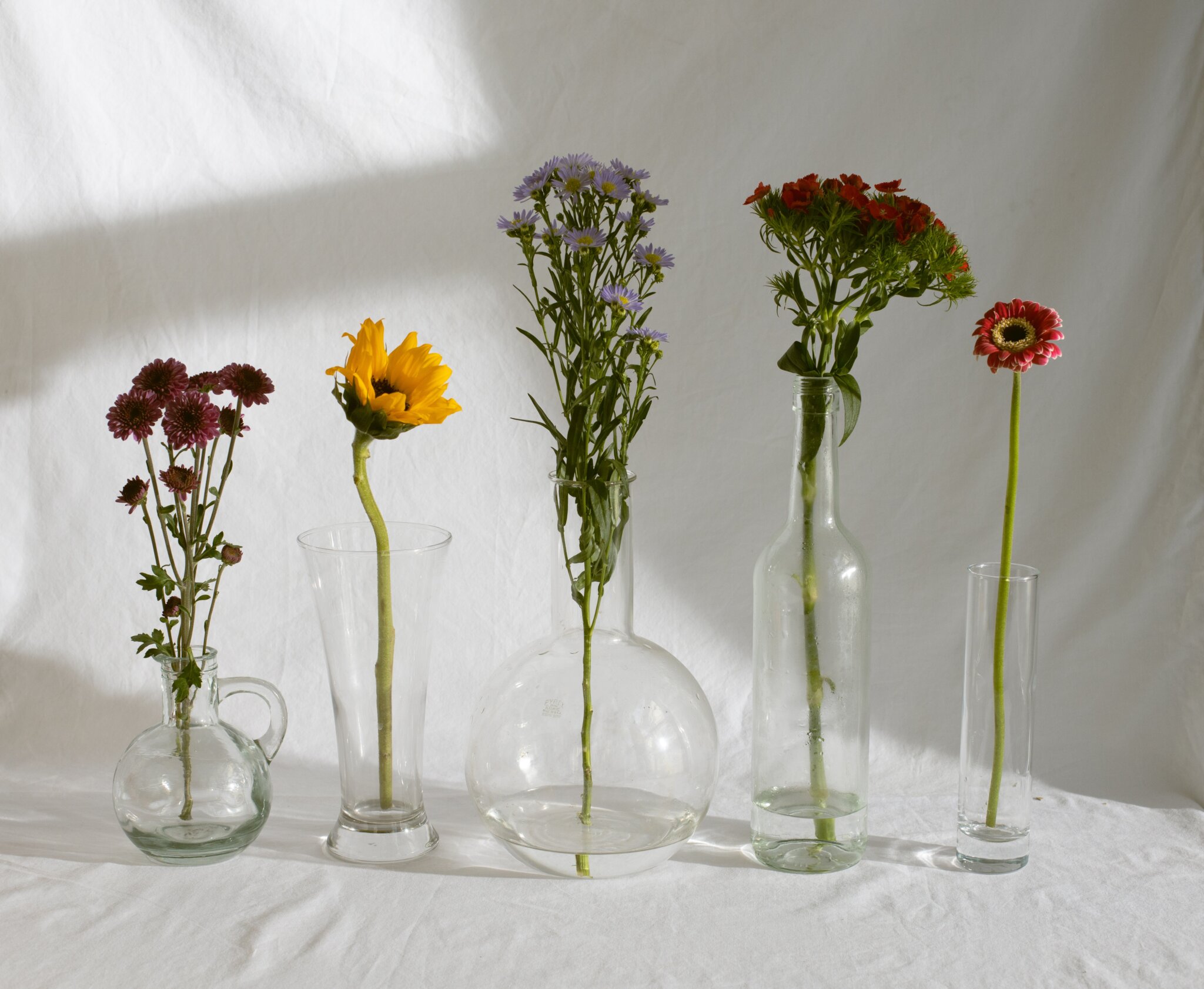 If you're looking for something special but still simple and understated, say hello to single-flower bouquets. These arrangements are a little harder to find with local florists, but definitely not hard to make on your own or have one made specially. 
This is a great option for your bridal bouquet if your dress is simple and the ceremony is small. (Wedding Dresses for minimalist brides) Sure, you may not be one to make a big splash on your wedding, but that doesn't mean you don't get to have a bridal bouquet to go with your wedding dress! 
While the main element in single-flower bouquets is of course the flower, you can add other things like ribbons, bows, and sometimes even smaller flowers and twigs. Baby's breath is a very common and well-loved option, and these arrangements look great on tabletops with limited space, or on smaller apartments where a regular-sized bouquet will just look too big.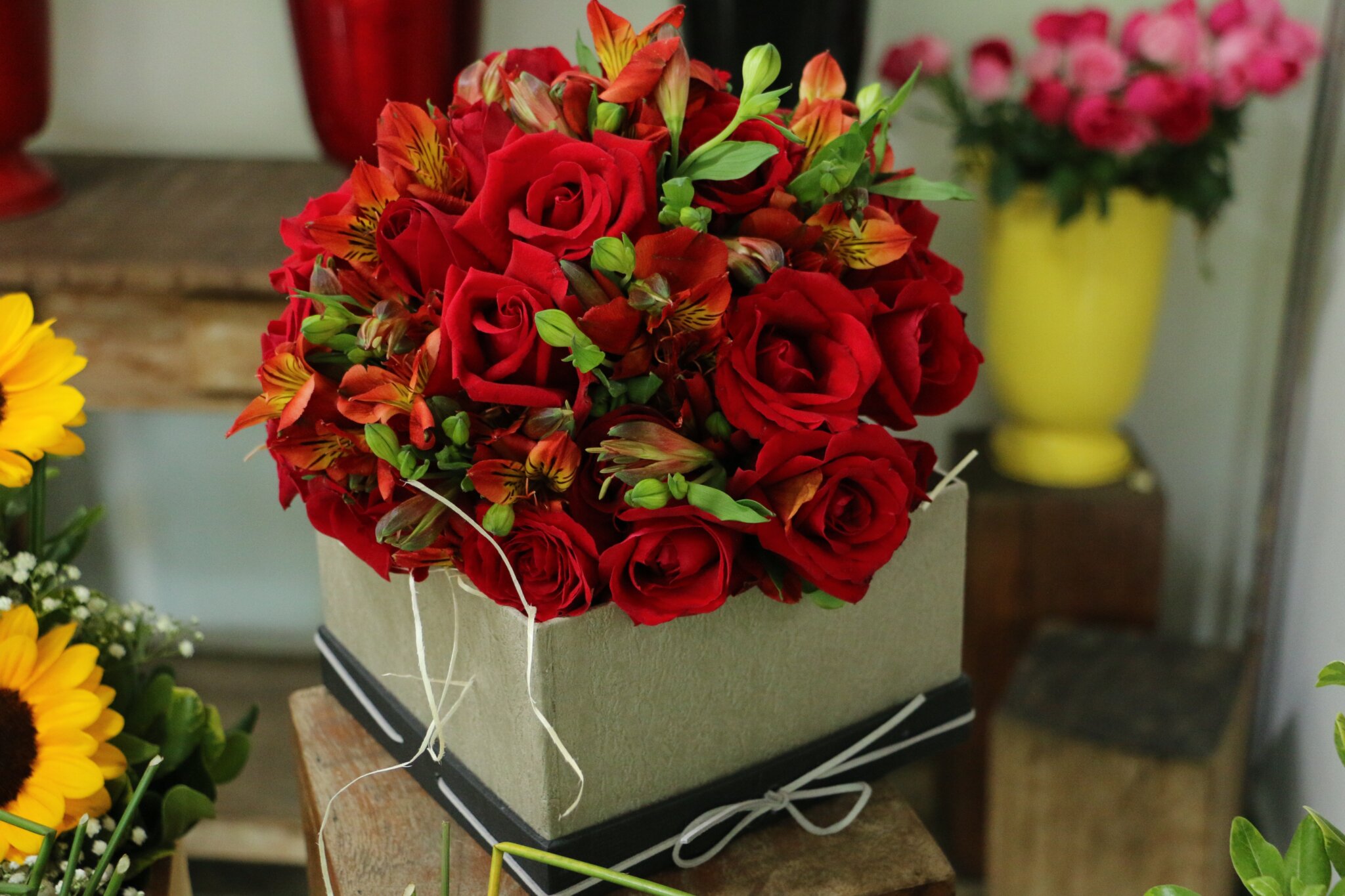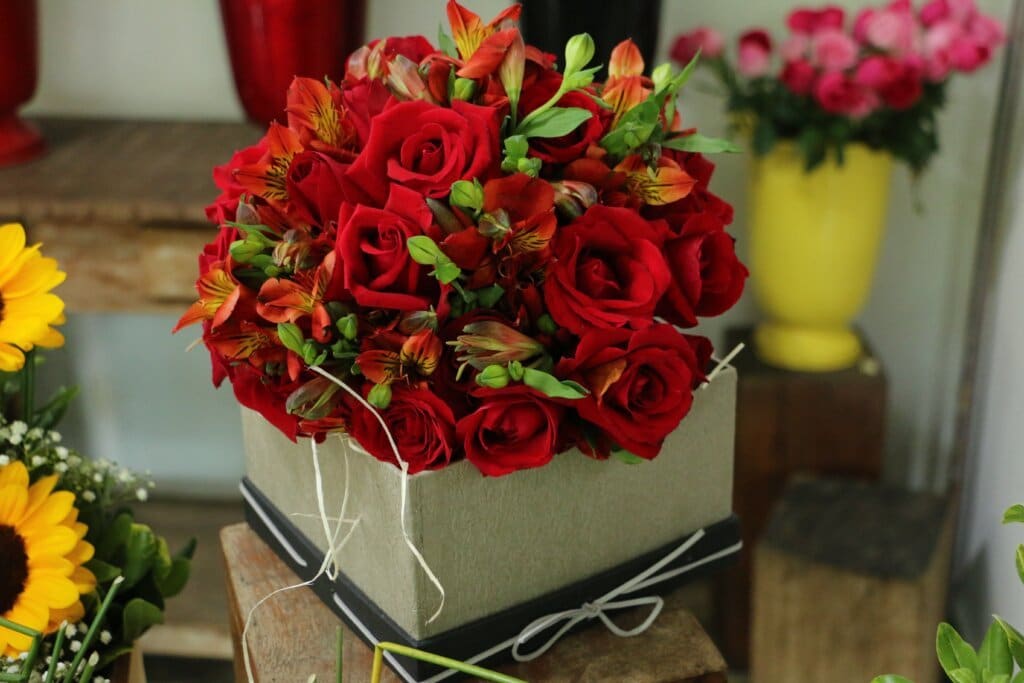 If you want to give your friends and loved ones something that will last, think about getting them flowers arranged inside a box instead of as a bouquet. These floral arrangements are often pre-made and will be a great idea if you want to give your friends and loved ones something that will last. 
This is because most floral arrangements inside boxes are preserved in a way that they can last for months if they're not taken out of their box, which makes them a wonderful present. It also makes them great pieces for decor around the house, and you can incorporate things like jewelry, snacks, and meaningful notes in the middle of these arrangements as well if you have them custom-made. 
In recent times, one of the most popular types of bouquets incorporates a little something extra in them – chocolate bars and candy. This can be strategically placed in the middle of the flowers in a bouquet, but it's usually done for occasions when you want to express your love and affection to someone instead of giving them something nice to place around the house – once the chocolates are taken out of the bouquet, it won't really hold it's own and will look awkward.
What you can do with the flowers, however, is to make a whole new arrangement out of them if you wish.
These "edible arrangements" are usually heavier than the average bouquet, and cost more depending on the kind of candy and the kind of arrangement you choose.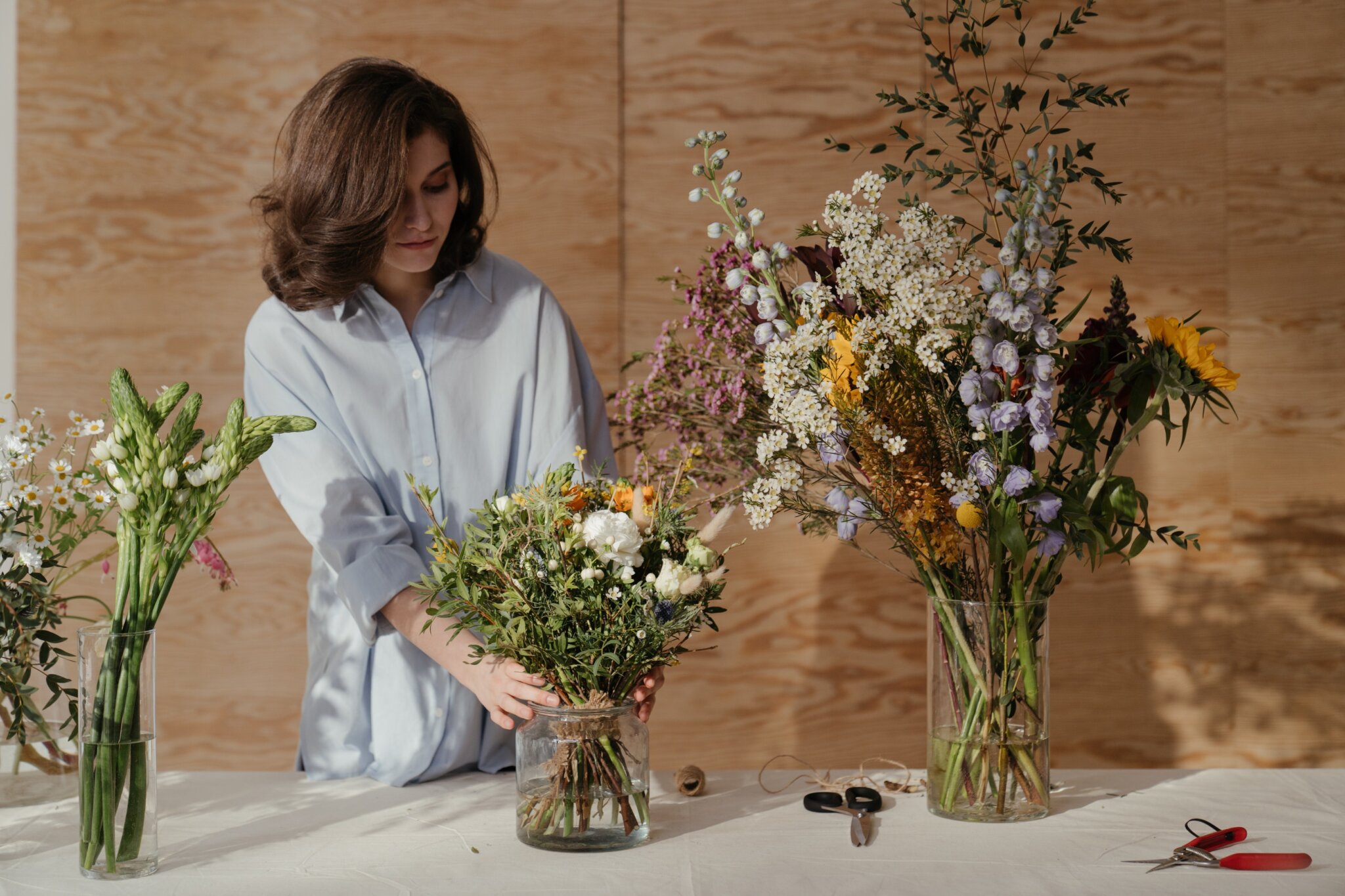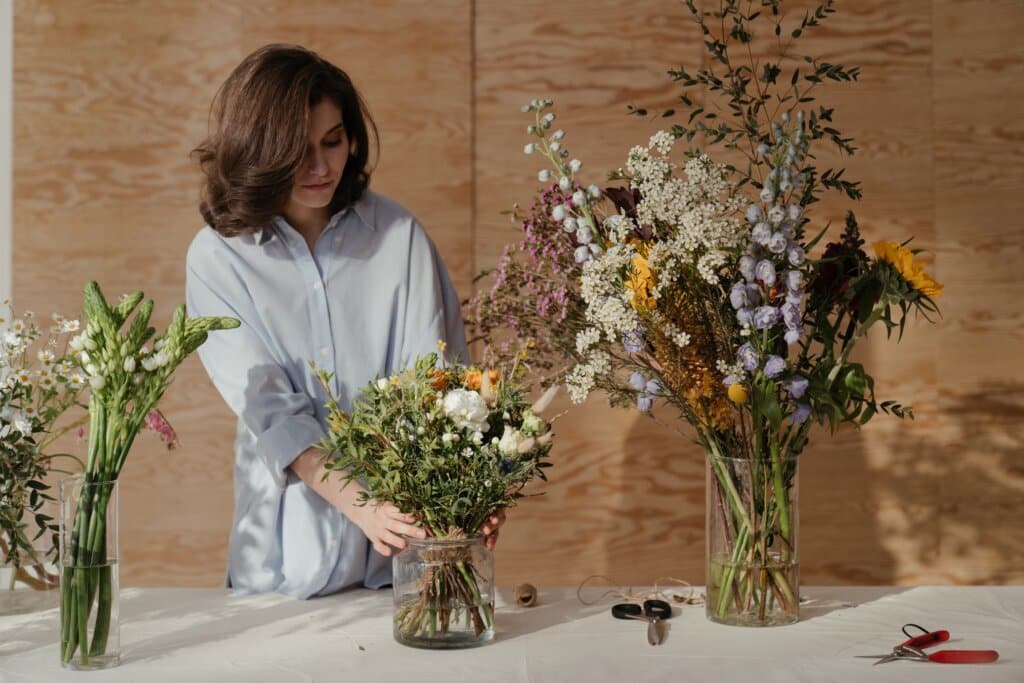 Nothing conveys affection more than a present you made yourself, and the same can be said about flowers that you can pick and arrange in a bouquet on your own. You can do this either by picking flowers from your own garden or going out to pick them from local gardens. However, be careful only to pick from places that you're allowed to pick them from, and avoid taking flowers from any private property. 
You can add personality to the flowers with the help of small twigs, and leaves, and by even adding berries to your bouquet. Tie it all up with some string or a ribbon, then wrap it up in some parchment paper if you wish. 
Making bouquets by yourself might take more effort, but it's a very easy way to save money on expensive bouquets, especially for events like weddings and mother's day.