If you have a fondness for the 1980s and want to incorporate the decade into your wedding, we've got you covered with this list of '80s-themed wedding ideas. Whether you're looking to take a more subtle approach with a post-modern vibe or go bold with neon and puff sleeves, there's something for every couple who dreams of the '80s in this wedding day style and design guide.
Create your dream day with these 31 '80s-themed wedding ideas:
As we're sure you know by now, weddings don't just happen. Countless hours go into creating these special days, and the same can be said for themed weddings. Whether you and your soon-to-be spouse are '80s babies, met at an '80s-themed bar, or just really like the decade, keep reading to discover a wide range of ideas to help bring your vision to life. We cover ideas for invitations, decor, the reception, your attire, and even the venue as a whole.
'80s-themed wedding ideas for invitations
1. Cassette mixtape paper invitation. We are in love with these '80s cassette mixtape invites. A nod to the music decade, these realistic cassette tapes are a super-fun way to introduce your guests to your quirky wedding theme.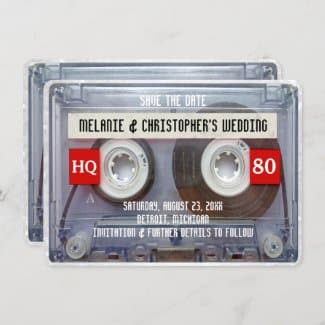 80s Cassette Mixtape 1980s Wedding Save the Date Invitation

by CustomInvites
2. Playable cassette mixtape. Take it a step further by using an actual, playable cassette tape as your wedding invitation. Create a killer 1980s playlist, your wedding night playlist, or just some of your favorite songs as a couple.
3. Formal 1980s-inspired invitation. If you're looking for a more subtle approach to an '80s-themed invitation, get inspired by this super-cool DeLorean invite that uses a mix of both cursive and bold fonts to create a more formal look.
4. Super bold retro sunset. This bold take on the 1980s reminds us of arcade games, and we love it. If you're a couple who wants to go all-in on the '80s wedding theme, then this may be the invitation for you.


Retro Sunset 1980s 80s 50th Birthday Party Invitation

by CustomInvites
Decor ideas for your '80s-themed wedding
5. Use neon signs. Neon signs are a really fun way to add '80s flair without being over the top. There are many companies that have pre-made neon signs with phrases like "Till death" and "Happily ever after," or offer options to customize the text with your last name or wedding hashtag!
6. Try color blocking. The 1980s had a lot of bold colors that were emphasized with color blocking as opposed to blending. Pull this fashion trend into your decor with your table linens, escort cards, and more.
7. Limit your color palette. To avoid your wedding looking like a themed birthday party, limit your color palette to two bold main colors rather than splashing neon everywhere. It will elevate the aesthetic and make sure it's wedding-appropriate rather than costume party (unless that's the vibe you want, of course!).
8. Explore post-modern rentals. If you want your wedding to be inspired by the 1980s in a more subtle way, consider using post-modern rentals for your ceremony and reception. This will give you the retro vibe you're looking for while still having a formal wedding look.
9. I want my MTV. With the creation of MTV in 1981, the decade was centered around music and music videos, so be sure to incorporate music into your decor. Whether it's cassette escort cards, boombox coasters, vintage MTV logos, cassette centerpieces, or anything in between, add some musical elements to really elevate your '80s theme.
10. Try '80s-inspired signage font. Signage fonts may not be at the forefront of your mind when planning your wedding, but we promise that the right font will make all the difference aesthetically. A quick Google or Pinterest search of "1980s fonts" will give you some ideas, but be sure to discuss your font with whoever is printing your signage so they can assist you in choosing the perfect one for your big day.
11. Utilize geometric details. Art of the 1980s used a lot of geometric shapes, bold colors, and color blocking, so you will absolutely want to incorporate these into your wedding decor. Consider adding funky shapes to your tablescape, patterns into your linens, or even a geometric dance floor.
12. Go with arcade vibes. In addition to music, arcade and video games were super popular in the 1980s. From Pacman to Space Invaders to Centipede, add some 8-bit style images to your wedding decor, napkins, signage, cake, etc.
13. Play around with black accents. If you're going with two neons as your primary wedding colors, accent them with black details. You can use black charger plates, have napkins with a black border, and incorporate black piping. The black against the color-blocked neons will immediately give the retro vibe you're looking for.
14. Add popular '80s phrases. Incorporate popular 1980s phrases like "major," "bodacious," "tubular," and "wicked" into your signage. This can be on your escort display, your menus, bar signs, and more.
'80s-themed wedding ideas for the reception
15. Have a vintage pizza party vibe. During the reception as your evening is coming to a close, have a bunch of pizzas delivered as a midnight snack for guests. This is when you can use the more camp-y looking plates and cups to create the ultimate pizza party.
16. Create a video game lounge. Create a wedding experience your guests will never forget with a video game lounge. You can choose to set up vintage Nintendos or bring in arcade games. Either way, we promise this will blow your guest's minds and bring them back to the decade.
17. Hire an '80s cover band. Hiring an '80s cover band for your reception music will immediately create the perfect nostalgic atmosphere. Make sure to interview the band before hiring them, read their reviews, and even watch any YouTube videos they have of their performances.
18. Bring in 1980s toys/games. We love the idea of incorporating nostalgia in the form of toys like Slinkies, Chia Pets, Etch A Sketch, and Care Bears, to your wedding. This can be done in the form of escort cards, centerpieces, or even as a wedding favor for guests to take home on their way out.
19. Have TVs playing music videos. One way to help you create the atmosphere of the '80s is by playing music videos from that era. You can choose to put TVs in your lounge areas or project them onto a wall at your reception.
Attire ideas for your '80s-themed wedding
20. Puffy sleeves. Puffy sleeves were a big part of 1980s bridal styles. Here are some options that give you the puffy sleeve essence while still having a modern gown.
21. High neckline. One of our favorite wedding gown trends of the '80s was the high neckline. Check out these stunning options if you're looking to incorporate this trend into your big day.
22. Padded shoulders. Designers have taken the concept of shoulder pads from the 1980s and modernized them in the form of fashion-forward wedding dresses like these:
23. Lace sleeves. Lace has never really gone out of style and will always create a romantic silhouette for every bride. We are obsessed with these three gowns that are sure to add a touch of the '80s to your wedding day look.
24. Headpieces. The '80s were full of super-funky and sometimes over-the-top headpieces. These toned-down bridal options will be sure to add a bit of the era into your wedding style, without looking costumey.
Perfect venues for an '80s-themed wedding
25. Il Villaggio Exclusive Weddings and Special Events
Location: Carlstadt, NJ
Il Villaggio is perfect for the couple looking for a grand ballroom complete with chandeliers and high ceilings. As you can see in the photos, the option for neon-colored lights already gets you one step ahead for the '80s wedding of your dreams.
26. The GlassHouse
Location: San Jose, CA
The bold lines and architectural geometry within the GlassHouse set up the perfect foundation for an '80s-themed wedding.
27. The Westin Atlanta Perimeter North
Location: Atlanta, GA
One of the most fabulous things about the Westin Atlanta Perimeter North is that it acts as a blank slate. It has everything you need to create a funky and fun '80s wedding without anything too elaborate getting in the way.
Location: Austin, TX
The South Congress Hotel not only has an incredible indoor space, but also has a gorgeous outdoor space in front of stunning greenery or floor-to-ceiling windows. The aesthetic is post-modern minimalism, making it great for the couple who wants to be inspired by the '80s rather than an all-out '80s-themed wedding.
29. Harlyne J. Norris Pavilion
Location: Rolling Hills Estates, CA
The ballroom at the Harlyne J. Norris Pavilion is breathtaking and perfect for a larger wedding. The space has dome chandeliers and floor-to-ceiling windows. Not only is the layout of the venue super cool, but it has the ability to project on all four walls, which is fantastic for an '80s-themed wedding.
30. de Young Museum
Location: San Francisco, CA
Say "I do" surrounded by incredible art and architecture at de Young Museum in San Francisco. This venue boasts a variety of both indoor and outdoor options to help you in creating the '80s wedding of your dreams.
Location: Las Vegas, NV
The Circa Resort & Casino is a new venue that was built with both the '40s and '80s architecture and style in mind. As the tallest hotel north of the strip, the views are as incredible as the decor.
Put these '80s-themed wedding ideas to good use!
Now that you've got some ideas on how to incorporate the 1980s into your venue, decor, invitations, reception, and wardrobe, fine-tune the details with these 57 wedding planning tips and tricks.
Find the perfect venue for your '80s-themed wedding!