Chinese Wedding Tea Ceremony in Phuket
Planning a traditional Chinese wedding in Phuket?
Let's face it – very few event planners can handle everything a client may need. We aren't your typical Phuket Wedding Planner. People hire us because they want a wedding that stands apart from the rest. Our clients are crazy-busy professionals that depend on us to make their planning process stress-free, and to discover what will make their day uniquely special. We make design and planning simple for our clients – and simple isn't easy. Our passion and dedication to provide superb professional work surpasses them all. Behind the work we provide is an organization of excellence, creativity and communication.
Chinese tea ceremony was born as a result of the respect for nature and need for peace which the religious ceremonies involved. The philosophies of Confucianism, Taoism and Buddhism have blended together giving birth to the magical Chinese tea ceremony. The traditional tea ceremonies were described as "he" which translates as "peace", "jing" which translates as "quiet, "yi" which means "enjoyment" and "zhen" meaning "truth".
As the time passed, Chinese people started to appreciate tea's enjoyment and social value, besides its medicinal purposes. Tea ceremonies went from being only religious manifestations to becoming social, cultural and traditional events in different celebrations to honor the royal family or to mark different important events in people's lives.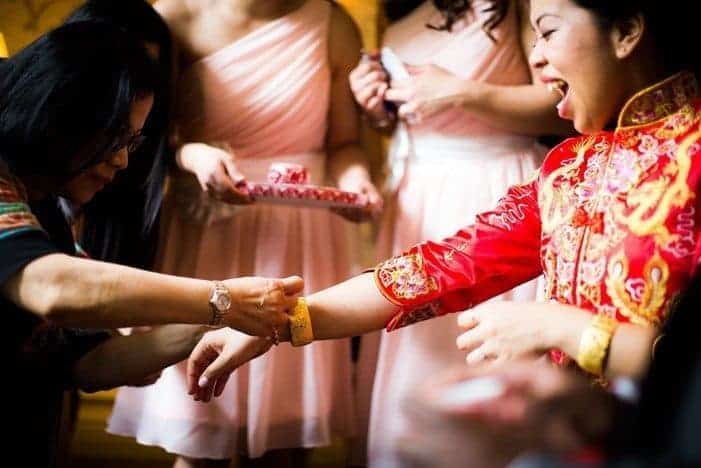 Tea Ceremony History
One of the first written accounts about the tea ceremonies dates as far back as 1200 years ago, during the Tang Dynasty. The serving of tea was also named "cha dao" which meant "the way of tea".  Attention to tea preparation and serving were the preoccupations of the Chinese tea connoisseurs which transformed the way tea was regarded by the Chinese.
Chinese Wedding Tea Ceremony Phuket
It's the quintessential Chinese wedding tradition: the tea ceremony. This time-honored exchange was created to show respect for the family. Historically, after they exchanged vows, the couple would serve tea to the groom's family (the bride would have served tea privately to her own family that morning). Today, many couples choose to honor both the bride and groom's families by hosting tea ceremonies for both sets of parents.
How It Works
If you are hosting two separate ceremonies, traditionally, it's appropriate to honor the groom's family first. Likewise, if you are holding an all-inclusive tea ceremony, the groom's family should be served first. During the ceremony, the couple serves tea to the groom's parents and elders in order of seniority. The groom's parents are served, followed by his paternal grandparents and then his maternal grandparents. Next, are his oldest uncles and aunts, and finally his oldest brother is served. After each elder takes a sip, they hand the couple a lai see (a lucky red envelope), which usually contains money or jewelry. The envelopes are placed on the platter that holds the teacups. The ceremony is then performed in the same manner for the bride's family. The tea ceremony is also the time when the Chinese wedding contract should be witnessed and signed with a traditional signature seal or personalized stamp.
When to Have It
The tea ceremony traditionally takes place following the wedding ceremony. Today, some couples wait to host the tea ceremony until the day after the wedding (think post wedding tea, instead of brunch). Others host the ceremony just before the wedding, during the cocktail hour, or just after the ceremony. When the tea ceremony takes place usually depends on the amount of privacy a couple wishes to keep. If you just wish to include immediate family, you could serve your parents before the wedding ceremony, in the privacy of home. Another option is to perform the ceremony during the cocktail hour, while your guests enjoy hors d'oeuvres and cocktails. If you want all guests to pay witness to your tea ceremony, build in time between the ceremony and cocktail hour for this event to take place.
Where to Host It
If you want to host a private tea ceremony, you can choose to have it just about anywhere. To add contrast to a formal indoor reception, a private outdoor tea ceremony is the perfect way to incorporate a breath of fresh air into your day. Host the ceremony in a nearby garden while your guests enjoy predinner cocktails at the reception. If you want to keep it more low-key, opt to have a small ceremony with family at home. If you wish to include your entire guest list, you'll need to reserve a space big enough to accommodate everybody. Find out if there is a big enough outdoor patio at your reception venue, or perhaps the hotel has a smaller banquet room near your reception space. You could even set up the tea ceremony in your reception room and then have the room "turned over" before dinner is served.
What You Need
You'll want to have an altar or table to display photos or candles in recognition of each family. If you are hosting just one tea ceremony, you may choose to have two small ancestral altars. A lot of times the bride and groom will light two wedding candles (one with a phoenix, the other with a dragon motif) to represent each of their families. The couple can also light one candle together (symbolizing the joining of two families). Other items for the ancestral altar: white flowers, fruit, offertory wine, and burning incense. Of course, a tea set is a must. The type of tea served can be left up to each family, but popular choices are black dragon, orange blossom, and classic green tea.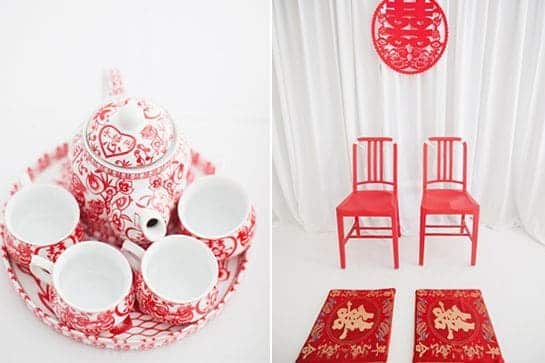 The Setup
Just like a Western wedding ceremony, the general rule is that the bride be on the left and the groom on the right. Those family members served should sit in chairs facing the couple. (For example, the bride would kneel in front of her father-in-law, while the groom kneels in front of his mother.) If you opt to invite your guests to the ceremony, have them sit in chairs facing your elders. You can seat them in rows just as they might have sat for the vow exchange or seat them at round tables where everyone is able to see what's going on.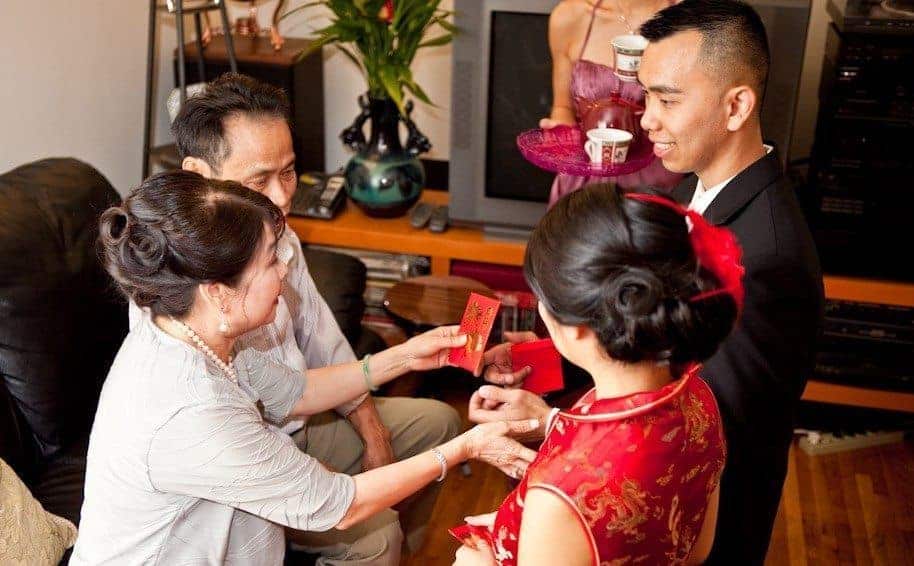 The Decor
From the very simple at-home ceremony to the lavishly decorated affair, there are a ton of options for decking out your tea ceremony space. A couple motifs to keep in mind when looking for décor items: the Double Happiness symbol, phoenix and dragon motifs, Chinese marriage gods, gold and red colors, and decorative strands of firecrackers. You can drape a red and gold banner over the altar; fly red silk scarves in trees for an outdoor setting; hand out red rice-paper parasols to all your guests; or string small red paper lanterns along the ceiling. Your decor choices are truly endless so don't be afraid to get creative.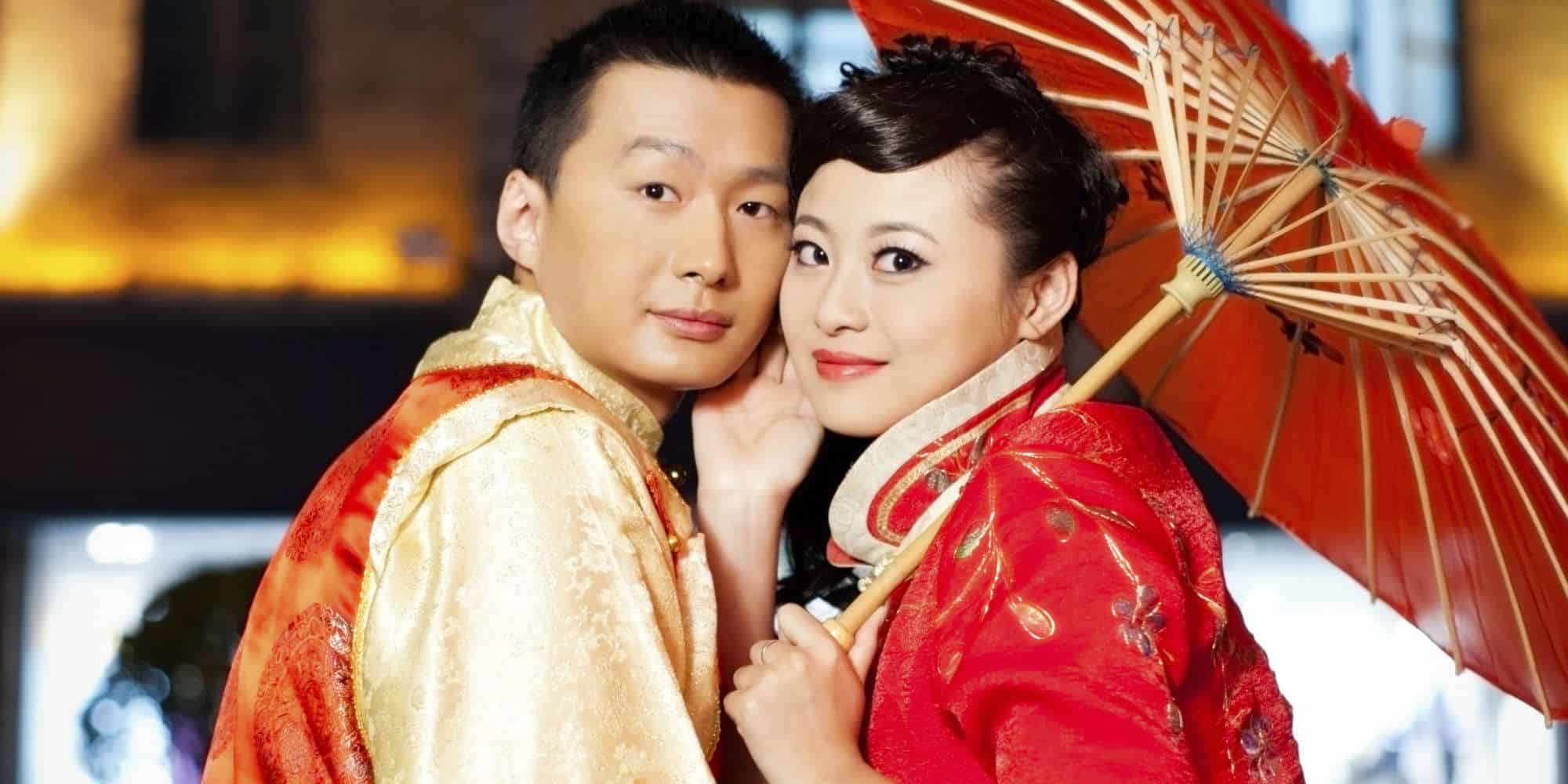 The Finishing Touches
If you do plan to invite all your guests to the tea ceremony, be sure to have someone there who can explain the significance behind the ceremony to those unfamiliar with the tradition. If you don't have a spokesperson, print out the meaning of the Chinese tea ceremony on an insert for your wedding program, so that your guests can follow along. You can make the programs as casual or elaborate as you want them to be — from simple pieces of paper to card stock inserts that match the traditional wedding programs, invitations, and save-the-dates. Of course, when it comes to extras, you don't have to stop there. To entertain and impress guests, some couples hire lion dancers — an expression of joy, celebration, and happiness — to perform to the sounds of drums, gongs, and cymbals at the close of their ceremonies. For the ultimate wow factor, consider setting off traditional Chinese firecrackers (just be sure to get permission from your venue first, of course!).
https://www.bespoke-experiences.com