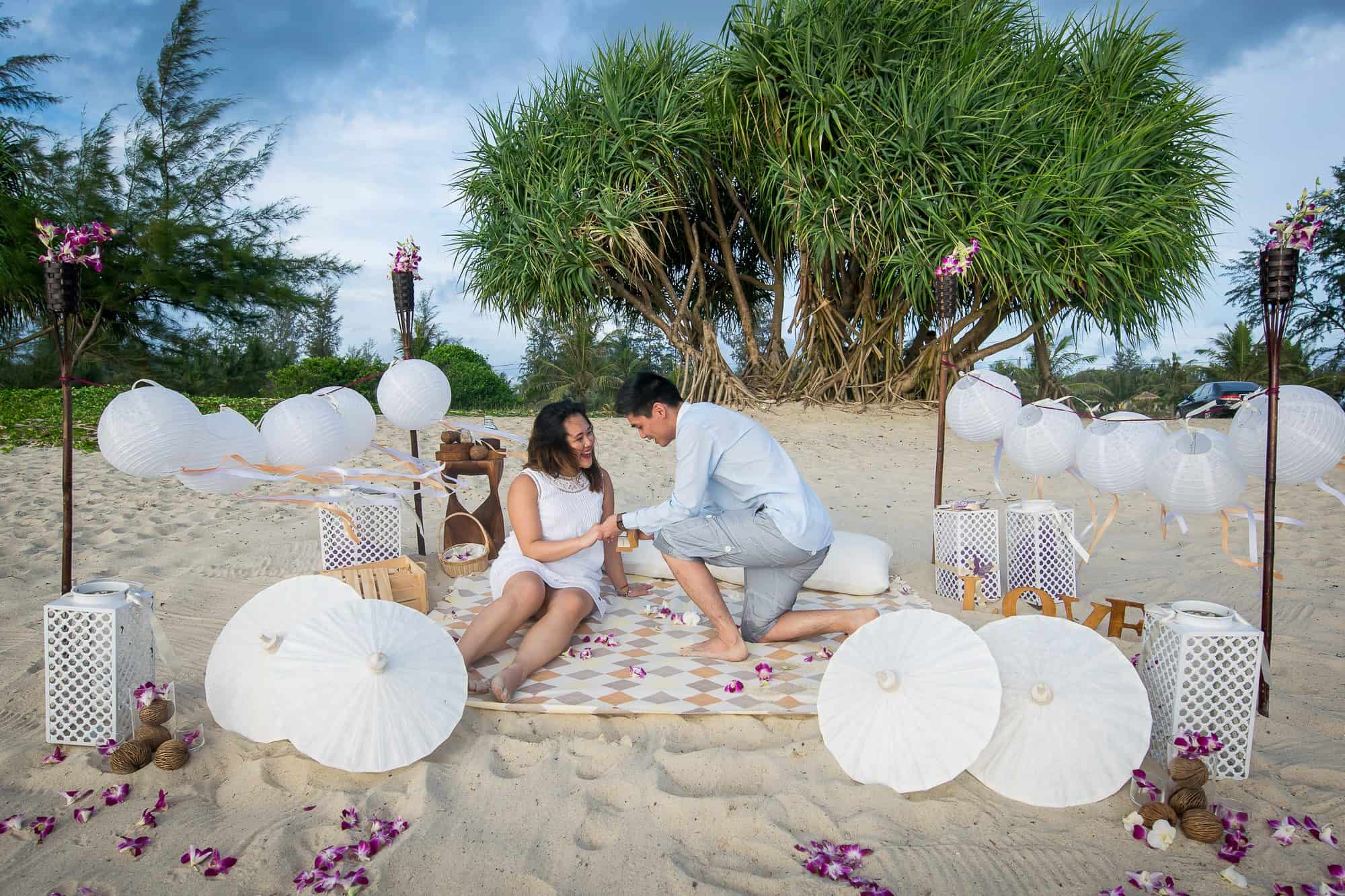 Get Engaged While Spending a Phuket Holiday
Did the love of your life just pop the question? Then it's time to get planning on an engagement party! This occasion must officially show the love you have for each other as a couple as you formally announce our upcoming wedding. If you're considering have an engagement party in a tropical island, why not consider a Phuket tour package deal? Phuket, Thailand will be one of the most romantic and fun getaway to celebrate your love as a couple with family and friends.
Let Bespoke Experiences assist you with full service wedding planning and coordination services for your special corporate or private event in Phuket. With our passion to every detail, we transform ordinary spaces into extraordinary experiences for your guests. We can help you with every aspect of your event including the logistic coordination of all pre-event, onsite, and post event activities. We offer diverse events that range from Phuket wedding ceremonies, birthday celebrations, team buildings, conferences or seminars, MICE, product launches, presentations, workshops, company inaugurations.
The Theme of Your Party at a Phuket Resort
Since you have already chosen to take a vacation while having an engagement party, the theme of your celebration should be much easier to figure out. You can have a laid back, free spirited engagement party, or you may further emphasize the beach lifestyle in your party. Another idea for a theme would be Asian inspired.
As you plan for a holiday in Phuket or when you make a Bangkok to Phuket arrangement, it is also important to think of the island's culture. Since Thailand is a fairly open country for most types of cultures, you may simply put in subtle elements of tropical inspired items such as orchids. This is where a mood board or journal may also come in handy. You may draw or paste some designs and elements, which you think would be great to have in the engagement party.
Team Up with Your Fiancé and Best Friends to Source out for Materials
If you think about it, engagement parties can be a form of practice towards planning actual weddings. You can ask for your fiancé's help in looking for a good planner while your best friends can also help out in considering a Phuket villa where you will be staying. Your closest friends can take the time to look Phuket accommodation and their amenities, so you will also have more options to choose from.
Check the Best Beach Fronts in Phuket Island
At which spot would it be best to hold the party? The most relaxing locations can actually make up for the best Phuket parties. You can even consider looking for a forum where Phuket expats talk about the most picturesque locations they have seen in the island, so you may also check whether an engagement party would be awesome to have in there as well.
When night time comes, you may even consider extending the fun of your engagement party with some of your friends. Checking out the Phuket Nightlife may be worth considering.
Holding an engagement party along Phuket Beaches will certainly be memorable for you as a couple. Be sure to prepare well and, if possible, consider hiring a planner to ensure a smooth sailing celebration.