Embrace this fun-filled holiday theme with oh-so-gorgeous Cocomelody bridal outfits.
Themed weddings are our personal favorites. These allow us the opportunity to design and offer some distinctive and creative bridal outfits. It is especially true if our bride is having a fall wedding and is also a Halloween fan!
Those rustic vibes combined with shades of black, brown, red, and gold sound so heartwarming. But the thing to remember is you're having a wedding celebration, don't consider it a Halloween bash. Your wedding must scream of grace and not make guests cry in fear.
If you're in the midst of planning your 2022 Halloween-themed wedding, get ready, we've got the scoop on some really fun, dramatic, and Halloween-inspired tips and wedding dresses.
UNDERSTAND YOUR HALLOWEEN WEDDING
Firstly, understand that a Halloween wedding isn't a costume party. When guided the right way, it'll come off as tasteful, sophisticated, and glamorous. The key is to keep away anything that makes it a literal Halloween party.
The idea is to take inspiration and give those a personal touch to pull off a marvelous show. Choose a suitable and sophisticated color palette to match the vibes. Use Halloween-themed invites, decorate with black (or dark) blooms or similar elements, have a themed yet delectable menu, and maybe create a pumpkin path to enliven that Halloween spirit.
DRESS TASTEFULLY
You don't have to go overboard with wearing a spooky outfit and paint your face all silvery. Well, that does look astonishing, but subtle makeovers are a lot better. So, ditch that scary bride idea, and opt for some vintage-fall colors or modern black wedding dress.
Here are some chic and spooktacular 2022 Halloween wedding dress suggestions that'll get you in the mood and help you start planning ahead of time:
CW2510 – KARTER
This is such a striking wedding dress suitable for a Halloween bride. Karter will make you feel super empowered on your special day and add some drama to the overall vibes of the event. It features a dramatic ball gown silhouette with a sweetheart neckline, long puffy sleeves, and zipper back closure. Karter is suitable for beach, hall, and outdoor weddings and is also available in multiple sizes. You can complete the look with our rhinestone tiara and one-tier cut edge tulle chapel veil with appliques beading (CV0275).
CW2506 – COLETTE
For that bold and beautiful bride, this gorgeous black wedding dress is everything. It is glittery, perfect for Halloween-themed wedding celebrations, and most of all – it's all black. Colette (CW2506) is an off-the-shoulder bridal outfit with bell sleeves, an A-line silhouette, a zipper back, and a built-in bra. You can get it in most sizes, with customizations also available. The moment your man see's you wearing Colette, we're sure his eyes will pop out, the jaw will drop to the floor, and the heart will beat out of the chest.
CW2507 – JAZMIN
Jazmin CW2507 is similar to Colette but in a traditional, more peaceful shade – white. The dress has a lace-up corset back, comes with a chapel train, off-the-shoulder neckline, bell sleeves, A-line silhouette, and an elegant overall style. You can pair Jazmin up with this dramatic one-tier cut edge tulle veil, stunning crystal rhinestone jewelry, and these gorgeous stilettos.
CW2508 – ALISHA
Well, what do we say about Alisha? It feels dark and gothic but also chic and dreamy at the same time. It is ideal for fashion-forward brides looking to make a statement on their Halloween-inspired wedding day. It is another flattering choice for fearless brides with an impeccable sense of style. Complete the look with an alloy rhinestone tiara, a theatrical single-tier lace edge cathedral veil, and minimalistic and modern earrings. Featuring ruffle sleeves, off-shoulder neckline, sequined lace, and zipper closure with pearl buttons – we're all sold with this dress.
CW2509 – AZALEA
This one's similar to Alisha (CW2508) but in a neutral ivory/nude color that is sparkly, elegant, and shiny. Azalea CW2509 is a trumpet-mermaid silhouette with long sleeves, off-shoulder neck style, and comes with sequined lace similar to Alisha. Pair it up with this veil, alloy earrings, pearl necklace, and you're good to rock the show.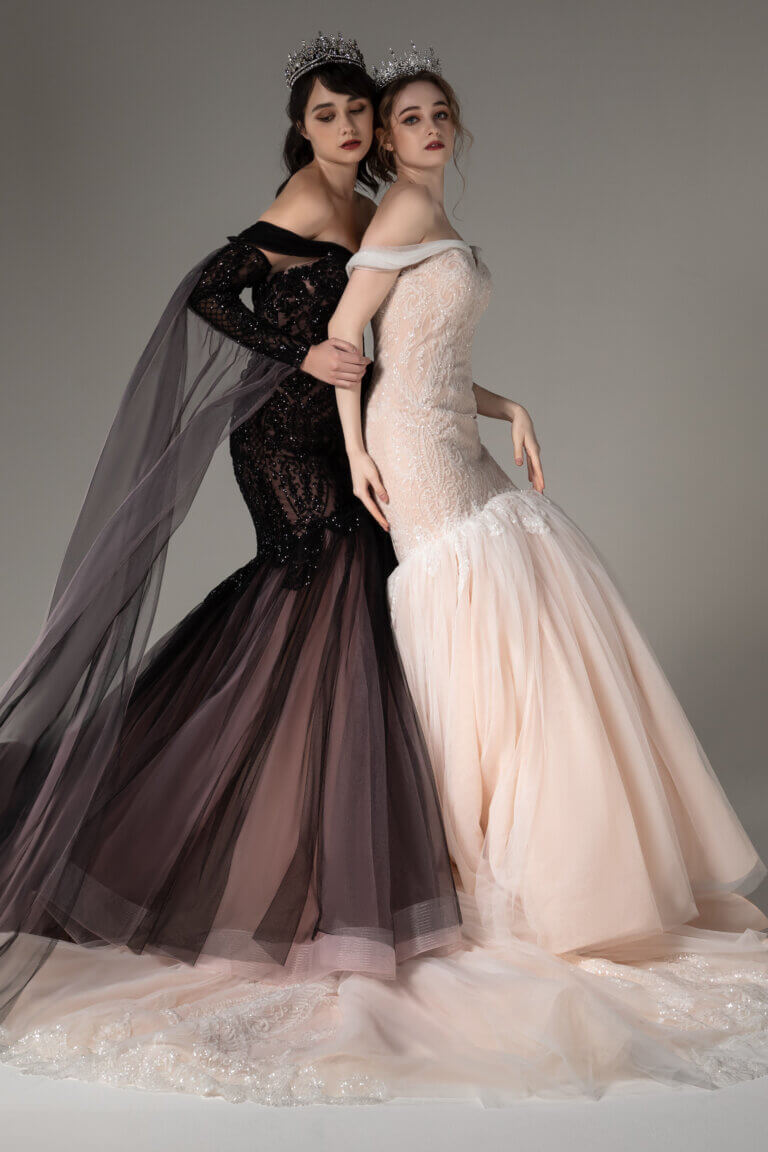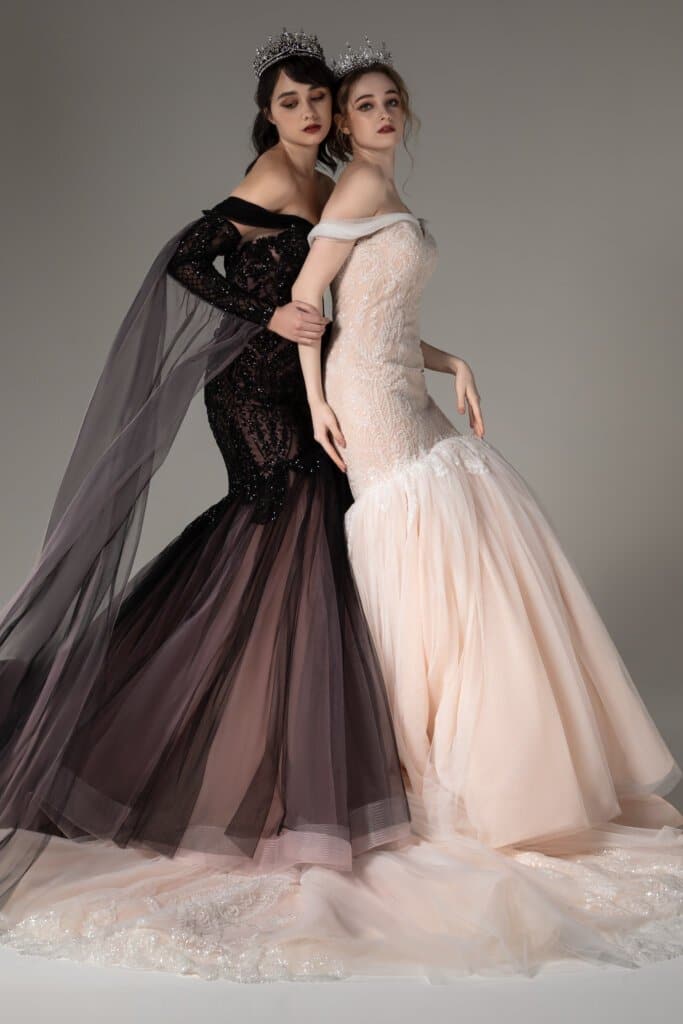 LOOKING FOR A 2022 HALLOWEEN WEDDING DRESS? CONTACT COCOMELODY.
It is always fun to plan themed nuptials. If you are preparing for your 2022 Halloween wedding, now is the time to start building up your checklist. For bridal outfits and accessories, look no further than Cocomelody.