Weddings are a once-in-a-lifetime experience. All eyes are on the bride and groom, and everyone's out there having the time of their life. But here's where we'd like to break it to you – the most awws and oohs go to the flower girl.
Often the sweetest and best-dressed member of the bridal party, the flower girl adds an edge to the gathering. She's pretty, little, and a complete package. But things can get tricky with the youngest participant at the wedding. So we help you break down some basics.
Image Credit: Levien & Lens Photography 
The flower girl has one of the cutest and most important positions. First, she adds a cute quotient to the bridal party. Second, she paves the way for the bride to make her much-anticipated entrance.
But why even have a flower girl in the first place?
The flower girl walks behind the maid of honor, carrying a basket full of flower petals, scattering those on the way while preparing the aisle for the bride. She can alternatively carry confetti, herbs, some grains, probably a single bloom, or just blow bubbles.
This sweet angel is supposed to introduce the bride to the gathering. Besides, having this pretty lady symbolizes good luck, everlasting love, and fertility.
Start by making THE CHOICE – the girl you think might be able to handle the responsibility. For some, it's pretty obvious. But for many, it's tricky.
Any girl between the age of 3 and 8 will be good. Besides, her interests and personality will determine the level of work you'd have to put in.
In the end, it's up to you to help her completely understand where she fits in the bridal party. Explain what she needs to do, but also allow her to take it her way. Don't pressurize the little one or yourself. Let everyone enjoy this memorable day.
Being the center of attention can be unsettling for kids. So you can always have more than one flower girl. This way, they'll have their camaraderie at all times, and it will also diffuse any tension between them.
Ideally, her dress is the mini version of the wedding gown but can also be a variation of the bridesmaid dress. In terms of color, ivory, blush, or pale sage will be the best bet. You can also choose prints, pastels, or something completely unique. Remember, her dress must blend well with the overall wedding theme and her personality.
You can find a flower girl dress at any kid's clothing store, a departmental store, or your chosen bridal boutique. But unless you know about shopping for kids, it can get challenging.
We'd suggest you go with a flexible fit, a fluidy silk- or satin-like material, probably with ballerina or tea-length. Pick a size up if you're shopping early, as she will outgrow that size. Choose something with broader straps for the neckline to prevent wardrobe malfunctions.
Not to mention, ask for her opinion too – after all, she's the little princess, a mini version of you, and you'd want her to feel overjoyed and extra special while performing her duties.
Check out some of the best-selling Flower Girl Dresses by Cocomelody to get her a dress that's unique, comfortable, and of her choice.
Styles(from left to right): #PR3554 & #COZK16005Styles(from left to right): #PR3554 & #COZK16005
Essentially, flower girl dresses are purchased by her parents. So, it's polite only to suggest a few options matching your wedding palette if they're paying for the dress. But if there's a specific vision, it is best for the bride and the groom to offer to pay.
Make sure the flower girl's parents are involved in whatever you're planning. Pick a thoughtful and age-appropriate gift, such as a personalized jewelry box, and propose to them the idea of having their little girl as your flower girl. Discuss all you have in mind and be all ears for their opinion.
Once they agree, take them along for dress shopping as well.
Have them invited to the functions wherever the flower girl is needed, such as the bridal shower or photo sessions. Seat them closer to the aisle on the wedding day for reassurance. You could also appoint one of your bridesmaids to look after her as the day advances.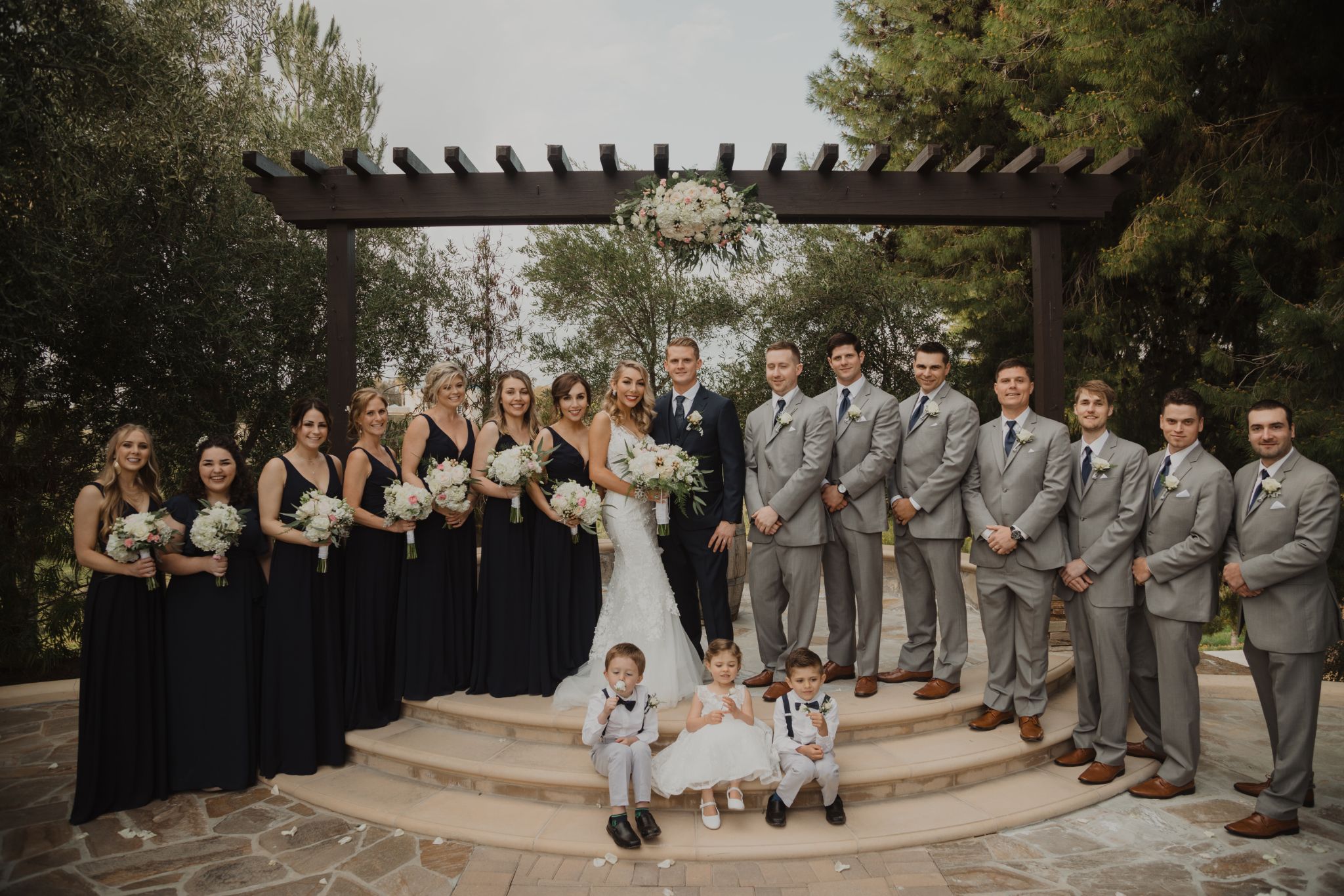 Photo Credit: Danielle Alexandra Mcbrayer. ; Wedding Dress Style: #LD5058
A flower girl doesn't really have a complicated job from an adult's perspective. But she definitely has one of the most extraordinary jobs at the wedding. Let her feel appreciated for whatever effort she put in, and enjoy each moment of your wedding day.