Wedding planning can be a little stressful, but it is also fun and positive until you have to choose your bridesmaids and maid of honor. Do you think it's a game of favorites? To some extent, yes. But, it's more of a strategic move to keep the bridal party dynamics smooth and easy.
It's a touchy wedding situation, but it doesn't have to be so. So, what should you and shouldn't you do when making this choice? We can't decide for you, but we can help you make the right decision and step into your new life with the right people.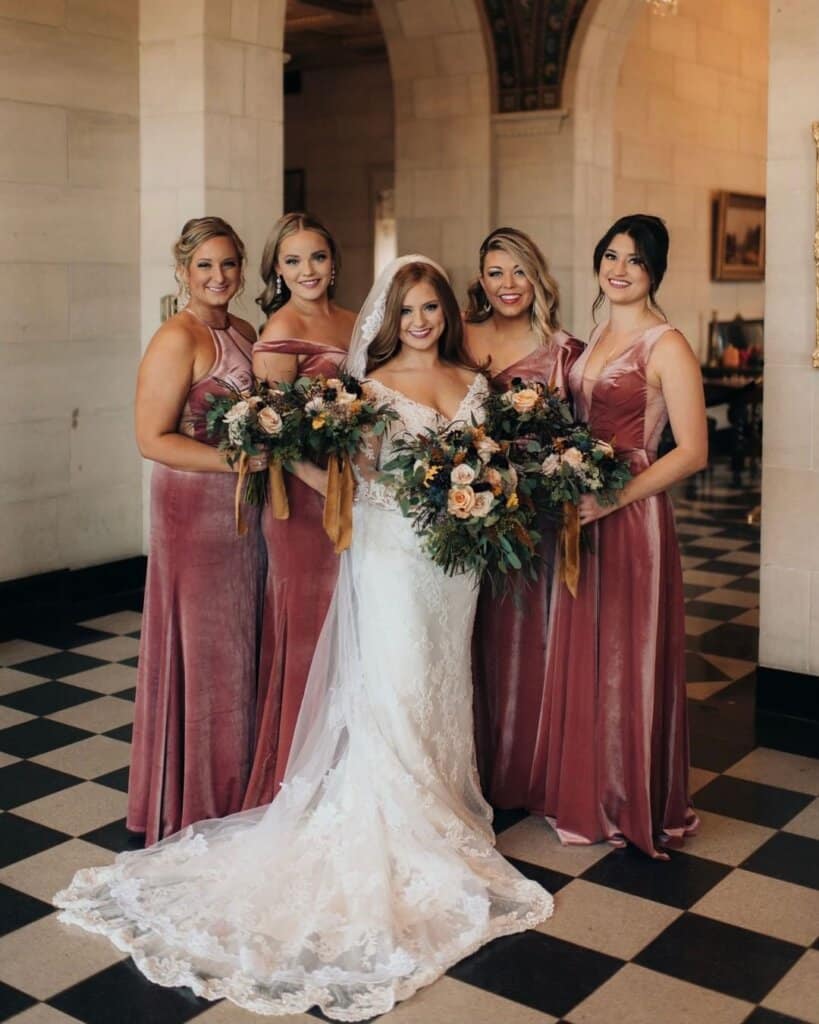 Photo credit: @maktographymk ; dress style: CB0362, CB0271, CB0367, CB0364
Some brides have their maid of honor picked since kindergarten. Their friendship has lasted long enough to come to this decision. But many have a tough time doing that, especially choosing ONE above all. The pressure is for real. So, here are some tips on making the right choice:
The safest suggestion is to pick your sisterand avoid drama. None of your friends will bear resentment if you share a good bond with her. But, for those with more than one sister, you can probably pick the eldest one as your maid of honor.
Don't be gender-specific, and think outside the box. Yes, you can also choose your brotheror male best friend for the role. They have been your partners in crime all this while. Why not pop the question, and have them flaunt the Man of Honor title too.
Just don't pick the maid of honor out of obligations. It's your special day; do what makes you happy, even if it's about ditching the "pick your sister" advice and choosing your long-time best friend.
That elementary school group friend has been your savior a lot of times. But maybe someone you just met feels a lot closer. Keep that connection in mind and choose someone who you share a strong bond withand believe will be there for you through thick and thin.
If you have a tight-knit group, you're lucky enough to delegate the duties to a handful of women. But if yours is a bigger group, here's what your choices must entail.
Sisters always come first, be they yours or the groom's sister. You can also line up your brothers to give a modern twist to the customs.
Next are your friendswho're just as important as your family. Choosing the squad depends on how much time you spend with them, who's particularly close to you, and who'll bring excitement to all your events. It's all about who you wish to be standing by your side – time to be a little selfish in this (wink).
Unsurprisingly, some brides have that one coworkerwho's no less than her bestie. Sounds relatable? Add her to the list, but only if you think the group can hold up to each other without stressing.
Another important piece of advice – it's okay if you don't have any bridesmaids. You aren't always supposed to have one. You're free to ditch the idea. It's all too common not to have any bridesmaids at all. Don't feel too pushed into the notion.
If you're having an intimate wedding, stick to only your closest friends and family members. If you have a bigger guest count, invite whoever you love and cherish.
Most importantly, make sure your bridesmaids and the maid of honor understand their duties. They aren't by your side only to get the best shots for the wedding album. They need to be worthy of that title and be up for whatever challenges they face.
Besides, weddings are emotionally draining. So, choose someone supportive, someone who can hold it all together, is trustworthy, and has your back. Usually, there are three bridesmaids, but it can range anywhere between 1 and 12. That should help you ease your stress with the numbers.
Lastly, never forget about your budget. Your finances dictate the dynamics of your wedding as well as the bridal party. You'd want to allocate funds for whatever you'll be providing your bridesmaids and maid of honor, including maid of honor and bridesmaid dress, hair and makeup, footwear, jewelry, bridesmaid gift, proposal suit, bouquet, and bachelorette trip.
There you have it – the tips for choosing your squad wisely. Ultimately, the key is to feel comfortable and your best self around these girls. It's your wedding day, make the most of it and cherish these memories for life.