Riannon and Clinton tied the knot in October 2021. They had their classic elegant wedding where they met- USC. We love reading their love story and so honor to be part of their wedding. The gorgeous pictures shows how firm their relationship is. Riannon looks charming in our A-line Off-the-shoulder wedding dress ANNE! Best of luck for a happy and prosperous marriage to this lovely couple who truly deserve each other!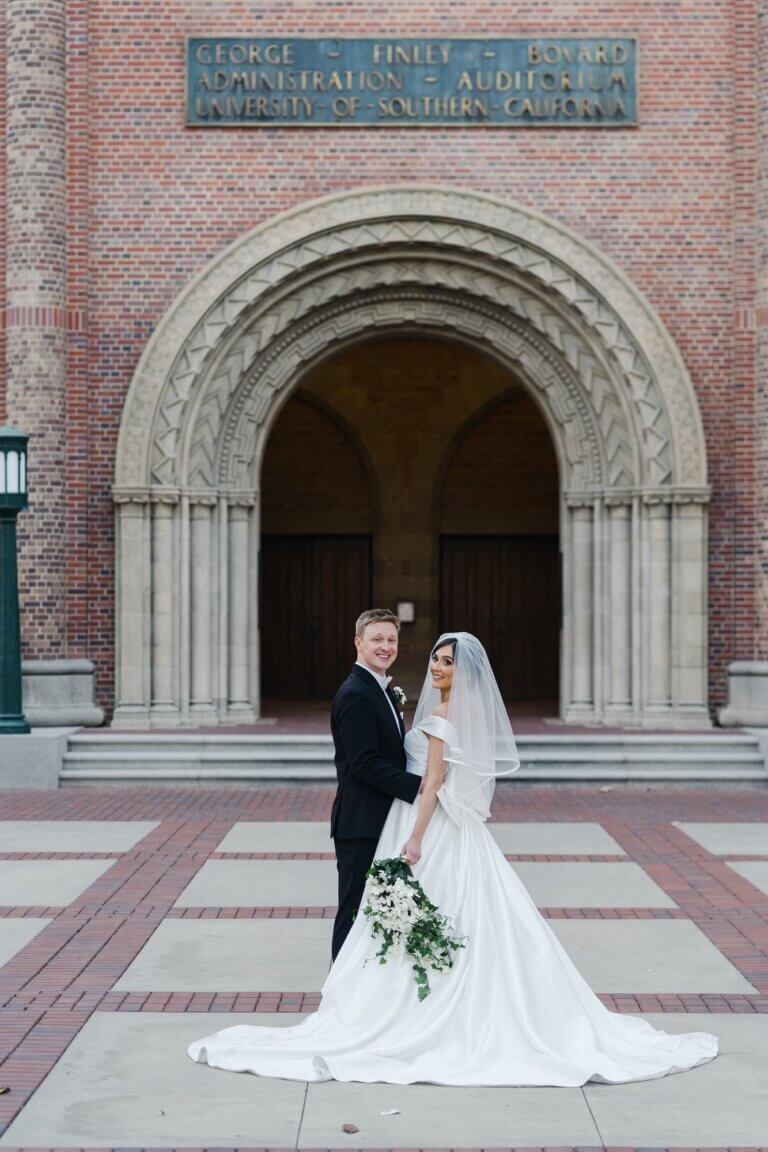 Photo credit: @jimkennedyphotographers ; Dress style: Anne LD5801
Do not be afraid to take the time to figure out what you want for your wedding — from the all-important dress to the venue to the flavor of the cake. Having a vision as you begin your wedding planning makes the process far less stressful and more enjoyable in creating your dream day!
I always knew I wanted a wedding that was unique and reflected my husband and me as a couple. I wanted everything to be timeless and elegant — just like my COCOMELODY gown! Clinton and I chose to have our wedding at the University of Southern California because it felt like home to us. It is not only where we met when we were students but it is also where my parents met as students forty-five years ago! USC is steeped in tradition in so very many ways…just as we wanted our wedding to be!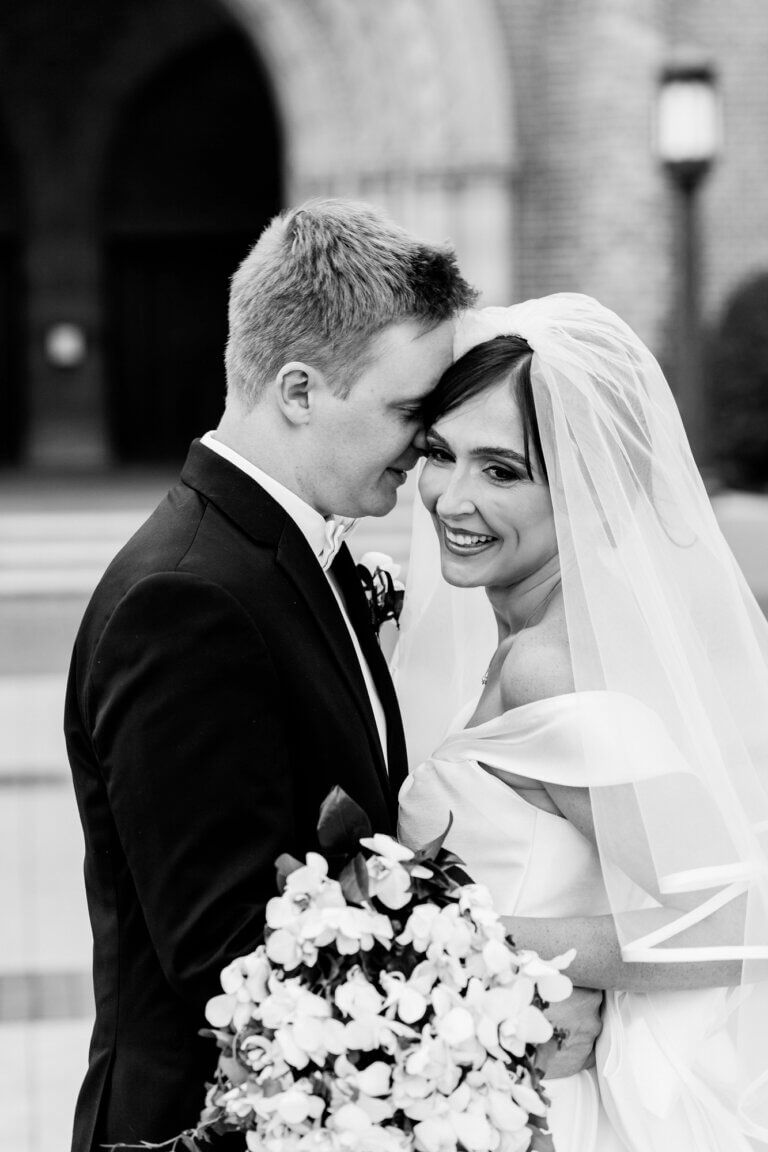 How we met…
During my last semester at USC (Go Trojans!), one of my best friends kept telling me that I had to meet a friend of hers that had asked about me several times. My friend's persistence went on for a couple of months until one night in December — when I was feeling rather brazen, probably from the lack of sleep and abundance of coffee due to finals — I sent him a friend request on Facebook. After a few intriguing messages back and forth, we made plans to meet for coffee. The day came and I walked into Starbucks to find him wearing a Santa hat, yes that's right — a Santa hat! My initial thought was "RUN!" but a little voice inside my head told me to stay. Thanks, little voice…best advice EVER!
From the second we sat down with our coffees, there was never a moment of awkward silence. We talked for over four hours on that memorable December night. We talked about our lives – from childhoods to school to plans for the future – never realizing at the time that those future plans would one day include each other! After that night for the next several months, although we only saw each other a few times, we talked often.
I knew Clinton was special because of how easily I could talk to him about anything. Flash forward to the following fall – newly graduated and in the working world – only to find ourselves living fifteen minutes away from each other! We went out a few times and then started seeing each other more regularly. Things progressed and we began dating. Over the past seven and a half years we have grown together in so many ways. We have shared our triumphs and our losses and propelled each other to be the best versions of ourselves.
I have always believed that things happen when you least expect them. I know I never expected a casual coffee date on a chilly December night – with a guy in a Santa hat nonetheless – to be any more than that. But it was and it is and we could not be happier!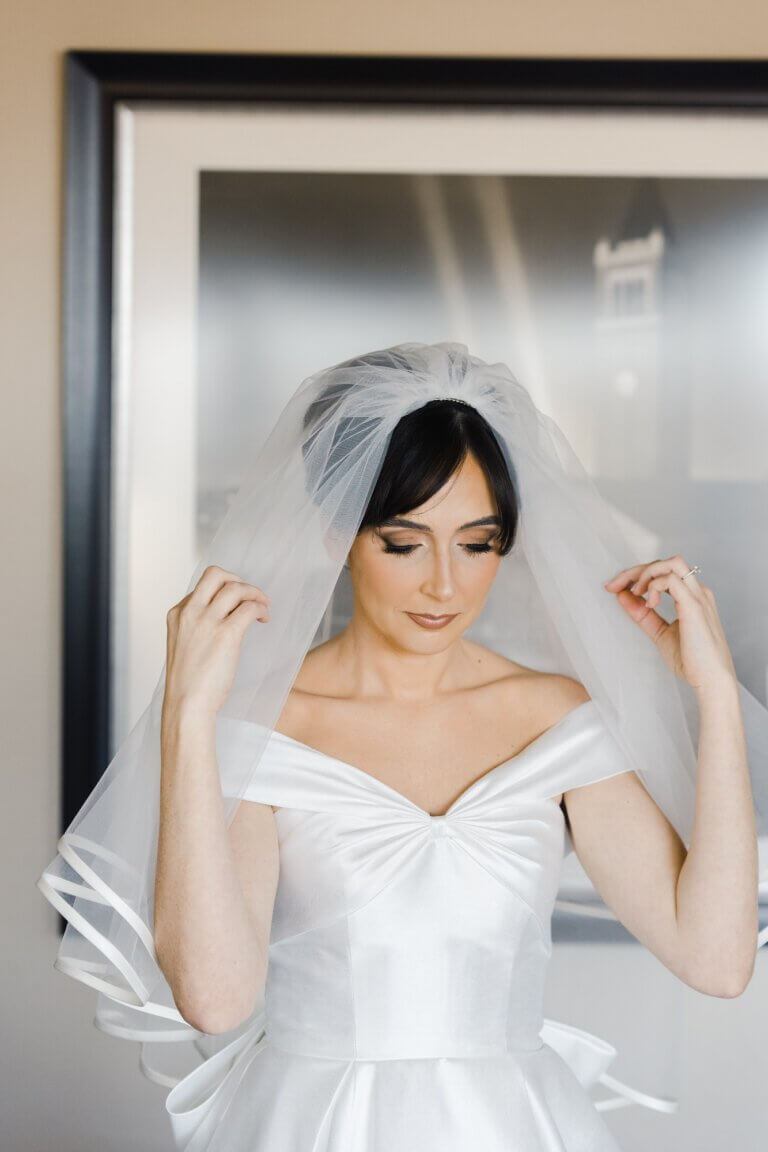 The trip…
Clinton and I had been planning our vacation to Europe for months. We were traveling to Paris and then Munich for Oktoberfest and to visit Neuschwanstein Castle. It was Clinton's first trip abroad so I became travel agent extraordinaire…no museum left unvisited, no baguette left uneaten! To say I was a little preoccupied with planning our trip would be an understatement.
To make our adventure even more special, my parents had gifted us with a rooftop dinner at the Terrass Hotel in Montmartre on our second night in Paris, which we were very much looking forward to. Little did I know it would be a night I would never forget! As we were getting ready, Clinton kept saying we could not be late, he wanted to be there by 6 p.m. I thought that was a little strange since our dinner reservations were not until 8 p.m. but when he offered drinks at the hotel's bar as an excuse for arriving early, I happily went along with it.I mean, who wouldn't? Cocktails on a terrace high above "Paree" with a breathtaking view of the City of Light!
Our proposal…
We ordered drinks and Clinton said he wanted to take a panoramic photo of the city with me looking out at the view, which meant I would have my back to him. I obliged as I envisioned my next Instagram photo! Finally – after what felt like forever – Clinton asked me to turn around and as I did, I saw he was down on one knee. As I stood there, in my vintage black velvet sleeveless dress, it began to mist and drizzle yet instead of feeling cold, I felt an incredible warmth and love – greater than I had ever felt before – for the man kneeling in front of me. Between the happiness and the excitement and the tears, as the fog cleared from my eyes, I muttered out a YES!
To make the evening even more perfect (if that was possible) Clinton had hired a photographer to capture the moment which meant we would be able to relive it over and over again through the photos. Following congratulatory wishes from strangers, we were escorted inside to the restaurant to enjoy the most amazing dinner – amazing because we were dining for the first time as an ENGAGED couple! Even though the restaurant was very crowded that night, we were in our own world. It felt like it was just the two of us.
Following a delectable dinner in true French fashion, I excused myself for a moment but when I returned, our table was empty. With one look at my confused expression, a waiter came to my rescue and pointed me toward a small area near the front of the restaurant. Clinton had arranged for dessert and champagne to be served on a private balcony overlooking the Eiffel Tower. Sipping the sparkling champagne with my fiancé, as the City of Light sparkled beneath us, on the most perfect night of our lives, was truly a dream come true!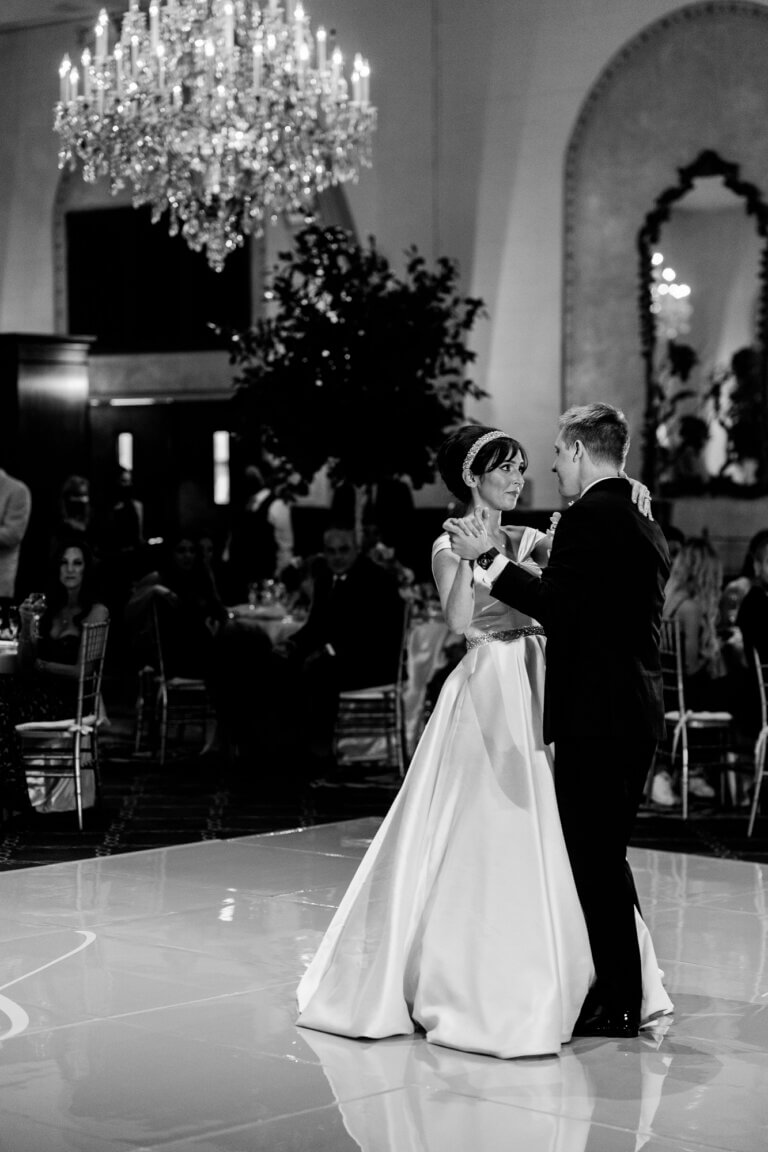 Clinton and I opted not to do a first look so the moment the doors of the church opened — and he saw me in my exquisite gown complete with a shoulder-length satin-trimmed veil over my face — surrounded by our family and friends was the most magical moment I could have ever imagined!
I knew the style of dress I wanted when I started searching but could not seem to find it anywhere. After hours of researching online one rainy January afternoon in 2019, I found the COCOMELODY website and spotted my dream dress! When I saw there was a showroom in Los Angeles with appointments available that week, I texted my mom, scheduled an appointment and the rest was history!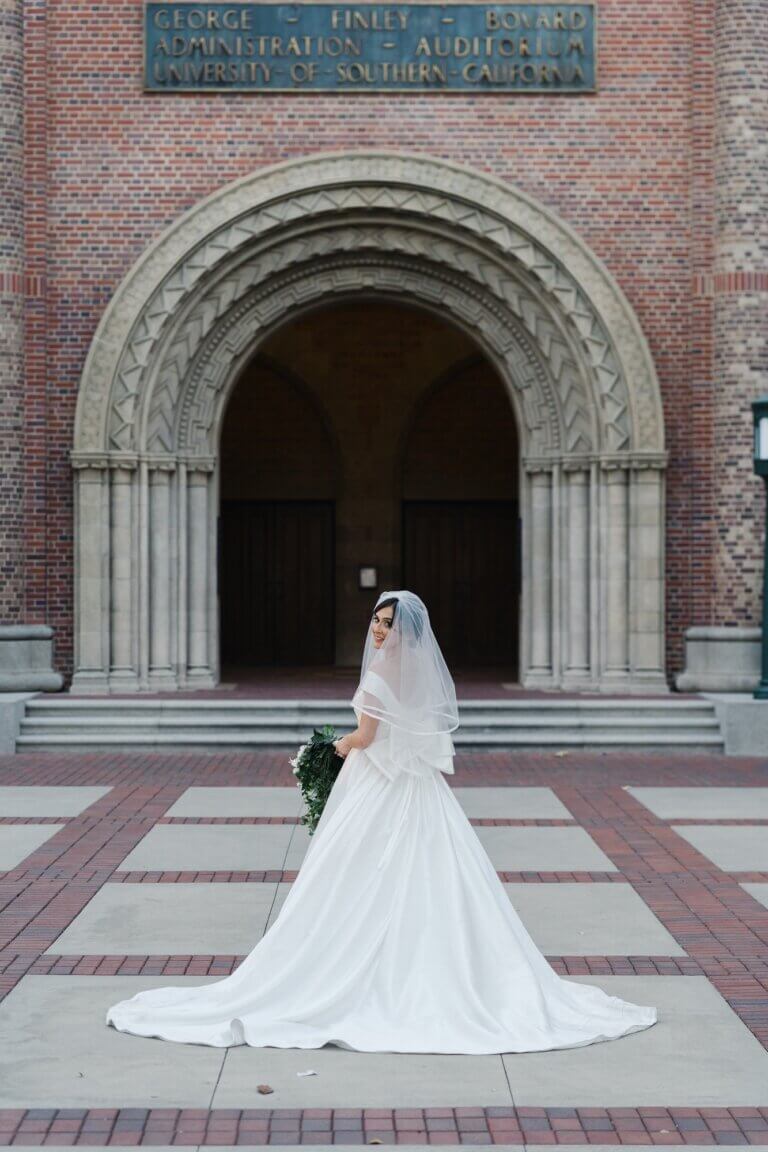 What wasn't there to love?! The way the skirt flowed as I glided on what seemed like air all night to the most flattering neckline that made me feel like a princess to — of course, who could forget — the POCKETS!
COCOMELODY is absolutely amazing in every way. The Los Angeles showroom is very warm and welcoming with a knowledgeable, yet approachable staff. For my alterations, I worked with Albert, who tweaked my dress to perfection! Then, when my original wedding date in March 2020 was postponed because of COVID, COCOMELODY made sure my dress was well taken care of. When we finally were able to reschedule our wedding date, COCOMELODY picked up right where we had left off so my dress could be ready for the big day! Thank you COCOMELODY for playing such an important role in my wedding!