The Best time to get Get Married in Phuket
If your heart is set on a sunny destination wedding with blue skies, stunning beaches, clear water and salty kisses, then the island of Phuket maybe the perfect place for you to say, 'I do' to the love of your life. Read on to find out about the best to worst seasons to get married on the island of Phuket, also known as the 'Pearl of the Andaman'. We would like to share with you our advice when is the best time to get married in Phuket.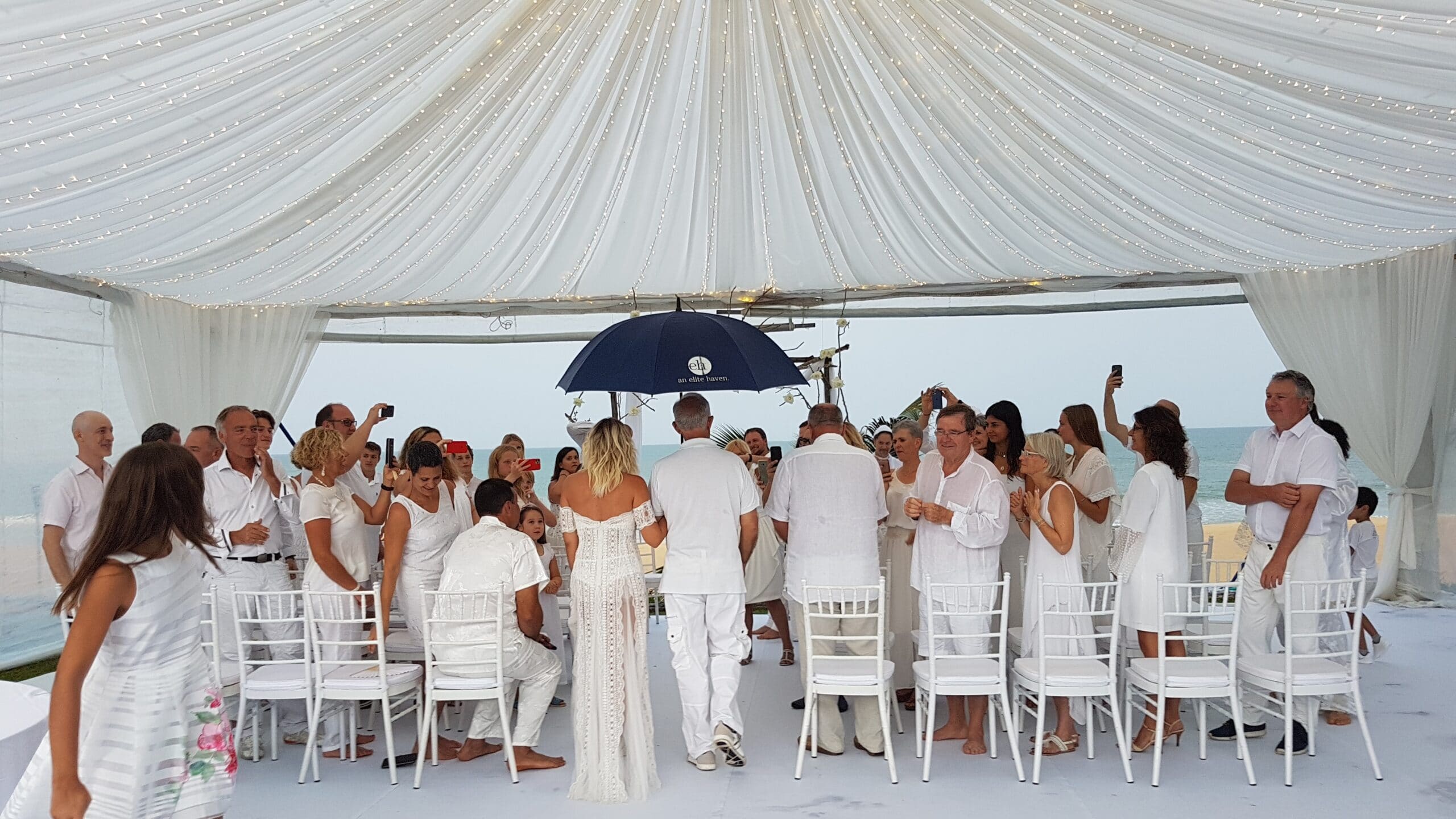 Like many other countries in the tropics, Thailand is warm and cozy all year round making the country a perfect destination for a dream wedding.
Generally, the country experiences most of its rain between June to October but on Thailand's west coast, which is home to the famous island of Phuket, the rainy season is longer and generally lasts from July to October. The safest period to have your dream blue-sky wedding on the island is therefore between the months from December until March/April, when it is less humid and there is less chance of rain.
The period between March and May is also dry, however, it is accompanied by hot, sticky air and sweltering heat which may be a bit too hard for new couples to endure.
It's does not typically rain every day during the rainy season. This means, weddings can still go on as planned. However, expect some heavy rains in September and October. Couples who decide to have their weddings in this season, will save more and spend less as flights tend to be cheaper and the island and beaches, less crowded.
If you are on a shoestring budget, you can take advantage of the best deals and discounts and have your wedding during this time. With a little bit of planning, you can beat the rains and still have your dream wedding. One huge plus for you is the glorious photos you can shoot under the stormy sky and the kisses you can have under the shower. Maybe  if you don't mind few drops of rain that would be the best time to get married in Phuket
There are also great bargains to be had on accommodation rates and packages during this period of rains and Thais believe rain on your wedding day is lucky as it cleans and purifies the body ready for marriage.
There is a reason why the most popular time to visit Thailand is December and January. The whole of Thailand especially the North and Northeast regions enjoy the cold seasonal weather which is still ideal for trips to the beach.
Overall, Thailand's fantastic weather and hot sunny weather makes it a perfect destination for couples to tie the note. Phuket is the perfect spot for your dream wedding. You can choose to get married the traditional western style with a religious ceremony or have the Thai-style wedding ceremony.
A little research and planning are all you need to minimize the risk of a downpour and make your wedding the special event it is.
Bespoke Experiences is a full-service destination wedding & event planner company based in Phuket, Thailand. If you're considering celebrating your love and tying the knot in a stunning location like amazing Thailand with all event services you could ever need, contacting Wedding Planners Phuket- Bespoke Experiences should be at the top of your to do's list.
Our years of experience and know-how provides you with the most efficient and practical way of planning your overseas wedding or private event in Thailand.

We can assist you with a beachfront wedding ceremony, stunning dinner reception at luxury wedding villa or hotel, a bespoke vow renewal, an outstanding marriage proposal in Phuket to make sure you day in nothing but magical! Simply because there is so much to manage meticulously to ensure your day goes off without a hitch.
Celebrating your wedding or event should not be a stressful experience. Destination Wedding Planner Bespoke Experiences takes that worry off your shoulders, with our professional work execution and attention to detail we deliver the best results so you enjoy every special moment leading up to your nuptials.