Who's ready for a fun step of wedding planning? (I can hear you all shouting and jumping up and down.) If it's time to pick out your wedding music… specifically your wedding entrance songs… then this list is for you. This likely means you've hit the actually fun part of wedding planning. Hooray! You're picking the song that will play while you and your brand-new spouse walk into the reception after your wedding ceremony. You may also pick out a wedding party entrance song, and have your favorite people walk in to their own piece of music, or you can have everyone walk into the same song that you two do. You do you.
But let's take a quick time-out. If all this is making you feel a tiny bit overwhelmed, remember that you don't actually have to do a big flashy musical entrance to your wedding. If a grand wedding entrance is that all-eyes-on-you moment that you live for, then read on, and find the perfect reception entrance song. But if you're the kind of person who would rather slip into the reception, and escape all that extra attention? You can totally do that too. (Feel free to forget to mention this choice to any emotionally involved parents. Asking permission is harder than asking forgiveness, and all that.)
But if you're here for the grand entrance to the reception, there are a few things to keep in mind when picking wedding entrance songs. We spoke with dozens of wedding DJs around the country, and they resoundingly said this is a chance to pick something you really love. Hollon Yarborough, also known as DJ Bigg H, of AMP'D Entertainment in Atlanta, says "It's all about what the couple wants!" And Gabby Saucedo, also known as DJ Lady Q of the San Francisco Bay Area and the DJ Meg hired for her ten-year anniversary party, said the most important thing about picking a wedding entrance song is just to not stress out about it too much. "Whatever song the couple feels is "the" one, is in fact the one. It doesn't matter what the song is or how it sounds, that's the song. Ideally, it's a love/celebration song that the audience knows the couple turns up to." But if you don't have something in mind specifically already? That's okay! Gabby says couples can ask themselves a few questions about their taste and the vibe they want to help narrow the process: "Let's suppose a couple doesn't have a specific song in mind and wants a song that will make the party go off. First, I would consider the 'style' of the couple. Do they prefer top hits? Or are they more old-school and like classic hits that everyone gets down to? Are there any artists that the couple loves a lot?" Take that direction, and then pick a song you really like.
As Gabby notes, you'll likely want a wedding entrance song that's easily recognizable, but for a truly grand entrance, you may want it to be a little unexpected, too. And if you want a high-energy, get-this-party-started vibe? Pick accordingly! We talked to Matthew Rubino, DJ and co-owner of The Flashdance in Los Angeles, and he said "People bring the Flashdance to a wedding to bring that festival or club energy to the dance party, so the grand entrance is a great time to set the tone and get your guests hyped! Go for something fun/upbeat and that will get people's attention. A song people enjoy and that perhaps they wouldn't expect to hear at a wedding."
You'll also ideally want to have an instrumental intro that the DJ won't have to scream themselves hoarse to be heard over. And while we're talking about introductions, remember that if neither of you is changing your name, the DJ can introduce you as "the newlyweds" or "the happy couple" or any phrase you pick. But it may be worth writing that phrase down on an index card on huge block letters along with the note, "If you introduce us at the new Mr. and Mrs. Smith, you're dead."
Also, keep in mind the next step on your wedding day timeline. If you're beginning your first dance immediately after being introduced, you might not want to transition from hip hop to indie folk. Or do you want everyone to smile, applaud, and then sit down while dinner is being served? Maybe go for a tune that will be fun, but not over-the-top wild. If you're coming into the room and the next step is a raging dance party, then pick an upbeat grand entrance song and get into it!
As you're picking your wedding entrance song, try to imagine the emotional moment. You've wrapped the ceremony. You just got EFFING MARRIED. You and your partner may have spent a few quiet moments together soaking in this huge commitment you just made… and now it's time to party with everyone. So if you like walking into a room to the sound of raucous applause—or at least want to grab your opportunity to do just that—then this list of fifty of the best wedding entrance songs is for you. We got input from Gabby, Matthew with The Flashdance and his co-owner Michael Antonia, and dozens of the best wedding DJs from around the country—plus our own APW staff to compile this list, and of course give us your picks in the comments, too.
HOT WEDDING ENTRANCE SONGS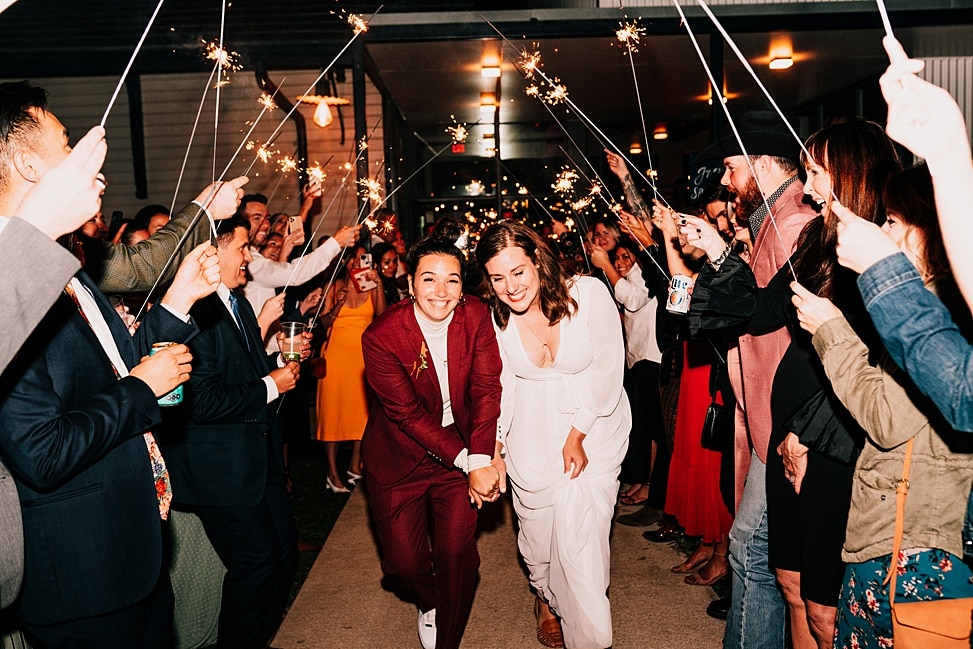 FUN WEDDING ENTRANCE SONGS
POP MUSIC WEDDING ENTRANCE SONGS
HIP HOP AND R&B WEDDING ENTRANCE SONGS
LATIN WEDDING ENTRANCE SONGS
Photo by Olive Photography
Bridal PARTY ENTRANCE SONGS
COUNTRY MUSIC WEDDING ENTRANCE SONGS
CLASSIC WEDDING ENTRANCE SONGS
What wedding entrance songs do you think totally work—and which ones do not? Married people: What wedding entrance songs did you use for you and your wedding party? Did you have a separate Bridal party grand entrance song?